Instructor Certifications
Are you an avid outdoors person? Do you like to teach or mentor others in outdoor pursuits? We need you!
We are seeking outdoor enthusiasts that would like to join our growing team of volunteer instructors.
Volunteer Opportunities:
Safety and Education Course Volunteer Instructors
Hunting (Firearms, Crossbow, Archery), Trapping, Boating, ATV, and Snowmobile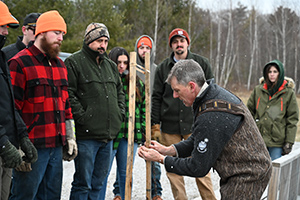 MDIFW's Recreational Safety unit leads safety courses in seven disciplines: hunter safety, bowhunter, crossbow, trapping, ATV, boating, and snowmobile, as well as other educational programs. Our certified volunteer instructors meet state and international standards and provide valuable information and training experiences to new outdoor users.
To become a certified volunteer instructor, an individual must:
Successfully complete the basic course as a student in the discipline they'd like to lead
Be at least 18 years old with a clean record.
Complete an instructor training course or workshop (may include shadowing an instructor)
Complete the appropriate volunteer application and written exam.
For more information, please contact the Recreational Safety Division at (207) 287-5220 or email the Recreational Safety Supervisor at ronald.fournier@maine.gov
Learn More about Safety and Education Courses
Freshwater Angling Education
Hooked on Fishing Not on Drugs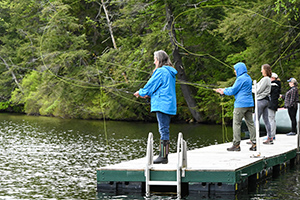 The Hooked on Fishing Not on Drugs program is the flagship youth education program that uses angling skill development as a gateway to teach youth about the benefits of a healthy lifestyle and how to deal with the challenges facing them in their young lives.
There is no better way to preserve Maine's future than by hooking future generations on a hobby that lasts a lifetime whether that be on open or hard water across the state!
The program, developed 20 years ago, has been recently updated and provides a national standard for fishing instructors. The HOFNOD network includes trained aquatic education professionals in over 30 states with literally thousands of programs nationwide!
Learn More about Hooked on Fishing
Shooting Range Safety Officers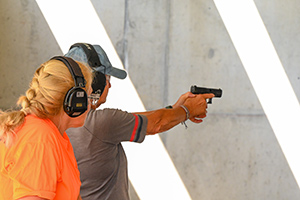 MDIFW Range Safety Officers help provide a safe, friendly, and educational place for the public to shoot firearms and archery and improve their comfort, confidence, and skills. RSOs monitor shooting activity at the two State-owned ranges: Summerhaven Range in Augusta and Fryeburg Range in Fryeburg. Each volunteer is provided with appropriate training and a chance at a meaningful work experience, in return for their donated time and talent.
To learn more about becoming a volunteer RSO, please contact the Department's Shooting Range Coordinator, Craig Gerry. Call (207) 287-5212 or (207) 446-4249 or Craig.I.Gerry@Maine.gov.
Learn More about Maine's Shooting Ranges
Natural Science Education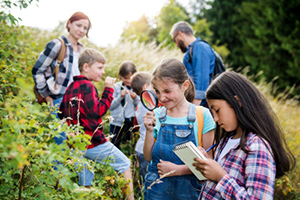 Project Wild - For Teachers & Educators
Project Wild is a series of activity guides that can be used as part of any class instruction, designed for pre-K through 12th grade. The four guides that are part of the Maine Project Wild suite are Project Wild (terrestrial) guide, Aquatic Wild, Growing Up Wild, and Flying Wild. All of Project Wild is facilitated nationally by the Association of Fish and Wildlife Agencies and coordinated by an agency or organization in each state. It is the mission of Project Wild to provide wildlife-based conservation and environmental education that fosters responsible actions toward wildlife and related natural resources. Each of the individual guides has their own focus, but all are designed with hands-on, inquisitive, student lead learning in mind, and are aligned with education standards.