Curriculum and Activity Guides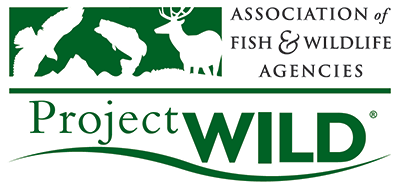 On this page:
What is Project Wild?
Project Wild is a series of activity guides that can be used as part of any class instruction, designed for pre-K through 12th grade. The four guides that are part of the Maine Project Wild suite are Project Wild (terrestrial) guide, Aquatic Wild, Growing Up Wild, and Flying Wild. All of Project Wild is facilitated nationally by the Association of Fish and Wildlife Agencies and coordinated by an agency or organization in each state. It is the mission of Project Wild to provide wildlife-based conservation and environmental education that fosters responsible actions toward wildlife and related natural resources. Each of the individual guides has their own focus, but all are designed with hands-on, inquisitive, student lead learning in mind, and are aligned with education standards.
Project Wild activities are designed to assist learners of any age in developing awareness, knowledge, skills, and commitment to result in informed decisions, responsible behavior, and constructive actions concerning wildlife and the environment upon which all life depends.
To learn more visit www.fishwildlife.org/projectwild
Why Project Wild?
In this ever-growing world and changing climate we are all faced with decisions and information about how humans affect wildlife and wild places. As educators we feel a need to help our students be a part of and understand the world they live in. Project Wild provides activities to help develop critical thinking skills as well as gain knowledge about wildlife and habitats, and to help make wise decisions that affect the life and use of our natural resources. In Project Wild learning is done through hands-on activities, projects, and games. It is a great way to learn about local wildlife.
Each of the guides helps incorporate wildlife and ecological concepts into any class curriculum, and each activity is designed to/with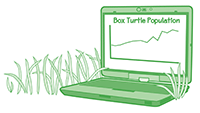 Provide hands-on, interdisciplinary activities
Support learning in formal & non-formal educational settings
Align with learning standards
Scientifically accurate materials
Provide an emphasis on outdoor learning and field investigations
Service-learning opportunities
Conservation career and occupation connections
STEM applications
Educator training workshop applications
Who can use it?
Anyone can use Project Wild guides, and there are several guides to choose from - Project Wild, Aquatic Wild, Growing Up Wild, and Flying Wild.
Teachers, parents, scout leaders, and other organizations and community groups will find that these activity guides are useful and easy to use. Activities are aligned with education standards (NGSS, Head Start Early Learning Outcomes Framework, CCSS, and some scout badges). There are also suggested community science uses as well as connections to climate change education.
Learn more about Project Wild resources
Which Project Wild Guide(s) is right for you?
There are several types of activity guides in the Project Wild suite, and here are the four that Maine Dept of Inland Fisheries and Wildlife currently offer trainings on through our partners and volunteer facilitators.
Want to learn more?
Visit Project Wild's website to learn more about the different programs and resources available about Project Wild and to purchase materials.
Also check out Project Wild on social media
Social Media
Project WILD maintains the social media pages below, where we post wildlife-related and environmental education resources, articles, photos, and ideas for incorporating WILD activities into our followers' educational settings. The national office encourages you to send us events or items of interest for us to share!
AFWA staff emails can be found at https://www.fishwildlife.org/contact/afwa-staff-contacts.
General Project WILD inquiries can be directed to projectwild@fishwildlife.org.
To learn more about Project Wild in Maine or if you want to become a trained facilitator for one or more of the Project Wild guides in Maine contact MDIFW Education and Outreach Supervisor Laura Craver-Rogers at laura.craver-rogers@maine.gov or 207-592-0750
Ready to Get Started? Attend a Project Wild Workshop
Workshops currently offered in Maine are for Project Wild (terrestrial), Aquatic Wild, Growing Up Wild, and Flying Wild. Each workshop is led by a trained facilitator and all participants will get to:
Take a tour of the selected guide(s) and how to use the many features
Participate in a wide array of WILD activities and discussions.
Be provided with hands-on WILD experience with interdisciplinary activities
Lead and organize activities in small groups
Discuss and receive assistance with integration of activities into their curriculum(s)
Learn about Maine wildlife species and natural resources as it pertains to the activities
Go over additional online resources provided by MDIFW and Project Wild
Project Wild and Aquatic Wild are only available through workshops but Flying Wild and Growing Up Wild you can buy online often at a slightly higher cost than a workshop book price. Often the price of a single book online is more expensive or about the same as attending a training workshop. At a workshop you typically get the book the same day, extra materials, and hands-on training with a certified facilitator. At the completion of the workshop you will also get a certificate that can be used toward your professional development credits.
Who teaches training workshops and who can attend?
Wild workshops are conducted on a statewide basis by trained facilitators. Workshops may be scheduled year-round at a variety of locations.
Teachers, scout leaders, educators, non-formal educators, college students, camp leaders, child care providers, parents, after school providers and more are all encouraged to attend or schedule a workshop.
A workshop can be scheduled for an entire school district, an individual school, as a part of college courses, at conferences, on in-service days, professional days, early-release days, weekends, during vacations, and for other community groups as well.
Wild workshops are designed so educators can become familiar with the activities and their multidisciplinary uses. Each workshop does have a fee for materials and books of around $25-$50 per participant, longer, more complex workshops may have higher fees. Please let us know if the fee is an obstacle for you or your group.
Types of Workshops:
Basic - Training for one activity and curriculum guide for to 10-30 people.** This training will go over a handful of activities, review the guide format, take a look at available resources, and provide participants who complete the course with a book and certificate of completion. This workshop is 3-8 total hours and can be adapted to one or two sessions. Length depends on which guide you choose.

Project Wild K-12 Curriculum and Activity Guide - 6-8 hours*
Aquatic Wild K-12 Curriculum and Activity Guide - 6-8 hours*
Growing Up Wild: Exploring Nature with Young Children - 3-6 hours*
Flying Wild: An Educator's Guide to Celebrating Birds - 3-6 hours*


Combo workshop - Combine two activity and curriculum guides into one training and become certified in both by the end. Pick any of the two we offer (Project Wild, Aquatic Wild, Flying Wild, or Growing Up Wild). We will go through activities from each and discuss how each can fit together or alone into your curriculum. This workshop varies in length depending on which guides you choose. Typically, 6- 10 hours* and may be able to spread across more than one day if necessary. Training is for to 10-30 people.**
Advanced Workshop or Special Topics – This workshop is designed to dive deeper into the guides or focus on specific topics or issues. Topics can address specific species, i.e. bats, bears, food chains, etc. and can be an extension of a basic workshop or as a standalone. Curriculum guide books are only provided if a basic activity and curriculum training is included. Sample activities may be used for training purposes, but full lesson plans are only provided if basic training is included or has been taken previously. Cost and times vary depending on options. Typically, these are full day trainings and may be more than one depending on needs and availability. * Training is for to 10-30 people.**
Joint workshops – Working with other agencies and organizations we can provide a training for more than just Project Wild activity and curriculum guides. You can combine a Project Wild workshop with either a Project Wet or Project Learning Tree activity and curriculum guide. Typically, 8- 10 hours and you will receive a certification for each guide. * Training is for to 10-30 people.**
Facilitator Trainings – If you have attended a Project Wild workshop, you can become a trained facilitator who helps teach other educators about Project Wild curriculum and activity guides. Contact us for more information.

*These are minimum qualifications, but we can be flexible to meet the needs and availability of educators to attend these professional development workshops/ trainings.
** If you can't fill a workshop, we can open it up to the public as well.
Upcoming workshops open to the public:
To book a workshop or for more information, contact: Laura Craver-Rogers, at (207) 592-0750 or laura.craver-rogers@maine.gov