Moose Hunting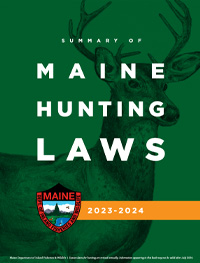 On this page:
Moose Hunting Permit
Maine's moose hunt is a "permit only" hunt. 4,105 permits were issued for the 2023 moose hunt. Each permittee may select a subpermittee to hunt with them. Applications are available by January 31. A person may not hunt moose with an apprentice hunter license. The bag limit is one moose per year, by either permittee or subpermittee. A person 10 years or age or older on the opening day of the moose hunt is eligible to apply for a moose hunting permit in that calendar year. A person under the age of 10 on the opening day of the moose hunting season may apply to earn a point in the lottery system, but cannot receive a permit.
Note: A new law has changed the definition of antlerless moose to mean: a moose without antlers. An Anterless moose permit allows the permittee to harvest a female moose without antlers or a male calf moose without antlers.
Permit donation to veterans: A person who receives a moose permit may transfer that permit to a disabled veteran or may return the permit to MDIFW so the permit can be transfered to a disabled veteran through the Department of Veteran's Affairs. The disabled veteran must meet eligibility and permit requirements. A transferor and a transferee of the permit are subject to the elimination of any accumulated points and the 3-year ineligibility period to reapply for a moose permit.
Permits for 65 years old and older: A resident 65 years of age or older with 30 points or more in the moose lottery system who applies for a moose permit is guaranteed a permit.
Permits for Hunting Lodges:The Commissioner may allocate up to 2% of the moose hunting permits for a special chance lottery that is separate from the regular moose permit lottery, to hunting outfitters who meet the specific requirements defined in the law. If a qualified applicant is drawn in the lottery, the cost to purchase the permit is $1,500.
Adaptive Unit Moose Hunt: All adaptive unit cow hunters will be required to attend an in-person or virtual one-hour moose prehunt briefing. A selected hunter who fails to attend the required training session will forfeit their permit. Hunters are required to stop, register moose, and provide biological data at designated field check stations within the adaptive hunt area at key entry/egress points.
2023 Moose Permit Hunt Seasons & Bag Limits
Wildlife Management District
Dates
Annual Bag & Possession Limit
4A (Adaptive Unit)
October 16, 2023 - October 21, 2023
Only 1 may be taken annually with permit.
October 23, 2023 - October 28, 2023
October 30, 2023 - November 4, 2023
November 6, 2023 - November 11, 2023*
1-6, 10, 11, 18, 19, 27, 28
September 25, 2023 - September 30, 2023
1–15, 17–19, 27, 28
October 9, 2023 - October 14, 2023
1-6, 8
October 23, 2023 - October 28, 2023
All dates are inclusive except that hunting is prohibited on Sunday.
See Laws Pertaining to Hunting Equipment for information on the use of crossbows.
* Hunters that are issued a moose permit for the Adaptive Unit/WMD 4A moose hunt who do not harvest a moose during the first week listed on their permit may hunt in their respective zone 11/6/2023-11/11/2023.