Tribal Waters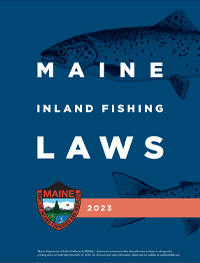 On this page:
Waters Regulated by the Tribes
Any pond 10 acres or less within Indian Territory is regulated by the Tribe in whose territory the pond is located. Anyone wishing to fish in one of these ponds in Indian Territory should contact one of the following:
Penobscot Nation (207) 817-7331
Department of Natural Resources
12 Wabanaki Way
Indian Island, ME 04468

Passamaquoddy Warden Service
Indian Township (207) 796-2677
PO Box 446
Princeton, ME 04668

Pleasant Point (207) 853-2551
PO Box 343
Perry, ME 04667

Waters Regulated by the Maine State-Tribal Commission
As a result of the Maine Indian Claims Settlement Act of 1980, the Maine Tribal-State Commission has exclusive jurisdiction over fishing on any pond of greater than 10 acres with 50% or more of its shoreline within Indian (Passamaquoddy or Penobscot) territory and any section of a river, brook, or stream both sides of which are in Indian territory or one side of which is in Indian territory for a continuous length of 1/2 mile or more. M.R.S.A SS6207(3) The Maine Tribal-State Commission has adopted rules which affect any waters meeting the above criteria. Anyone wishing to fish in these waters should contact:
Maine Indian Tribal-State Commission
(207) 271-7762
Mailing Address:
P.O. Box 35
Whiting, ME 04691
Physical Address:
10 Commissary Point Road
Trescott Township, ME 04652
www.mitsc.org
General Fishing Laws
General Fishing Laws listed below apply to tribal waters in Passamaquoddy and Penobscot territories that do not have Special Fishing Laws. If a water has Special Fishing Laws that differ from the General Fishing Laws listed below, they will be listed in the Special Fishing Laws section.
Open Water Fishing Season
April 1 – September 30: Lakes, ponds, rivers, streams, and brooks are open to open water fishing.
Ice Fishing Season
January 1 – March 31: Lakes and ponds are open to ice fishing. Rivers, streams, and brooks are closed to ice fishing.
Terminal Gear
Use of all legal forms of bait (including live baitfish/smelts), artificial lures, and artificial flies is PERMITTED.
Species
Daily Bag & Possession Limits
Length Limit
Lakes/Ponds
Rivers, Streams, Brooks
Lakes/Ponds
Rivers, Streams, Brooks
Brook Trout
(incudes Splake & Artic char)
North Zone: 5 fish
5 fish
6 inches minimum
6 inches minimum
South Zone: 2 fish
BrownTrout
2 fish
2 fish
14 inches minimum
6" min & 25" max
Rainbow Trout
2 fish
2 fish
12 inches minimum
6 inches minimum
Landlocked Salmon
2 fish
2 fish
14 inches minimum
14" min & 25" max
Togue (Lake Trout)
2 fish
2 fish
18 inches minimum
18 inches minimum
Species
Daily Bag & Possession Limits
Length Limit
Bass
(Largemouth & Smallmouth)
North Zone: Unlimited
None
South Zone: 2 fish
No minimum length. Only 1 may exceed 14 inches.
Whitefish
3 fish
None
Smelts
2 quarts
None
Sea-run Atlantic Salmon
Federally Endangered Species - No Fishing Permitted for this Species
Inland species not listed above
Unlimited
None
Striped Bass, Shad, River Herring, American Eel, Sturgeon

See Recreational Angling for Migratory Fish

Inland species not listed above
Unlimited
None