In 1974, President Gerald Ford authorized EMS Week to celebrate EMS practitioners and the important work they do in our nation's communities. National Emergency Medical Services Week brings together local communities and medical personnel to honor the dedication of those who provide the day-to-day lifesaving services of medicine's frontline. EMS Week is presented by the American College of Emergency Physicians (ACEP) in partnership with the National Associations of Emergency Medical Technicians (NAEMT). Together, NAEMT and ACEP lead annual EMS Week activities. These organizations are working to ensure that the important contributions of EMS practitioners in safeguarding the health, safety, and well-being of their communities are fully celebrated and recognized.
EMS Week 2022 is May 15-21
Sunday is Health, Wellness, and Resilience Day
Monday is Education Day
Tuesday is EMS Safety Day
Wednesday is EMS for Children Day
Thursday is Save-A-Life Day
Friday is EMS Recognition Day
Maine EMS Awards Notification (PDF) (5/23/22)
Maine EMS has added an 18-month extension to all current EMS provider licenses, effective May 20, 2022.
EMS Week and EMS license extension letter (PDF) (5/20/22)
Proclamation from President Joe Biden on EMS Week 2022
Proclamation from Maine Governor Janet Mills on EMS Week 2022
Watch the video of Dr. Gillian Schmitz, MD, FACEP, President of ACEP,  thanking EMS professionals around the country for rising to the challenge in 2022.
Watch the video of Chief Bruce Evans, President of NAEMT, wishing the nation's EMS providers a safe and happy EMS Week.
Watch the video of a message from the NHTSA Office of EMS Director, Gam Wijetunge, expressing his heartfelt gratitude for EMS clinicians nationwide.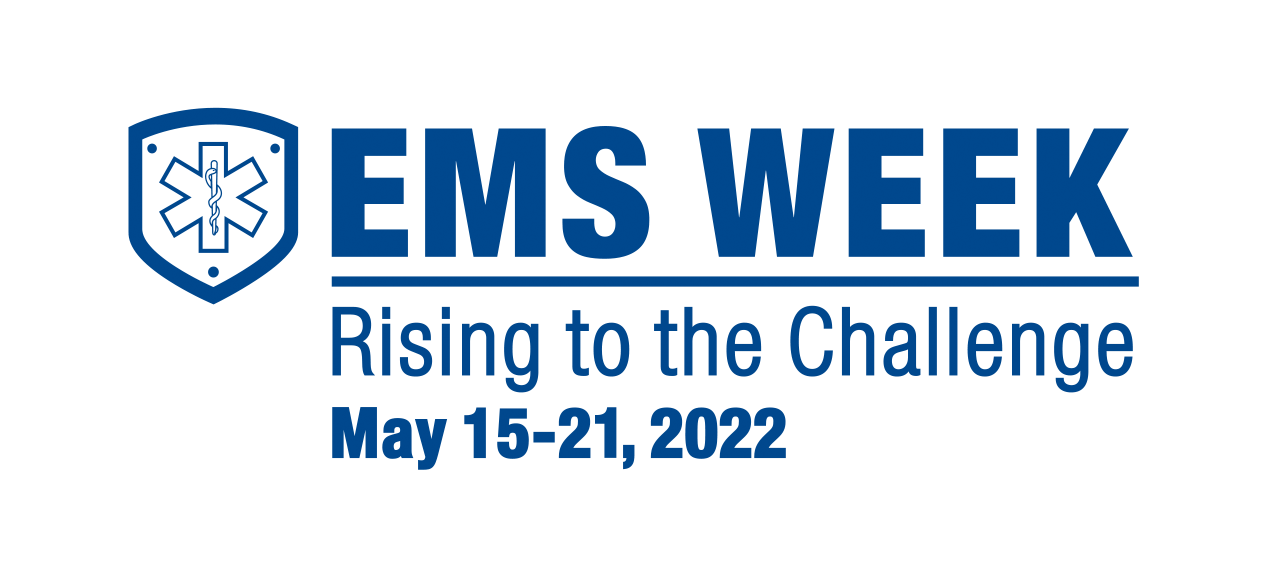 For more info, visit the ACEP and NAEMT page EMS: Rising To The Challenge
EMS Week 2021

EMS Week 2021 message from NHTSA Office of EMS (Youtube Video)
EMS Week 2021 Statewide Flyer - Maine (PDF)
EMS Week 2021 Proclamation from US President Biden
EMS Week 2021 Proclamation from Maine Governor Mills (PDF)
EMS Week 2021 Letter from Maine EMS (PDF)
Monday, May 17: EMS Education Day
Tuesday, May 18: EMS Safety Day
Wednesday, May 19: EMS for Children Day
Thursday, May 20: Save-A-Life Day (CPR & National Stop the Bleed Day)
Friday, May 21: EMS Recognition Day
For more info, visit the ACEP and NAEMT page EMS Strong
EMS Week 2020

On November 5, 1974, President Gerald Ford declared the first "Emergency Medical Services Week." In his Presidential Proclamation that initial year, President Ford wrote:
"Let us affirm that the first year of this national legislation is only the beginning of our effort to improve this part of our total health care system so that no individual in this country will lack help when he needs it."
46 years later, we continue to celebrate the advances in care, the dedication to helping others, and a system of pre-hospital professionalism.
EMS Week has a different theme each day:

Monday: EMS Education Day
Tuesday; Safety Day
Wednesday: EMS for Children Day
Thursday: Save a Life Day (CPR & Stop the Bleed)
Friday: EMS Recognition Day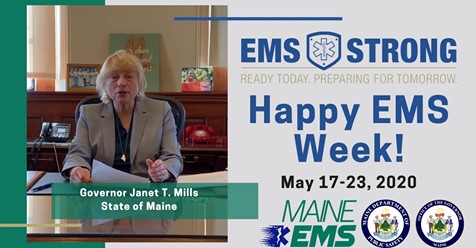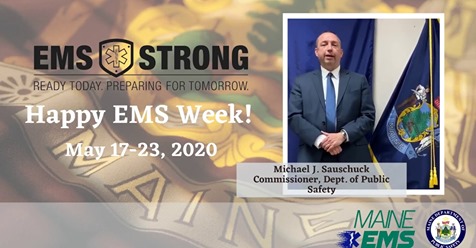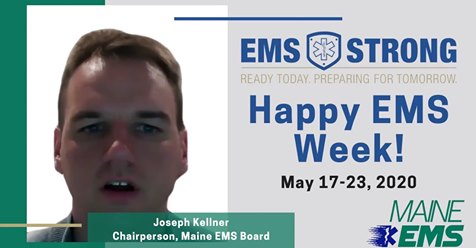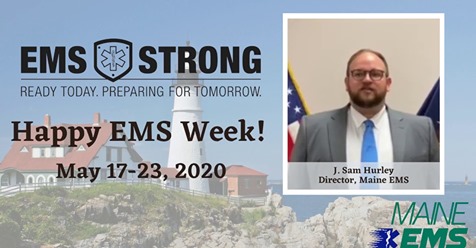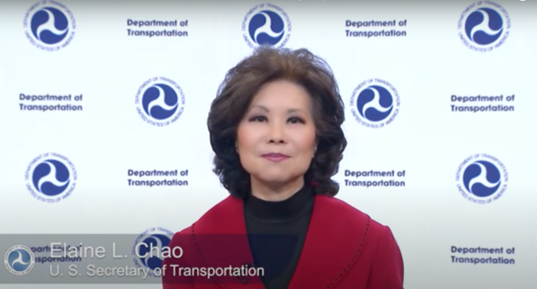 Click here to download the PDF of the Maine EMS letter below.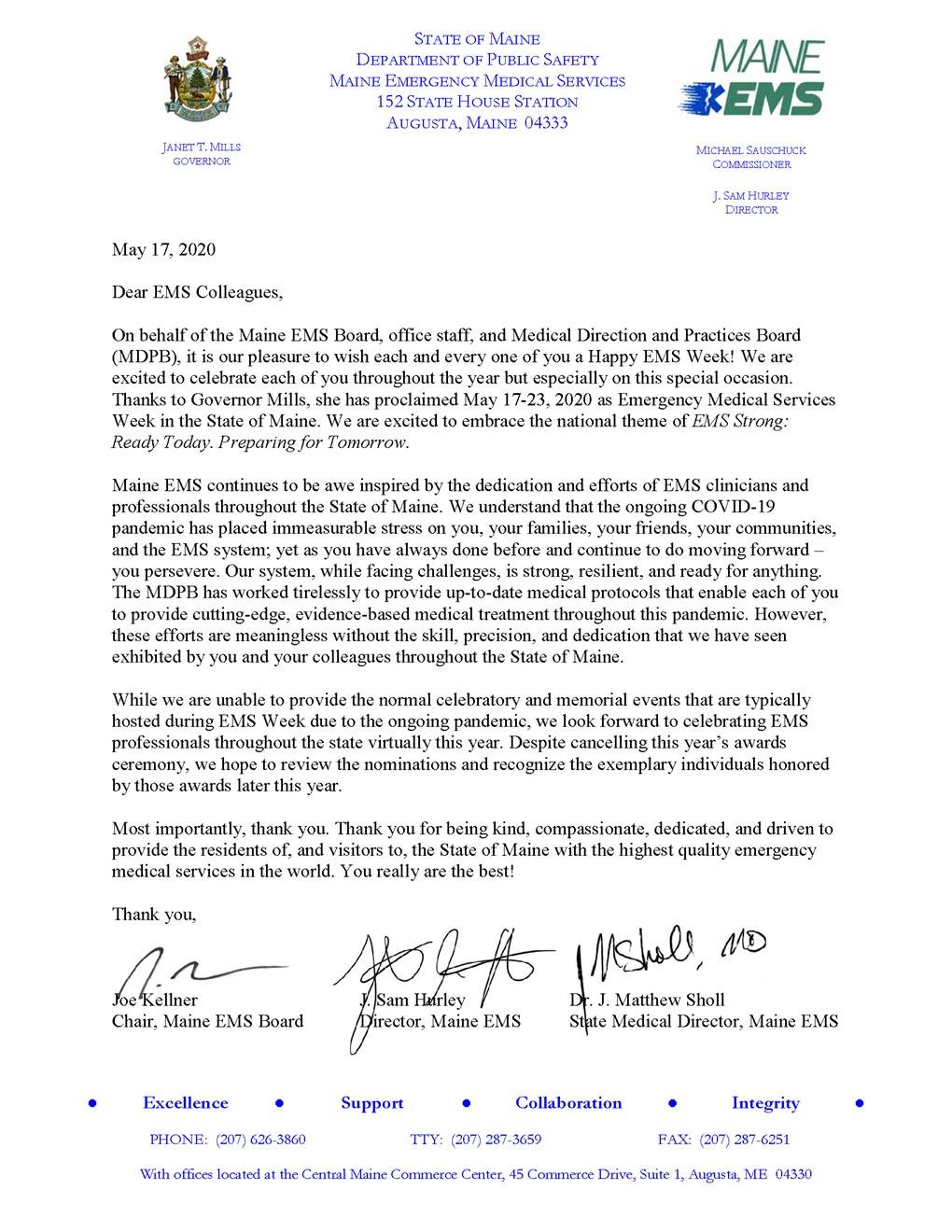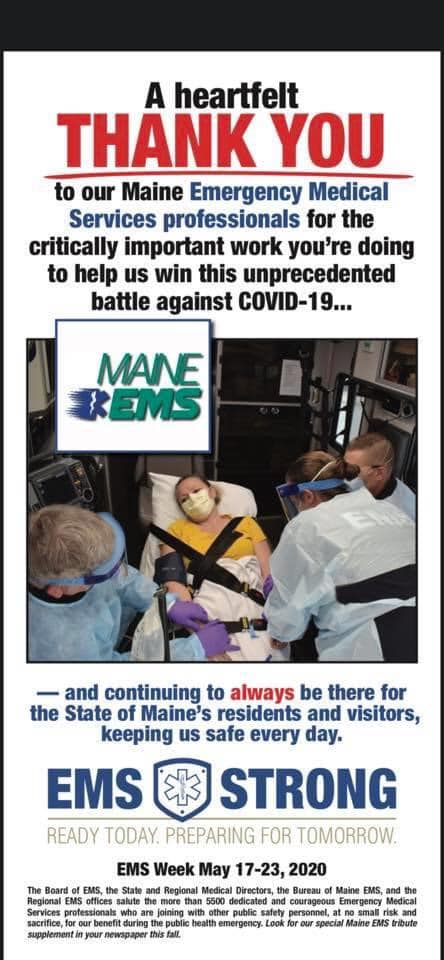 EDUCATION DAY - May 18, 2020
Today for EMS Week, the theme is education. One of the important aspects of education is knowing where we have been, to better understand where we are today. We recently had the pleasure and honor to sit down virtually with Ron Morin. Many of you know Ron is the owner of Sugarloaf Ambulance/Rescue Vehicles in Wilton, Maine and is a tireless proponent of EMS in Maine and to the Maine EMS Memorial. He also a member of the Maine EMS Honor Guard and a Maine EMS Hall of Fame member. But what you may not know is that it was 50 years ago this year that Ron took his EMT class. Ron also, along with 17 others, graduated from the first Maine paramedic class in 1982. Ron also taught the first EMT class in Maine in 1971. He shared some wonderful stories about these programs and let me share the stories with all of you.
1969 – Ron attended a class sponsored by Maine Medical Center entitled "Ambulance Drivers & Emergency Personnel" program and became certified as such. It was cosponsored by Cumberland County Civil Defense and he learned how to deliver babies in fallout shelters and bunkers and how to use 50 feet of manila twine to secure someone to a stokes basket. Despite its name, he never drove an ambulance in the class.
19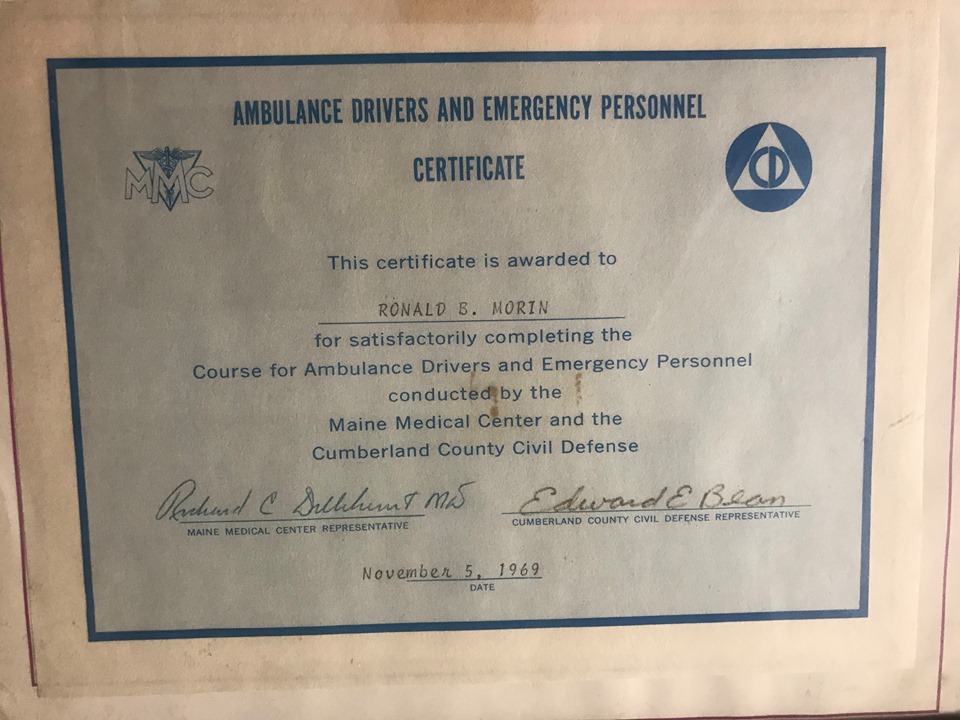 70 - Ron drove to Boston and attended and successfully completed EMT class at Harvard Medical School (who ever knew Ron was a Harvard grad!!)
1971 – Ron taught the first EMT class in Maine. The class was at University of Maine in Farmington and was sponsored by CMVTI (now Central Maine Community College). The class was 40 hours, and focused on CPR, auto extrication, and was based on the American Red Cross First Aid program. 30 students started and 18 graduated. The certificates were signed by the director of the adult education program, noted Maine humorist Gary Crocker.
1972-1982 – Ron (joined by his wife) continued to teach EMT classes in Maine, with the hours quickly increasing from 40 to 81 hours and then to 120 hours of classroom hours.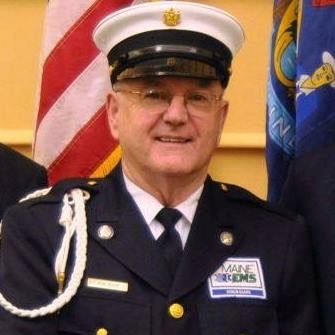 1982 – Ron and 17 other students graduated from the first paramedic program in Maine in February. The class was approximately 450 hours and was taught by Dr. Larry Hopperstead and Mary Myers, RN. One story was that of a neurologist who came to speak about head injuries and told the students that the only way they were going to make a difference was if they learned how to drill burr holes in the head of the injured patient. Nurse Myers quickly pulled him aside and asked him to stick to the curriculum. In true EMS humor fashion, one student showed up to graduation with a leather tool belt with a drill and a 1¼" paddle drill bit stated thy "were ready to save lives". He also recalled that in the years following he was amazed at the changes in care and tools available, and noted how medications, especially cardiac medications, would come and go and then return as evidence and research revealed new information. What's amazing, is that 38 years later, Dr. Hopperstead is still a trauma surgeon at CMMC (and Maine EMS Hall of Fame member), and 4 of the original class are still actively licensed by Maine EMS (and many others are nurses, counselors, business and community leaders, and one was even the director of Florida EMS).
Ron continues his career in EMS and remains a leader in his community and promotes EMS tirelessly through his talents, his company Sugarloaf Ambulance / Rescue Vehicles , through efforts of fundraising and sharing of history through Lost Angels
Ron – Thank you for your time and stories. It was truly an honor.
We encourage all of the folks reading this to talk to those who "have been around" and learn the history of EMS and gain an insight into our past and use that to continue growing and moving forward.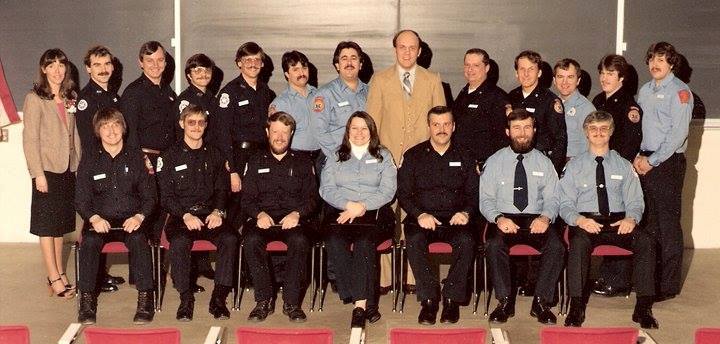 The photo (courtesy of Ron) is of the first paramedic class in Maine (1982)
(L-R) Back Row: Mary Myers, RN (Instructor), Paul Perron, Dan Bahr, Ken Wyman, Dick Cylik, Bill Holland, Keith Dutton, Dr. Larry Hopperstead (Instructor), Chuck Berube, Larry Colford, Ron Morin, Wayne McCloud, Wayne Werts.
(L-R) Front Row: Jeff Chadbourne, Werner Kohlmeyer, Dwight Corning, Pamela Poisson (Hawkins), Harland Trial, Peter Wade, Frank Keegan
To all – HAPPY EMS WEEK!
Safety Day - May 19, 2020
Happy EMS Week Maine! Today is Tuesday (and sometimes knowing the day of the week is hard in these days of COVID) and the theme of the day is Safety. Rarely can a single word encompass so much and affect nearly every thought, decision, procedure and moment of every EMS call. In terms of EMS week, we want to share some thoughts around ambulance and transportation safety.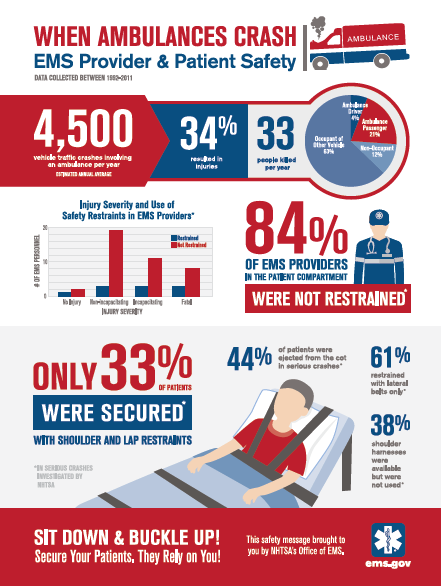 Currently, Maine EMS licenses over 425 transporting ambulances in the State of Maine (along with many non-transporting vehicles and medical aircraft). These ambulances log millions of miles of response and transport every year. In 2018, Maine EMS services responded to over 278,220 incidents, with nearly 250,000 transports via ambulance.
In 2015, the National Highway Traffic Safety Administration (NHTSA) looked at every ambulance crash in the United States from 1992 through 2011. They found that on average, there were 29 fatal ambulance crashes per year. They produced an infographic that is a great item to print out and post as a reminder in your stations.
The PDF of this infographic can be downloaded here.

In 2018, Larry Russell wrote "Safety Leadership: Driving in the Safe Brain Lane" in Safety & Health, the magazine of the National Safety Council, and noted that several factors come into play while driving:
An expectation bias – He reports that the brain makes over 130 decisions per mile driven, and the brain has an expectation based on experience of what we should see and experience while operating an ambulance. If we are not proactive in our efforts at active anticipation of hazards while driving, we can easily be overcome when the unexpected happens. Think of driving down the highway and being lulled by trees on the side of the road – we expect them and are not surprised but hm. The moose that steps out from the trees? If we are not actively scanning for this, we will have less reaction time and may have greater frequency of a crash.
Seeing is suspect – We all have driven a vehicle and been surprised by a car suddenly next to us. Our vision is larger binocular in shape and if we do not "keep our head on a swivel" and move our head to look around, then our vision and field of view is limited. We all have heard "tunnel vision" for scene safety, but it applies equally as much to "before and after" the scene when we are driving.
Automation in action – Too often we go on autopilot when driving. Think of when you first learned to drive and you had to take the time to think "foot on brake, insert key, start car, and then shift into D, while you carefully stare at the PRNDL window (although many of us learning on a stick shift and added some additional steps). It is likely today that all these steps are not a conscious thought, and "just happen". When we drive an ambulance, we must never be on autopilot. Driving hundreds of thousands of dollars of equipment and the invaluable lives onboard the ambulance demands our full and active engagement.
Divided attention – These are the distractions when we drive. They fall into the categories of

Visual: Moving your eyes off the road to look at something else (i.e. GPS, road signs)
Manual: Taking your hands off the wheel (i.e. to operate the siren, drink coffee)
Mental: Daydreaming or other distracted thinking (i.e. is my relief at the station, I need to make it back home quickly to have dinner)

 

Fatigue - It is reported that having less than 5 hours of sleep results in as much as a 490 times greater chance of being involved in a crash. Properly preparing with appropriate sleep is a key, yet often difficult, strategy to making sure you are following the theme of EMS Wek 2020 of being "Ready for Today and Preparing for Tomorrow"
So stop for a moment before you put that ambulance in drive. Consider what is at stake, take a breath, and drive with caution, forethought, and consideration. Remember that your ambulance is a great big giant billboard and everyone has a cellphone. Be careful out there and give it your best. No one is ever perfect, but everyone should strive for it.
Happy EMS Week, and thanks for all you do.
EMS for Children Day - May 20, 2020
Happy Wednesday of EMS Week!  Today is designated as EMS for Children day.  When we are dispatched to a call, hearing a child is involved causes all of us to take an extra breath and shudder a bit.  In 2018, Maine EMS clinicians saw 16 adult patients (age 19 and above) patients for every 1 pediatric patient (age 18 or younger).  So, what can we do to improve?  It's all about education.  Later this week, Maine EMS will be releasing a free 1-hour pediatric CEH course on MEMSEd that will focus on pediatric seizures.  Its' from some pretty cool pediatric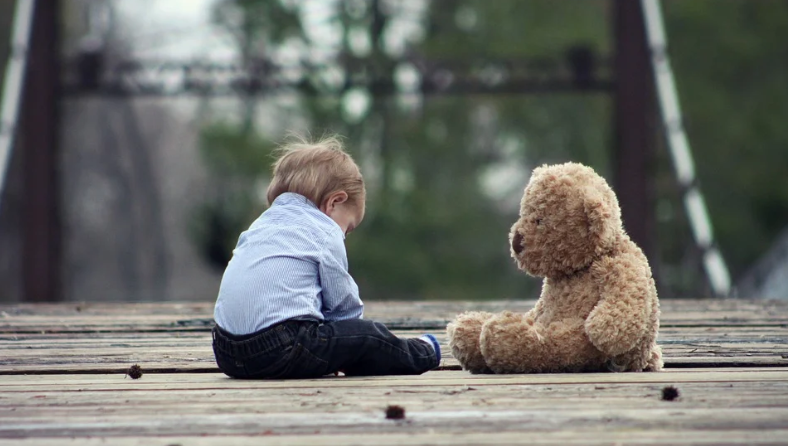 physicians from UC Davis and Baylor College of Medicine.  Stay tuned for that.
When we think of high-risk low-frequency skills, in EMS we often think of procedures such as surgical crics.  Perhaps we need to start thinking of pediatrics overall as a high-risk low-frequency skill.  There are many great "canned classes" (i.e. PALS, PEPP, an others) that can be taken and our regional partners throughout Maine offer.  Consider training that is a scavenger hunt for all the pediatric tools on your ambulance.  Teach a class on something related to children.  One educator in our office recalled a class of bringing their 3-year-old daughter to a class and having new paramedic students "assess" her – what was normal, what was not?  How do you check a pulse, and what do you do when the young child looks at you and says with their eyes "Touch me and I will scream incessantly for the entire transport"? One conversation went like this:
Instructor: So, go ahead and try and listen to her lungs and see if she will let you.
Younger paramedic student: She is not going to let me.
Older paramedic student: Go ahead, just do it.  They sense fear.  Try and distract her.
Younger paramedic student:  I don't have any toys – I don't have anything to distract her with!
Older paramedic student: She is 3!  Everything is a toy! (As he proceeded to pick up a roll of gauze, unrolling it, playing with the child)
COVID issues aside, start thinking about classes you could conduct.  Someone in your department has a kid.  Have them come in and be a part of the class - Listen to lungs.  Do a visual assessment from 6 feet away. What do you see, hear, and note?  Who is successful listening to lungs or getting a pulse?  What did they do to have the child let them? Do you need have a super expensive high fidelity mannikin?  Nope.  Buy some ice cream and hot fudge and invite some kids over.  Learn from them, and at the same time, let them take a tour, see the lights and become more community centric.
Happy EMS for Children Day and Happy EMS Week! 
Save A Life Day - May 21, 2020
Once again, Happy EMS Week! In the State of Maine, we have over 5,500 dedicated professionals who are licensed as Emergency Medical Dispatchers (EMDs), Emergency Medical Responders (EMRs), Emergency Medical Technicians (EMTs), Advanced Emergency Medical Technicians (AEMTs), and Paramedics. Additionally, we have professionals who operate and drive ambulances and first response vehicles, provide administrative functions and a host of other critical roles.
Today is recognized as "Save A Life Day". What is interesting about this is that this is a fundamental and basic component of what we all have learned, regardless of role or license level. Someone along the way has likely asked you "Why are you in EMS?". You may have said a very eloquent response, but we bet that "To help people" or "To save a life" passed through your thoughts. To "save a life" may sound cheesy, but it really is the core of what we do.
There are events in EMS that are tremendous – the first time you see a hypoglycemic patient wake up after getting dextrose; the delivery of a newborn infant; the relief of pain with splinting, the ease of breathing with CPAP. These all help people. But to save a life? That is a whole other level.
When we learn CPR, we hope we never have to use it. When we administer CPR, we hope it works. When we meet the person who survived after CPR, we are overwhelmed.
In 2008, the American Heart Association introduced the concept of "Hands Only CPR". It required 2, and only 2, steps:
1. Call 911
2. Push hard and push fast on the center of the chest to the beat of the Bee Gees' song "Stayin' Alive"
As EMS clinicians, there are certainly more steps and tools that we have at our disposal when managing a cardiac arrest, but the basic core principles, and the fundamentals we all learned early in our career, remain the same. Again, it is:
1. Call 911
2. Push hard and push fast on the center of the chest to the beat of the Bee Gees' song "Stayin' Alive"
We know that if no one is doing CPR during the cardiac arrest, the outcomes will always be the same. There is no question that the fastest way to perform compressions is to get hands on the chest and push hard and push fast. It doesn't matter whether you are the saltiest of EMS clinicians, or just got your first license. It doesn't matter if you work in EMS billing and not in an ambulance or are the state medical director. When someone goes into cardiac arrest, it is the fundamental principles of placing your hands on their chest and administering compressions that will make the single greatest difference. It does not matter the brand of cardiac monitor, the coolness of your service patch, or the brightness of your lightbar. What matters is:
1. Call 911
2. Push hard and push fast on the center of the chest to the beat of the Bee Gees' song "Stayin' Alive"
We know, we know, you may be saying "But I am 911!". Consider it instead as "Call for help". Doing CPR by yourself gets really tiring, really fast. EMS is a team sport – make sure you have help on scene or on the way. You can save a life. You can be the reasons someone has a tomorrow. It might be a stranger, or it might be a loved one. You may be a member of the public reading this and you too can SAVE A LIFE!
1. Call 911
2. Push hard and push fast on the center of the chest to the beat of the Bee Gees' song "Stayin' Alive"
That's it. It shows us that anyone can do CPR, and that Disco is forever!
Happy EMS Week. You are awesome.
(Click the picture below for a quick "Hands Only CPR video from the American Heart Association (Youtube Video))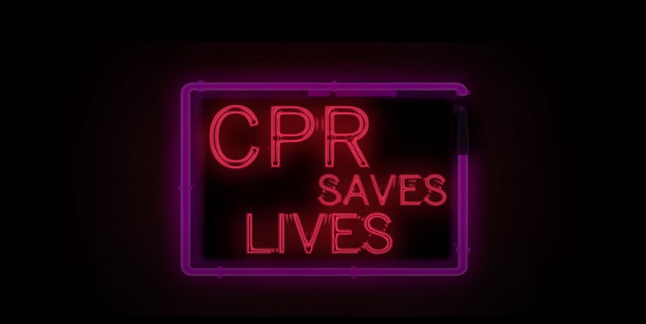 EMS Recognition Day - May 22, 2020
Happy EMS Week! We are disappointed that we weren't able to host the traditional ceremony that we normally have at the memorial but we hope to have another time to do so later this year. Despite the ongoing pandemic, we were able to secure a special event permit from Capitol Police to film a video at the EMS Memorial on the Capitol grounds in Augusta, Maine. It is imperative that while honoring the countless clinicians that currently serve the system, we also would like to take a moment to honor and memorialize those who have been lost in the line of duty. Thanks so much for all you do!
(Click the picture below for a video reading of those Maine EMS clinicians who have lost their lives and made the ultimate sacrifice while performing EMS (Youtube Video))