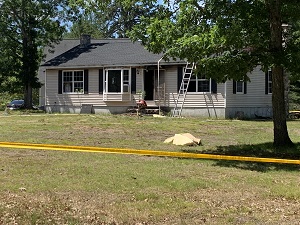 From the desk of Shannon Moss, DPS PIO

On Thursday, June 17, 2021, at approximately 5:13 am Limington, Standish, and Hollis Fire Departments responded to a house fire at 259 Hardscrabble Road in Limington. When firefighters made entry into the home they discovered the deceased bodies of an adult male and female. 
The State Fire Marshal's Office and Maine State Police's Major Crimes Unit South were called in to investigate the suspicious deaths. Evidence Response Technicians continue to process the scene at this hour.
Shortly after the discovery, Maine State Police located 21 year Matthew Cote who they believe lived in the house. He was driving in Limington when a State Police Trooper spotted his car.
Cote was interviewed and arrested this afternoon. He has been charged with two counts of murder and was taken to the York County Jail.
At this time Maine State Police cannot identify the victims or confirm why their deaths are suspicious until after the autopsy, which will take place Friday at the Office of the Chief Medical Examiner in Augusta.
Hardscrabble Rd continues to be shut down and is expected to be for the next several hours while Major Crimes and the Fire Marshal's Office investigate the scene.
Cote is expected to make his first court appearance at 2:30pm Friday via Zoom through York County Superior Court.