June 11, 2021
Katharine England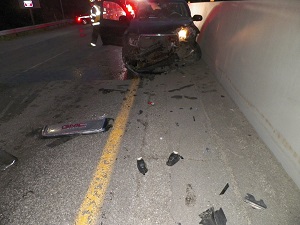 From the desk of Shannon Moss, DPS PIO
On June 11, 2021 at approximately 3:37am Maine State Police Troopers responded to a single vehicle crash on I-95 near Broadway Street in Bangor.  The investigation determined that the driver, 39 year old Anthony Monroe, Sr. of Old Town was traveling south when he struck a guardrail near the Exit 185 off ramp. The vehicle then traveled across the road and struck the concrete barrier in the median. Monroe, who was not wearing his seatbelt, was pronounced dead at the scene. 
The Maine State Police was assisted by the Bangor Police Department and the Bangor Fire Department.
This is the only information available at this time.  
If anybody has information in relation to this incident please contact Trooper Bryan Creamer at 207-973-3700.