April 16, 2021
Katharine England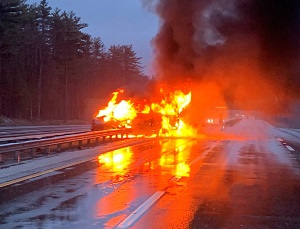 Maine's April storm is bringing rain, snow and poor driving conditions.

On Friday, April 16, 2021, between 5am and 6am, Maine State Police (MSP) responded to three separate crashes on the Turnpike; all due to hydroplaning.
At 5:52am MSP responded to a crash at Mile 15 Southbound in Ogunquit. 
The driver of the 15 passenger van hydroplaned and crashed into the guardrail.  The vehicle's fuel tank ruptured and caught fire. 
The driver escaped without injury.  There were no passengers in the van at the time of the crash.
Maine State Police would like to remind drivers to reduce speeds, make sure their vehicle's tires are in good working condition and that hydroplaning, which reduces a driver's ability to stop or steer, is a dangerous reality in inclement weather.