December 10, 2020
Katharine England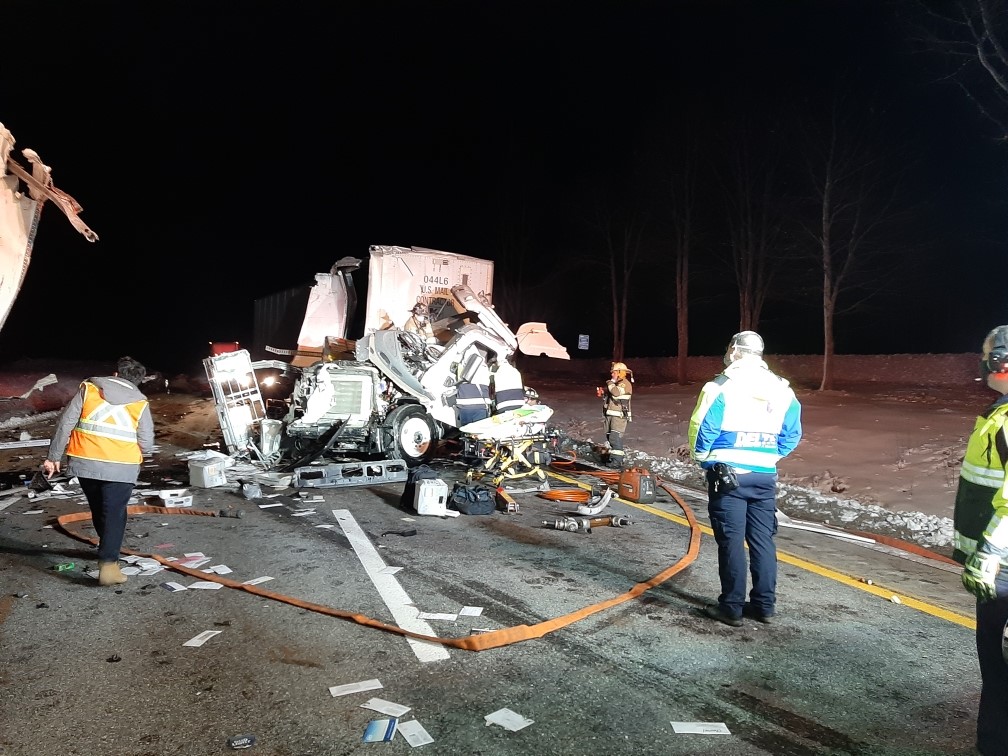 On the early morning of Dec. 8, 2020,  at approximately 2:00 a.m., State Police received the report of a multi-vehicle crash on I-95 southbound in the area of mile 113 in Augusta. Kennebec Sheriff's deputies were in the area and immediately responded as well as State Police Troopers. 
As a result of the investigation, it was determined that a 2021 Volvo tractor-trailer unit owned by Trans 99 Logistics of Ontario, Canada was hauling peat moss had slowed to an almost stop in the breakdown lane however partially exposed to the right driving lane. A 2013 Freightliner tractor-trailer owned by Kris-Way Trucking of South Portland, ME was hauling US Mail and also was traveling south on I-95, followed by a Delta Ambulance in the right travel lane. The Freightliner Tractor-Trailer unit crashed into the rear of the Volvo tractor-trailer. The ambulance struck debris from the load of peat moss in the roadway.      
The driver of the Freightliner, Clayton Crosby, 52, from East Millinocket, was entrapped and was extricated by Augusta Fire Dept. He sustained non-life-threatening injuries and was transported to a nearby hospital. The occupants of the Delta owned Ambulance and of the Volvo tractor-trailer unit that was operated by a 24-year-old driver and his passenger, both of Nova Scotia, Canada, were not injured. Both tractor-trailer units sustained massive damage and had to be towed from the scene. The ambulance was transporting a patient, however, was not responding to an emergency sustained functional damage to the front. 
I-95 southbound was shut down for approximately 4 hours while the vehicles were removed from the scene by A/C Towing and Maine DOT cleaned up the roadway. 
The US Postal Inspector responded to the scene. The crash was also investigated by the Maine State Police Commercial Enforcement and Crash Reconstruction Units. Maine Department of Environmental Protection also responded due to the minor fuel leakage on the roadway.