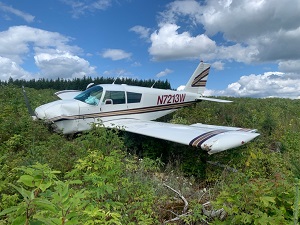 Police responded to T 17 R 3 where a pilot made an emergency landing in a clearing.
On August 5, 2020, at approximately 12:52 PM, the Houlton RCC received a 911 call from Leigh Smith, 35, of Presque Isle reporting he made an emergency landing with his airplane.  
Cpl. Chuck Michaud responded to the scene in T 17 R3 off the Sullivan Rd. along with Maine Game Warden Ryan Fitzpatrick and multiple other first responders.  
Officials learned that Smith was receiving flight instruction from Cody Anderson, 26, of Levant when the engine failed, and they were forced to make an emergency landing.  The plane came to rest in a clear cut and had front end and wing damage.  Both men were transported to Fort Kent Regional Hospital with non-life-threatening injuries.  
The incident remains under investigation by the Portland office of the FAA and Northeast office of the National Transportation Safety Board (NTSB). 

(EDIT: The names of the flight instructor and student were mixed up in earlier versions of this release. Edited 8/5/2020 at 17:17)