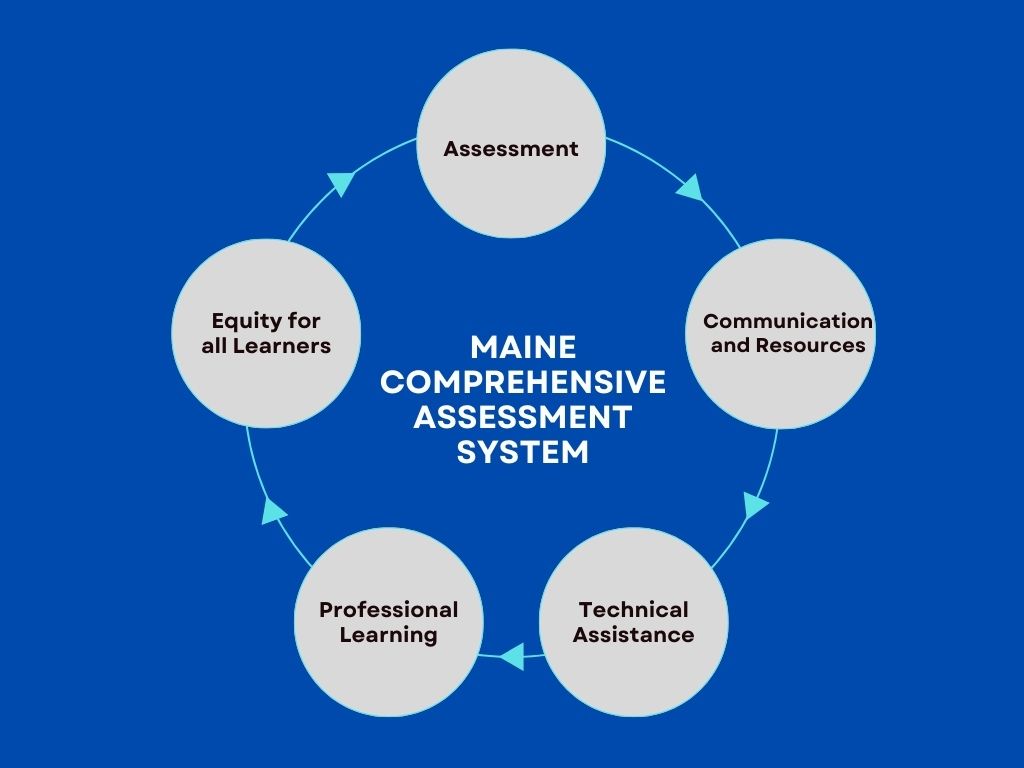 New Resource: Transition to the Maine Through Year Assessment Spring 2023 and ESEA Applications 

An informational session co-faciliated by the Assessment & ESEA Federal Programs Teams), including the agenda topics of:

Spring 2023 

Maine Through Year Assessment and timeline for results data 

ESEA Application Goals for 2023-24
ESEA Performance Report Goals for 2022-23
Q & A

 

Questions? Technical Assistance needed? Please reach out!

Jodi Bossio-Smith, Director of Assessment

Cheryl Lang, ESEA Federal Programs and Continuous School Improvement Coordinator



 
Assessing student learning is an essential aspect of education, as it provides data that can lead to improved instruction and outcomes. The Maine Comprehensive Assessment System (MECAS) provides information about the academic progress of students, schools, the state, and the nation as a whole. The MECAS includes state assessments, known as the Maine Educational Assessments, as well as the national and international assessments.
Assessments take many forms, and each type of assessment has distinct value and purpose in a comprehensive assessment system . In a balanced assessment system, state and national assessments are one small "piece of the puzzle," and the results are meant to be triangulated with multiple other data sources to provide a comprehensive picture of student learning at the state, district, school, and student levels. In Maine, state assessment data are also used to inform the state's accountability model and determine where supports and resources are most needed. As a part of this collaborative process between Maine's educators, schools, SAUs, and the Maine Department of Education, we continue to strive to ensure that every child has an equitable opportunity for success.
Questions about Maine Educational Assessments? Reach out to a member of the Team!
Special Considerations Exemption Instructions PDF & Mini-Series

Special Considerations Exemption Instructions PDF - This process for assessment exemption is intended to be used in the rare instances when a student cannot participate in either instruction or assessment. In these cases, a request for State approval of non-participation must be made through the NEO Portal. 

 

Special Considerations Mini-Series- Spring 2022

A Special Consideration is a request for a student to be exempt from participation in a required Maine Educational Assessment (MEA) due to medical reasons. This request must be submitted within the open assessment window of each specific applicable assessment. Following are three mini webinars that will guide you through the process of making a special considerations request.

Part I:  What is a Special Consideration?

Part II: Information Needed for a Special Considerations

Maine Comprehensive Assessment System Guidelines 2022-2023

Maine Comprehensive Assessment System Guidelines 2022-2023 PDF

The Maine Comprehensive Assessment System (MECAS) Guidelines 2022-2023 provides schools with participation, enrollment, and administration, questions or concerns. The MECAS Guidelines should be used in conjunction with each MEA's Coordinator/Administration Manual.  (Formerly known as Operations Procedures Manual (OPM)).

 

District Assessment Coordinators (DACs) & Data Specialists Lookup

Use this to search for Assessment Coordinators and Data Specialists in each district (no login required). If a DAC in NEO needs to be updated/changed, follow steps outlined here (login credentials required)