There are already memorials in place or projects in progress for a few of our Maine Congressional Medal of Honor recipients. To learn about existing memorials or projects please check the links below. You may also find some helpful examples of what others have produced for memorials and how teachers have utilized the Congressional Medal of Honor Project as part of classroom curriculum.
Burnham: Cpl. Clair Goodblood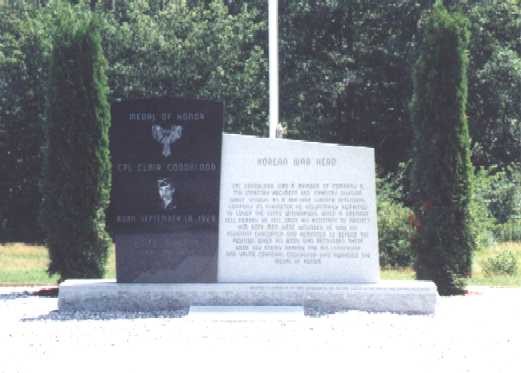 The CPL Clair Goodblood Chapter, Korean War Veterans Association (KWVA), of Augusta, Maine, constructed a CPL Clair Goodblood Medal of Honor Memorial in Burnham, Maine.
The memorial was dedicated on Memorial Day 1998 and is located on the "Corporal Clair Goodblood Memorial Highway," Route 100, Burnham, Maine.
Lincoln: Master Sergeant Gary I. Gordon
A Medal of Honor project is currently underway in the Town of Lincoln, where supporters are seeking to erect a life-size bronze statue of Medal of Honor recipient Gary Gordon at the site of the veterans memorial (off West Broadway and Prospect Avenue near Bangor Savings Bank). Gordon was a U.S. Army master sergeant who was awarded the Medal of Honor after participating in a mission to save downed pilot Michael Durant during the Battle of Mogadishu in Somalia. The battle was memorialized in the 2001 film Black Hawk Down.
The statue fundraising effort, kicked off in the autumn of 2015, is being organized by the Marine Corps League Greater Lincoln Area Detachment 976, in coordination with other community members and interested citizens. The fundraisers have created a Facebook page,Gary Gordon MOH Memorial and a website garygordonmohmemorial.com have a goal to raise $120,000 by 2018, the 25th anniversary of the Battle of Mogadishu. Currently, the town has a dedication stone in memory of Gary Gordon in place at the town office on Main Street.
The Town of Lincoln established a memorial honoring Master Sgt. Gary I. Gordon. The memorial stands in front of the Lincoln Town Office located at 63 Main Street.
For more information about Master Sergeant Gordon, the memorial and the national media surrounding his citation you may visit the Town of Lincoln's dedicated webpage.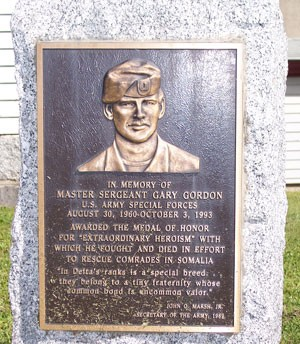 Read the Nov. 19, 2015 Bangor Daily News story about the statue fundraising effort here: http://bangordailynews.com/2015/11/19/news/penobscot/lincoln-group-wants-new-memorial-for-black-hawk-down-hero/
Old Town: General Lewellyn Garrish Estes
The Old Town High School Army Junior ROTC program has utilized the Congressional Medal of Honor Project as a Service Learning Project. Under the guidance of Lieutenant Colonel Amedeo J. Lauria, the class of 15 cadets created a project in the spring of 2008 which included a:
Microsoft PowerPoint presentation that they presented in late March 2008 at the Service Learning Summit held at the University of Southern Maine in Gorham;
A lithograph drawing of the recipient's cited battle created by Rosemary Parks, a Korean exchange student;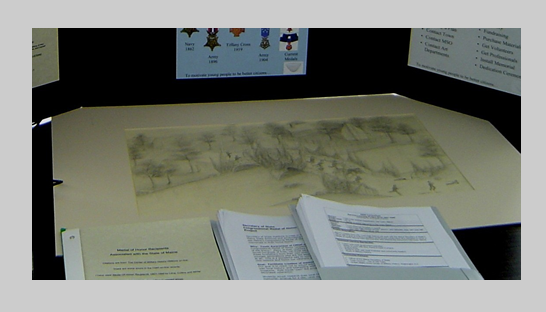 An appearance on the Ray and Ted morning show on WLOB to speak about their project;
An exhibit displayed at the Service learning Summit and at Old Town High School.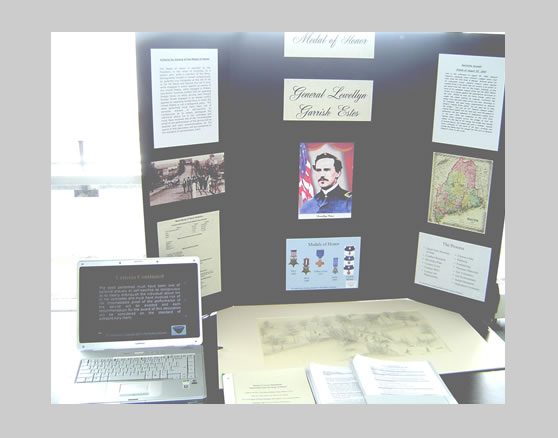 Tremont: John F. Bickford
In 2019, Mrs. Pajor-Meddaugh's 4th grade class at Tremont Consolidated School began working with the Tremont Historical Society (THS) to research the town's Congressional Medal Honor recipient John F. Bickford, a Civil War naval officer.  Members of the Tremont Historical Society visited the classroom to discuss research strategies and featured an article about the project in their Spring 2020 newsletter. The students produced a brochure with both a historical and fictional account of what they learned about Bickford in their research.
The class announced the project at a Veteran's Day program, learned about research sources with THS members and held a bake sale at their Winter Concert. They were off to a good start fund raising for a memorial plaque at an existing Veteran's memorial near the school when the pandemic forced the closure of schools.
During this time, Mount Desert Island high school senior Timothy Moore built two benches for the memorial site as part of his Eagle Scout badge project. The Mount Desert Islander recognized Timothy's contributions in their August 20, 2020 edition.  The benches and a brochure holder will be installed in spring of 2022.
Kathie Pratt, an Ed Tech at Tremont Consolidated School and a member of THS, has been championing this project for the district. She and Mrs. Pajor-Meddaugh continued the project in 2021. With the assistance of a grant from the Tremont School Fund, they were able to have the memorial stone and plaque completed in the fall of 2021. Due to COVID, they were not able to have a public dedication, but hope to in the future.
 

Spring 2020 Newsletter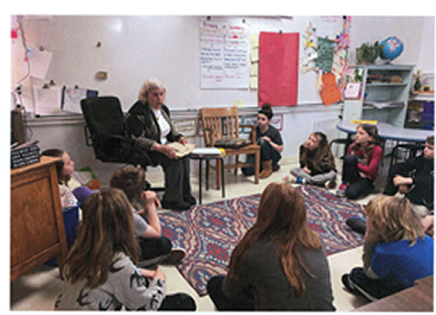 THS board member Nan Lincoln shares experiences, story sources and ideas with the 4th grade class, Tremont Consolidated School 2020. Fellow Board member Chuck Liebow was also present, out of sight to the left behind the desk. He shared with the class some important understandings of the online resources and the THS website. 
Photo Credit: Natalia Pajor-Meddaugh
TODAY'S STUDENTS LEARN AND WILL REMEMBER
By Kathie Pratt
In 2016, the Tremont Historical Society received a letter from Maine's Secretary of State regarding Maine's Medal of Honor Project. Its mission is to memorialize MOH recipients in their hometowns. It encourages civic and cultural organizations to partner with schools, learn about their hometown heroes, and raise funds for their public memorial. The Medal of Honor is our country's highest military decoration,awarded by the President in the name of Congress. Turns out, Tremont's own John F. Bickford was awarded the medal for his valor and composure under fire in a naval battle during the American Civil War.
It took four years of intermittent proposals to educators to get an acceptance. Although there was interest, teachers are extremely busy just teaching the required standards, which leaves little time for a project of such proportions. Enter Natalia Pajor-Meddaugh, Tremont School's 4th grade teacher. She matched the project with the grade 4 core standards of writing informational text, and social studies units on Maine and heroes.
This year's class is particularly precocious, and therefore up to the task. They are determined not only to learn about Bickford, but to add a plaque in his honor at the veterans' memorial site beside the school. At the minimum, a bronze plaque fitting that space costs $3000.
In November, they presented their intentions at the Veterans' Day event. In December, they had a bake sale at the winter concert, raising over $250 in donations, with an additional $100 coming in later. Their teacher applied for a Tremont School Fund grant. The class, THS, and the school's parent-teacher organization partnered to host a spring egg hunt and pancake breakfast. Because of the Covid 19 pandemic, it had to be canceled, and the grant outcome is on hold. The memorial efforts may be temporarily dormant,but never abandoned!
On the academic side, the class has researched and written about John F. Bickford's life and role in the Civil War. They will condense their findings into a brochure to educate the public about this hero. THS guests Nan Lincoln and Chuck Liebow visited the class in February. Ms. Lincoln had written an article about Bickford for the Mount Desert Islander the previous spring. A journalist and author of books, she shared her experience and tricks of the trade. Mr. Liebow, a retired Coast Guard captain and fonner technology specialist at Sumner HS, helped the class with online sources. He also showed them some features of the THS web site. Here is a bit of what they found:
John F. Bickford was born (1843) and bred in Bass Harbor, growing up on the sea. His name appears in the 1850 census along with his seven siblings, his mother Abagail [sic], and his father John, whose occupation was listed as Mariner. The Bickford home site is on the 1860 H. F. Walling map of Hancock County, and the 1881 Colby & Stuart map of MDI.
At age 19, John enlisted in the Union Navy, and served aboard the USS Kearsarge. He established an exemplary service record which culminated on June 19, 1864, off the coast of Cherbourg, France, when the USS Kearsarge sank the Confederate raider CSS Alabama. Bickford was manning the first pivot gun, cool as a cucumber all the while. Fascinating details of the battle and quotes from John himself can be seen in Nonnan Delaney's 2010 Naval History article, on the U.S. Naval Institute website. The battle was famous; there are plenty of sources of information available in both word and image, including a Manet painting which hangs in the Philadelphia Museum of Art. After the Kearsarge was decommissioned in November of 1864, Bickford served on the USS Lenapee.Unfortunately, he and many of his fellow crewmen contracted malaria and typhoid. Illness forced him to resign in 1865, and he returned home. Two years later he moved to Gloucester, Massachusetts, worked for Stockbridge Fish Company, married the boss's daughter, Elsie, and raised a family. He spent the remainder of his life in Gloucester, and died in 1927. He is buried in Mt. Pleasant Cemetery there, with his stone inscribed "Medal of Honor, Master's Mate, US Navy."
https://www.mdislander.com/maine-news/bass-harbor-native-was-civil-war-naval-hero 
http://mdihistory.org/Cultural_History_Project/htdocs/MDIcensuses/Tremont1850census.htm
https://www.loc.gov/resource/g3732m.ct003150/
https://www.loc.gov/resource/g3733h.la000268/
https://www.usni.org/magazines/naval-history-magazine/2010/december/i-didnt-feel-excited-mite
https://www.philamuseum.org/collection/object/101707
https://www.findagrave.com/memorial/19621/john-f-bickford
Ed. Note: As Kathie mentioned in this article, due to the pandemic it is impossible for the current fourth graders to complete the project described. There is hope that another way will
Veterans Day Program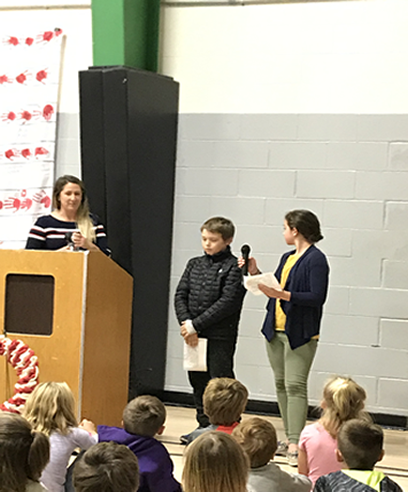 Research sources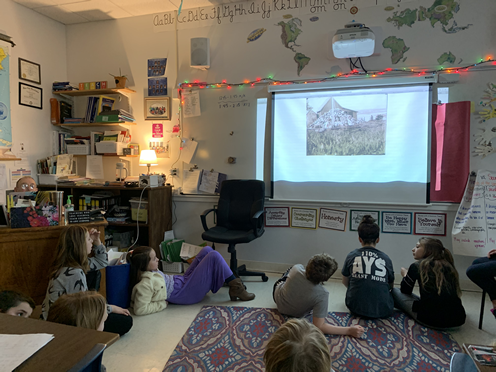 Bake Sale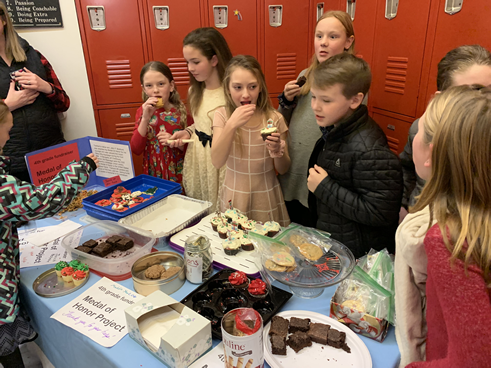 Timothy's Contribution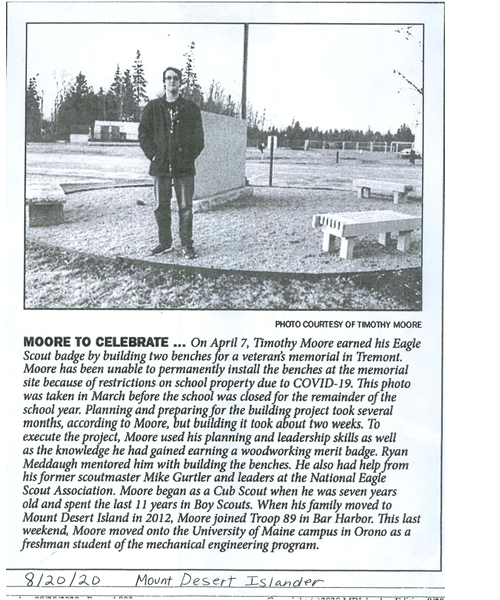 Brochure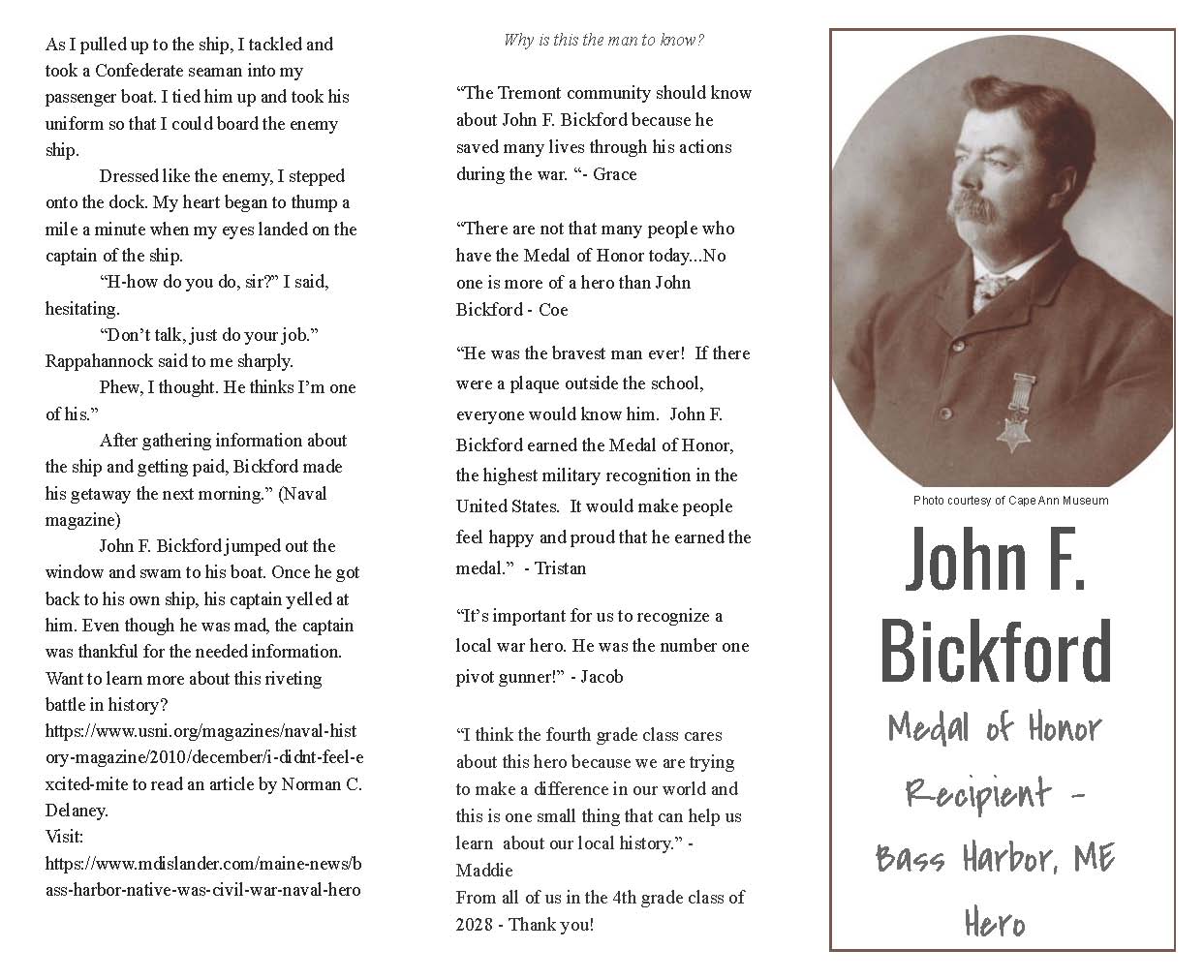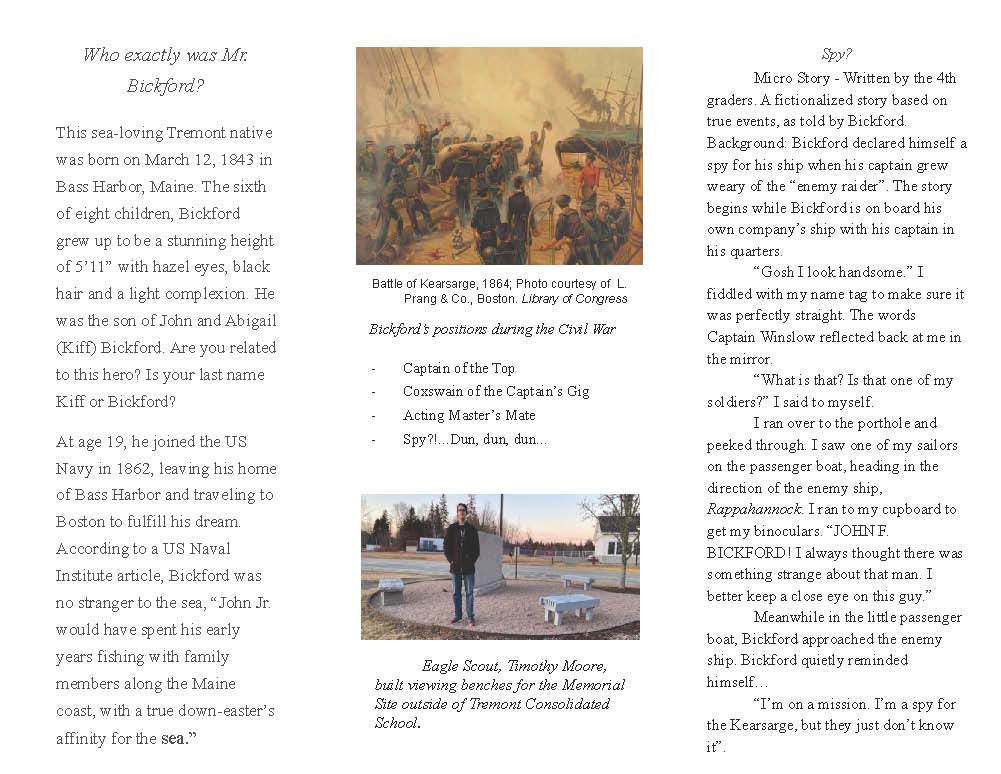 Memorial