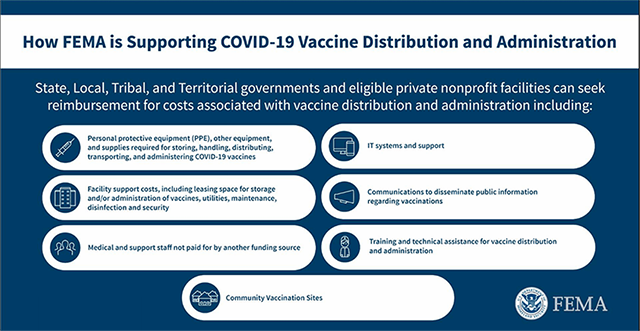 What is Public Assistance?
Public Assistance (PA) is a reimbursement program that provides federal funding to help communities respond to and recover from disasters. The Federal Emergency Management Agency (FEMA) is providing financial assistance to applicants for eligible expenses that are a direct result of the declared event in response to COVID-19. 
Did your organization set up a temporary facility in order to provide vaccinations to the public? 
Did your organization hire temporary workers or incur overtime labor costs associated with vaccine management and distribution?
Has your organization incurred costs (ex., PPE, medical supplies, waste disposal, etc.) above and beyond the typical insurance reimbursement rates?
If you can answer yes to one or all of these questions, FEMA PA funding may be made available to your organization. To pursue FEMA PA funding, or to have your questions answered, please reach out to Maine's PA team at maine.recovery@maine.gov. 
How to use the FEMA Grant Portal
Grant Portal Information

Email maine.recovery@maine.gov for an invitation to Grants Portal. Be sure to include your organizations legal name, if you have 501(c)(3) status, and phone number.

What is the FEMA Public Assistance Grants Portal?

The Public Assistance Grants Portal tool is an online platform that is used to formulate and track award packages and is used by applicants to manage their projects. Applicants can use the Grants Portal to:

Register for and update an applicant profile
Submit a Request for Public Assistance
Upload project documentation

How to Register in the Grants Portal

Registration into the Grants Portal is a multi-step process. The Maine Emergency Management Agency (MEMA) Public Assistance team will create an account for each entity, which will generate an email from support.pagrants@fema.gov. This email will provide a username (the email provided) and password with a link to sign into the Portal. The Portal will require set up of a permanent password, security question and the account to be finalized. This generates an email to MEMA PA to finalize their account, which will then allow the entity to login. The website to access the portal is https://grantee.fema.gov once access is granted. 

Registration Quirks

The Grants Portal system works best in Firefox. 
Be sure to check your spam for generated emails from the Grants Portal.

Requesting Public Assistance

The next step is submitting a Request for Public Assistance (RPA).

Once access to the Portal is granted you will need to submit an RPA by clicking on the hyperlink "Please click here to begin RPA submission process." Then follow the instructions for submittal. Once submitted, the RPA is routed for eligibility determinations first by MEMA, then by FEMA.

Private Nonprofit (PNP) organizations are required to submit additional documentation before FEMA will approve their RPA. Examples include:

A current ruling letter from the Internal Revenue Service granting tax exemption under sections 501(c), (d), or (e) or documentation from the state substantiating you are a non-revenue producing, non-profit entity.
Proof of ownership of owned facility(ies).
If you lease a facility, proof of legal responsibility to repair the incident-related damage or expenses.
A list of services provided in the facility and when and to whom.

In certain cases, FEMA will contact the PNP with a request for additional information, if needed.