International Waters Between Maine and New Brunswick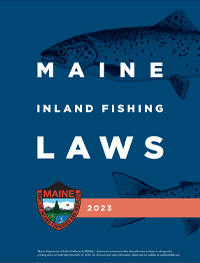 On this page:
Licensing Requirements on International Waters
Either a Maine or New Brunswick license will be honored while fishing on the main body of the waters listed to the right, or on International river waters. Fishing on these waters in any area or cove where jurisdiction can be determined by a straight line drawn between two points of land, or fishing while positioned on shore or tied up to shore requires the appropriate agency license.
Waters Affected by this Section
Grand Lake, East, Danforth, Forest City Twp, Orient, Weston
Glazier Lake, T18 R10 WELS
Grand Falls Flowage, east of a line between red markers on McAllister Point and Abbott's Point and north to Spednic Falls.
Monument Brook, Amity, Orient
Mud Lake, Forest City
North Lake, Orient
The Thoroughfare between North Lake and East Grand Lake, Orient
Saint Croix River, in its entirety
Saint Francis River, T18 R10 WELS, T19 R11 WELS, Big Twenty Twp.
Saint John River, from its confluence with the St. Francis River to the easternmost border of the town of Hamlin.
Spednic Lake, Forest City Twp, Forest Twp, T11 R3 NBPP, and Vanceboro
Woodland Flowage (St. Croix River Flowage), Baileyville
To view the international boundary line use the Fishing Laws Online Angling Tool (FLOAT) or look at a Maine Atlas.