Fish Consumption Advisory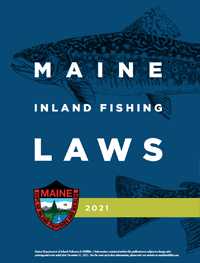 Warning About Eating Freshwater Fish
Mercury in Maine freshwater fish may harm the babies of pregnant and nursing mothers, and young children.
Pregnant and nursing women, women who may get pregnant, and children under age 8 should not eat any freshwater fish from Maine's inland waters. Except for brook trout and landlocked salmon, one meal per month is safe.
All other adults and children older than 8 can eat two freshwater fish meals per month. For brook trout and landlocked salmon, the limit is one meal per week.
Warning: Some Maine waters are polluted, requiring additional limits to eating fish.
Fish caught in some Maine waters have high levels of PCBs, Dioxins or DDT in them. These chemicals can cause cancer and other health effects. The Maine CDC recommends additional fish consumption limits on the waters listed below. Remember to check the mercury guidelines. If the water you are fishing is listed below, check the mercury guideline above and follow the most limiting guidelines.
For more information please visit the Maine Center for Disease Control and Prevention website.
Safe Eating Guidelines
Androscoggin River
Gilead to Merrymeeting Bay
6–12 fish meals a year
Dennys River
Meddybemps Lake to Dead Stream
1–2 fish meals a month
Green Pond, Chapman Pit,
& Greenlaw Brook (Limestone)
Do not eat any fish from these waters
Little Madawaska River & tributaries
(Madawaska Dam to Grimes Mill Road)
Do not eat any fish from these waters
Kennebec River Augusta to the Chops
Do not eat any fish from these waters
Kennebec River from Shawmut Dam
in Fairfield to Augusta
5 trout meals a year,
1–2 bass meals a month
Kennebec River from
Madison to Fairfield
1–2 fish meals a month
Meduxnekeag River
2 fish meals a month
North Branch Presque Isle River
2 fish meals a month
Penobscot River below Lincoln
1–2 fish meals a month
Prestile Stream
1 fish meal a month
Red Brook in Scarborough
6 fish meals a year
Salmon Falls River below Berwick
6–12 fish meals a year
Sebasticook River (East Branch,
West Branch & Main Stem)
(Corinna/Hartland to Winslow)
2 fish meals a month