Fishing Report
Click the links below for the most up-to-date fishing news and suggestions from Maine's fisheries biologists.
Before you head for a day of fishing, ALWAYS tell someone where you are going and when you will return. Please enjoy the Maine outdoors safely and responsibly!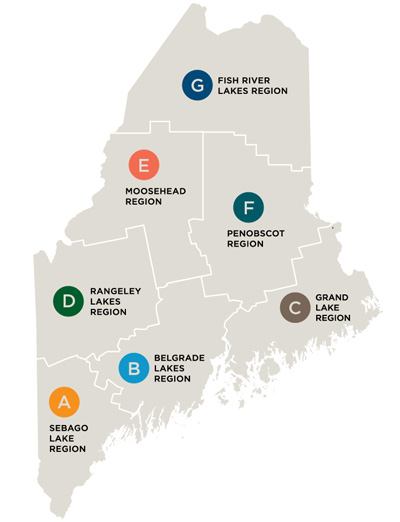 Sebago Lake Region
From Fisheries Resource Technician Brian Lewis
Where to fish: Spring stocking is well underway with hatchery staff planting legal sized brook trout, brown trout, and rainbow trout in streams across the region. These stockings are mostly intended as put and take fisheries which generally only persist until early summer due to habitat constraints. Anglers shouldn't feel guilty about keeping their legal limit and enjoying a meal of spring caught trout. Likely fishing locations include Twitchell Brook in Greenwood, the Little Androscoggin River in Oxford, and Collyer Brook below Route 100 in Gray.
To view where we have stocked fish near you, view the fish stocking report. The report is updated daily and waters are organized by county so you can find a fishing location close to home.
Fishing tip: Anglers are advised to bring a variety of tackle, but a small spinner tipped with a bit of worm is hard to beat.
Belgrade Lakes Region
From Fisheries Resource Supervisor Jason Seiders, 5-26-23
Brook trout ponds: Central Maine doesn't have a ton of brook trout ponds, but we have some that give you the feel of fishing in northern Maine. We've surveyed many of these ponds in recent years and they're all producing nice fish. Most of these waters have fish averaging 14-16 inches with a few fish climbing up to 18-20 inches. Here's a list of waters that should be great fishing right now:
Bowler Pond (Palermo)
Egypt Pond (Vienna)
Tyler Pond (Manchester)
Gould Pond (Manchester)
Kimball Pond (Vienna)
Damariscotta Lake (Jefferson, Nobleboro): Damariscotta Lake offers a variety of fishing opportunities for midcoast anglers. We stock Damariscotta with brown trout and lake trout and we see really nice growth with both species. Browns can be found throughout the lake, but you'll need to fish the north bay to find lake trout in deeper water. Damariscotta supports robust populations of both smallmouth and largemouth bass – they can be found everywhere. Additionally, we always find the white perch to be quite large on Damariscotta; often topping 13 inches. This lake also produces some of the largest brown bullhead (hornpout) I've ever seen!
Belgrade Stream (Belgrade, Mount Vernon): Belgrade Stream provides a great opportunity to fish from shore at several access points, or a chance to take a leisurely float trip. Belgrade Stream grows some really big bass – both largemouth and smallmouth, and panfish can be found everywhere. It's a scenic area with tons of birds and other wildlife and it can produce a memorable day of fishing.
Kenduskeag Stream (Bangor): Kenduskeag Stream is a great place to fish for brook trout. The stream is well-stocked and there are numerous road crossings where folks can access the water.
This is a great time of year to fish for wild brook trout. Central and midcoast Maine doesn't have the amount of wild trout that other parts of Maine can claim, but we still have some nice little trout streams. Searching out small trout streams can be a nice adventure for a day and a great way to explore a new area or two. If you're not sure if the stream has trout, just give it a try and see what you get. If you catch bass or other warm water fish, find another spot. Trout streams will usually have one or two minnow species and brook trout – that's usually it. These fish are typically small and quite hungry. A hook baited with a small piece of worm or a small sinking fly work really well. A bead head nymph is a great way to fish small streams, even with a spinning rod. Use our Fishing Laws Online Angling Tool (FLOAT) to make sure you know what the regulations are for the brook you're fishing and have fun!
Grand Lake Region
From Fisheries Resource Supervisor Greg Burr, 5-19-23
In the Downeast area the month of June has diverse opportunities for many different coldwater and warmwater fish species. For those coldwater gamefish enthusiasts, landlocked salmon will be eagerly biting on trolled streamers, lures, and live bait at these recommended waters: Mopang Lake in T 30 MD, West Grand Lake in Grand Lake Stream, Jordan Pond in Seal Harbor, Long Pond in Southwest Harbor/Mount Desert, Echo Lake in Southwest Harbor/Mount Desert, Cathance Lake in Cooper, Tunk Lake in T 10 SD, and Donnell Pond in Franklin. For fly anglers looking for landlocked salmon action I recommend Grand Lake Stream as the may flies and caddis flies will be hatching and enticing salmon to the surface to feed. For those die hard brook trout anglers I still recommend the small trout ponds such as Simmons Pond in Hancock, Salmon Pond in T 10 SD, Spectacle Ponds in Deblois, East Pike Brook Pond in Deblois, West Pike Brook Pond in Deblois, Witch Hole Pond in Bar Harbor, and Lakewood Pond in Bar Harbor. Most of these waters can be fished from shore.
For the warmwater fish anglers I recommend fishing for bass at the following: Grand Falls Flowage in Princeton, Big Lake in Big Lake Twp., Meddybemps Lake in the town of Meddybemps, Third Machias Lake in T 43 MD, Pocomoonshine Lake in Princeton, Abrams Pond in Eastbrook, and Branch Lake in Ellsworth.
For those anglers looking for white perch I recommend Abrams Pond in Eastbrook, Big Lake in Big Lake Twp., Grand Falls Flowage in Princeton, Third Toddy Pond in Orland, and Third Machias Lake in T 43 MD.
Fishing tip: The fishing tip of the month is to use long leaders (in excess of 50 feet) when trolling for salmon and lake trout.
Reminder: We also want anglers to know that even though it is June the brooks, rivers, streams, lakes, and ponds are hypothermically cold, so please wear your life jacket.
Tight Lines!
Rangeley Lakes Region
From Seasonal Fisheries Assistant Ashley Houle, 5-26-23
Places to fish:
Aziscohos pond in Magalloway Plt. is a beautiful remote pond in western Maine that can make for a great day of brook trout fishing! This 12-acre pond requires a 20-minute hike in through the woods on an established angler trail found off the Crazy Raven Road. Brook trout are the only fish species present in this pond which allows for good growth without other competing populations. This pond is regulated under general law and is stocked annually in the fall. Small spinners and Kastmasters are excellent lures to throw in your tackle box to use here.
Pinnacle Pond in Kingfield is 4 acres and an easy access pond with excellent shore fishing opportunities. This pond is a kids-only water for those under 16. Brook trout and redbreast sunfish are plentiful here. Not only is this water great fast fishing for kids, but there are also abundant frog and painted turtle populations to observe! A simple worm and bobber set up will guarantee a bite from sunfish and flashy lures such as a Phoebe spoon or Roostertail are great to use to catch trout here.
Big Jim Pond located in Jim Pond Twp is perfect for anglers who like to troll. This 320-acre pond is located off Route 27 and has a great boat launch. Big Jim has landlocked salmon, brook trout, and togue. Brook trout are stocked annually and there are also wild trout and landlock salmon populations. General law applies to this water and a recent regulation change was made for togue. The new togue regulation is a 6 fish bag limit with no minimum length, only 1 togue exceeding 23 inches may be kept. We encourage anglers to take advantage of this regulation to help manage the togue population.
Fishing Tip: During June, hatches emerge as the waters are warming which is some of the best times to fly fish. If you're fly fishing and you're unsure about a hatch going on around you, try to grab one of the flies and match it the best you can to a fly in your fly box. Although fly fishing with dry flies can be very productive during a hatch, don't be discouraged to throw a dry fly when a hatch isn't happening, they can still catch fish.
Reminders: Proper fish handling is very important if you are planning to release your fish, especially for the health of trout. Remember to wet your hands before holding the fish, keep your fingers away from their gills, and limit the time out of the water. Also, as the warmer weather and black flies are here, we are using more sunscreen and bug spray, it is important to remember after applying these products to wash the remnants off your hands before handling any fish!
Moosehead Region
From Nate Clark, Seasonal Fisheries Assistant – Moosehead Lake Region, 5-24-23
Warmer weather is finally here! The fishing has been great in the Moosehead Lake Region, specifically on Moosehead Lake itself. There has been a lot of action fishing for landlocked salmon near the tributaries of the lake. The smelt run entices ample quality fish to sit in or near inlets. Often, many of these fish caught this time of year are full of smelts. Matching similar lures and flies to a smelt pattern may increase your chances of landing a fish. Overall, high spring flows are diminishing and the rivers and streams should be near optimal flow around this time. There has been insect activity slowly starting up. A few mayfly hatches have been reported and the flying ant hatch should be here any day now. With those hatches, it is common to find brook trout and salmon gorging themselves upon the insects due to copious availability. Suckers are beginning to spawn at this time of the year as well. Many trout and salmon key in on the eggs, which the suckers are depositing. Often, anglers use an imitation of the sucker egg itself to entice brook trout and salmon.
The state hatchery has had their hands full stocking fish in various places around the region. Locations such as the East Outlet and West Outlet have both been stocked recently for anglers to pursue brook trout. Both locations are known to hold and produce nice sized salmon and brook trout. The trout ponds are beginning to heat up right now as well. Locations such as Prong Pond and Mountain View Pond both offer easy access, as well as quality fishing for stocked trout.
Fishing tip: Always try and match the hatch when insects are abundant. Don't be afraid to start turning over rocks which lay in the water. Trying to identify insects which fish could be feeding on subsurface is a great way to turn around a slow day of fishing.
Reminder: We are always encouraging anglers to fill out a voluntary survey card. These cards greatly aid the fisheries staff to help understand the use and effort going into these locations. It is also important to always check the weather before adventuring out on the lakes. Thunderstorm season is quickly approaching, and nobody wants to be caught in a storm unexpectedly.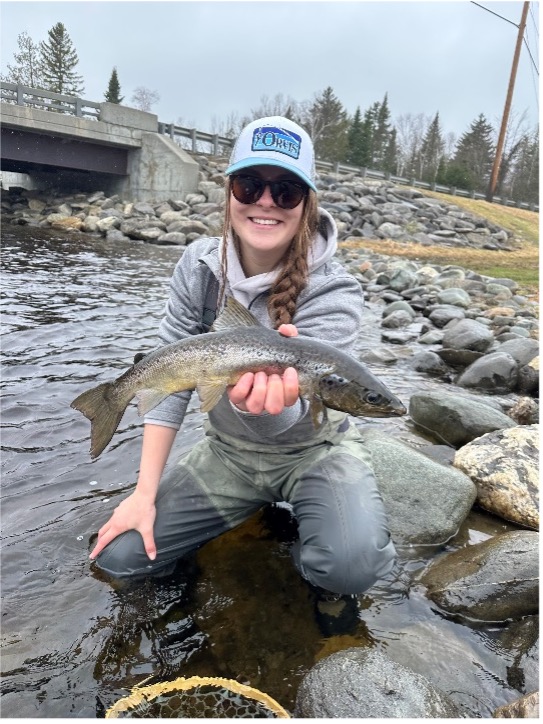 Penobscot Region
From Fisheries Resource Supervisor Kevin Dunham
Prime angling opportunities abound year-round in the Penobscot Region and the month of June is a particularly good time to target brook trout in some choice waters, whether you're fishing from shore or paddling a canoe or kayak. The Mattawamkeag River in the towns of Haynesville, Bancroft, and Drew Plt. has several convenient canoe and kayak access points. River flows should be favorable in June and water temperatures will continue to warm providing great early season brook trout action. The portion of the Stillwater River in Orono from Stillwater Ave. downstream to the Penobscot River offers bank-fishing opportunities as well as canoe and kayak access. Both the Mattawamkeag River and Stillwater River have been stocked this spring with brook trout in the 10" range. The East Branch Penobscot River is still running very high but should be good to fish later in the month as the flows moderate.
New to fishing or introducing someone that is? The Department's Free Fishing Weekend falls on June 3 & 4 this year, the above-mentioned waters offer an excellent opportunity to acquaint a novice with the pleasures of piscatorial pursuit. Don't overlook small, local brooks and streams though, Free Fishing Weekend is a great time to just get out and enjoy the Maine outdoors on a budget, no high-end equipment necessary to get…hooked.
If larger waters are more your thing, we've had reports that both East Grand Lake (Danforth, Forest City Twp., Orient, Weston) and Schoodic Lake (Brownville, Lake View Plt., T4 R9 NWP) have been producing robust landlocked salmon at a steady pace. Also on offer at these two lakes are healthy natural lake trout and stocked brook trout populations. The warming trend as of late should bring a rise in water temperatures and increased action to your fishing trips in June.
Fishing tip: As the water begins to warm in June, begin to pick up boat speed just a bit when trolling to mimic natural baitfish, which tend to become more active as water temperatures become optimal. During the end of June and into later months, fish deeper as surface water temperatures warm too much and fish seek deeper, cooler, well-oxygenated conditions.
Fish River Lakes Region
From Fisheries Resource Supervisor Frank Frost, 5-26-23
Fishing reports from around the region continue to be positive with some great catches recently reported. Some anglers have timed their trips perfectly with weather and water conditions; "epic catches" were reported by one group on the Allagash Waterway, describing their trip as one of the "best in many years". Looking ahead, due to some cool, wet weather at the end of May, the first days of June should be excellent for fishing in northern Maine. Rivers, brooks, and streams are currently high due to recent rains but by June 1 water levels should be perfect for that next fishing trip.
Places to fish:
Cross Lake, T16R5, public landing off Disy Road. Salmon, brook trout, white perch. There is a boat landing for anglers with watercraft and also some beach area for shore anglers where some deep water can be easily reached by casting.
John River, Frenchville, public landing off Route 1. Muskellunge, smallmouth bass, brook trout, salmon. There is a modern boat landing for anglers with watercraft and also opportunity to shore fish up and downstream from the launch. There is some great habitat for all species within casting distance from shore.
Nadeau Lake, Fort Fairfield, public landing off Route 1A. Brook trout. There is a launch for small watercraft and a constructed gravel pier for shore anglers. Nadeau is a reclaimed lake with excellent habitat for brook trout. Trout density is low but fish size is well above average for the region. Trout up to 24 inches have been reported from this small lake.
Fishing tip: June is probably the best overall month to fish in northern Maine. This is mainly due to the fact that some intense insect hatches happen on most waters with sportfish taking full advantage of easy foraging. Finding when and where these hatches occur on your favorite water will lead to success on your next trip. Figuring out the correct fly pattern and how to fish them to entice trout and salmon to strike is all part of the sport.
Reminders: In northern Maine there were many rule changes that went into effect in 2023. Most of these changes were on wild brook trout waters and most were slight liberalizations of special rules that had been in place for many years. Check the rulebook before your trip. Also, we continue to work intensively on Eagle Lake on the Fish River Chain of Lakes; anglers are encouraged to continue harvesting salmon to assist in bringing predator fish in balance with their main forage, rainbow smelt. Fishing laws can be found online or use the map-based FLOAT (Fishing Laws Online Angling) tool.