Quick Start Guide for Atlasing Breeding Birds
You don't need to be a birding expert to provide valuable observations to the Maine Bird Atlas project! Even non-birders know the chickadee from the Maine license plate.

Every bird sighting helps, even the birds in your backyard or at your feeder. You likely know more birds than you realize, and the great thing about this project is it doesn't matter what you don't know, just report what you do.
Sharing your sightings is easy!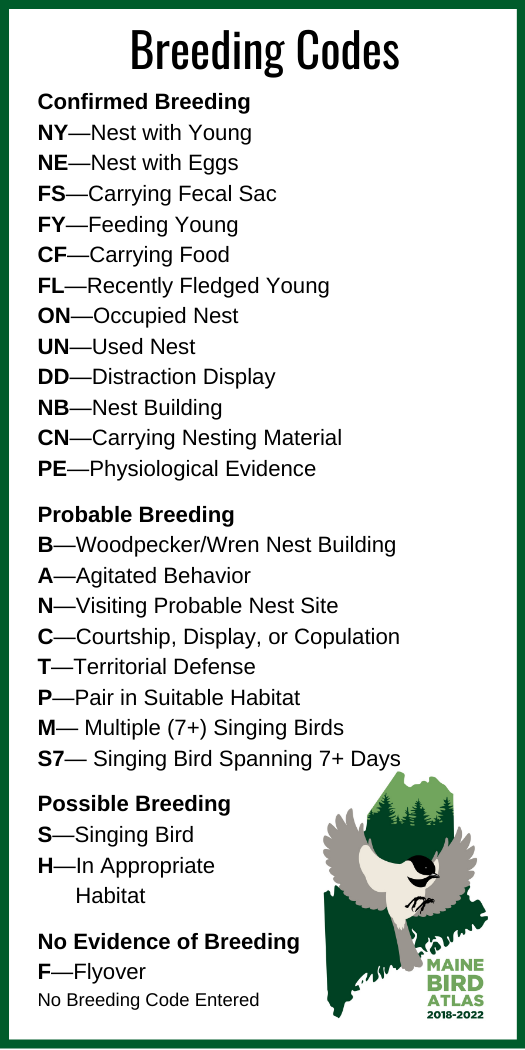 Step 1: Go outside.
Step 2: Don't rely on memory, make note of:
What species you see
When (day and estimate of time)
Where you see it (as precise as possible)
How many individuals of a species you see at any one time

AND


What the bird was doing (this will get translated into a "breeding code" – explained here) –
Step 3: When you return from your outdoor activity (hiking, gardening, kayaking, birding, etc.)
Translate your "what the bird was doing" observation into a breeding code, explained here (PDF).
Step 4: Create an account at ebird.org/atlasme
Step 5: Log into your account at ebird.org/atlasme and click "Submit." Follow the prompts to enter your observations.
It really is easy! Just give it a try. Thank you for sharing your sighting and participating in this project to help guide Maine's future bird conservation efforts. And, don't forget to sign up below to receive periodic updates, exclusive invites, challenges with chances to win cool prizes, and helpful tips.
---
Are you an avid birder? Do you want to take your citizen science efforts to the next level?
Read on for more details on the project and how you can help us meet specific goals.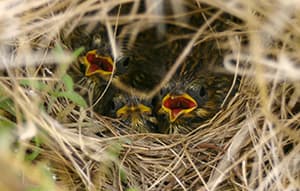 Savannah Sparrow nestlings, A. Leppold
Breeding Atlas Season and Goals

The breeding season varies by species. Once you get started, you can reference our "safe dates (PDF)" table in the complete handbook (PDF) for more information by species.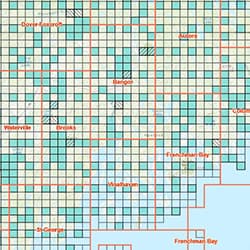 Atlas Block System, Maps, and Location Precision: The Atlas block is the basic survey unit of the Maine Bird Atlas, and Maine is subdivided into approximately 4,000 Atlas blocks. We have identified 974 of the over 4,000 blocks for priority sampling (highlighted in green on our 'Explore and Adopt a Block' map tool). In these final years of the project, our primary goal is to complete priority blocks by reaching a combined total of 20 hours of effort in each, along a few other specific criteria.
Awareness of the specific location where you document birds and block boundaries is critical for contributing records. We suggest that you download and print PDF Atlas maps of your region, or take along a Delorme Atlas of Maine or a GPS in the field with you to accurately record the locations of birds you observe.
Every Observations Help:
Incidental Observations Incidental observations of breeding birds anywhere in Maine, even in blocks "adopted" by others, are welcome and an important source of records. Also, never assume someone else has probably already documented the species you saw. Even the most common birds are still missing from many blocks around the state.
Adopting a Block: We encourage more invested volunteers, however, to sign up to "adopt" a block and take responsibility for documenting breeding birds there. Signing up for a block does not prevent anyone else from reporting birds in that block, it just assists coordinators in planning, and ensures commitment of the "adopter" to have surveys completed by the end of the project in 2022. AGAIN, anyone can submit a record to ANY block, regardless of whether it is already "adopted"!
If your block of interest is already being covered by someone else, you can still contribute observations, but we ask that you also consider adopting another priority block of interest. Many priority blocks (highlighted in green on the map tool linked below), especially in remote areas, are still in dire need of attention.
Travel Grant Program: Need some financial help traveling to atlas your block? We are here for you. Click here to start the travel grant application process.
More Details about what Information to Collect: Don't rely on your memory for records of birds you observe, but instead write down your observations in a notebook or App. We suggest tucking a printed field form and a printout of breeding codes in your bird book so you have this easily available when needed. We require the following information, for all observations, when collecting information for the Maine Breeding Bird Atlas:
Date, Observer(s), Time(s):

Important to record this basic information for all records. Do not summarize your observations across multiple dates.

Specific Location:

At a minimum, all observations should be connected to the Atlas block where the bird was located, although we encourage observations to be as precise as possible within each block. In addition, you will want to keep track of the survey distance that your bird list represents. Make sure you did not cross boundaries into a new block. You will want to keep separate bird lists for each block.

Species Observed, Breeding Behavior Code, and guesstimate of Abundance:

We need to know the species of birds you observed at each location. Do not guess on identifications, tentative identifications should not be recorded.
Also record the type of breeding evidence you observed. Was the bird singing, carrying food or nesting material, acting agitated, etc.? Refer to our summary slideshow (PDF) of breeding behavior codes for examples of each code and categories.
Finally, a rough count or estimate of the number of individuals seen or heard for each species at each location. An "educated guess" on the number of individuals seen or heard is preferable to no count at all. This count should be the actual number of birds seen or heard, not a projected estimate of the number that may be present in the area but were not detected.

Photos left to right: Ruffed grouse with chick, Tree Swallow exiting a nest cavity, singing Black and White Warbler
Safety, Ethics, and Private Property: Always put your safety first. In addition, the welfare of birds and the protection of their habitat is extremely important. A sighting or photo should never take precedence over the well-being of wildlife and active nests should NEVER be approached. Breeding behaviors can be observed at a distance. Private property should never be entered without permission.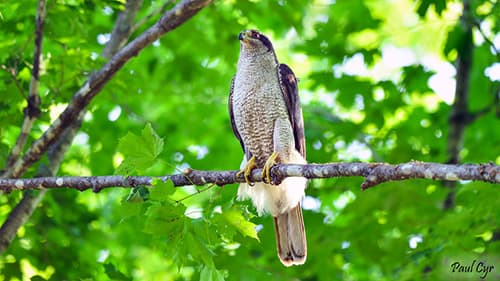 Northern Goshawk
Options for Sending us your Data: There are several options for submitting data to the Maine Bird Atlas. Our preferred method for entering data will be through eBird on your computer at home, work, on your phone (eBird app), or at a local library. Entering data through eBird is very simple and fun - we encourage everyone to give it a try. Click here for more info on eBird and how to submit data.
If you prefer not to enter your data on a computer, for whatever reason, we have a group of volunteers willing to enter records submitted on our paper forms, although make sure to fill out the form completely and legibly so that we can enter your observations. Paper forms should be sent to us every month, mailed directly to the atlas project (Maine Bird Atlas, c/o Glen Mittelhauser, Maine Natural History Observatory, 317 Guzzle Road, Gouldsboro, ME 04607) or the forms can be scanned or photographed and emailed to us.
For more information on being an atlas volunteer: