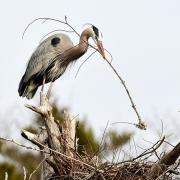 April 6, 2022 at 1:58 pm
Of the many harbingers of spring, herons returning to their colonies is my favorite! Before we embark on the 14th year of heron colony monitoring, let's first review results from the 2021 volunteer efforts.
Keep In Touch!
Enter your email or mobile number to receive the latest news from MDIFW.