March 16, 2023 at 9:33 pm
Winter is holding on in most of Maine, but we will not be fooled.  The days are getting longer, the sun feels warmer, and birds are on the move!  Before we know it, we'll be swatting at black flies, tilling our gardens, and welcoming back our great blues.  We often start to notice great blue herons arriving in Maine around March 15th, but their window of migration is quite wide.  Most of our GPS-tagged herons didn't leave their wintering grounds until around March 22nd in past years and took about two weeks to make the journey back to their breeding colonies in Maine, arriving the first or second week of April.  This means we have a little time before the nesting season is in full swing, allowing us to reflect on last year's results and prepare for an exciting 15th year of monitoring great blue heron colonies as part of the Heron Observation Network of Maine!
Our 2022 efforts continued to improve our knowledge regarding the locations and numbers of breeding pairs of great blue herons across the state, with nine new colonies reported or found. The Heron Observation Network grew to 347 volunteer members, and 67 monitored 90 colonies. In addition, staff visited 15 colonies, bringing the total number of colonies surveyed to 105.
Of those 105 colonies surveyed, 55 were active with at least 469 nesting pairs, and the remaining 50 showed no heron nesting activity. At least 192 ground visits were conducted with volunteers recording 261.4 hours and 4,279 miles, which provided the equivalent of $10,835.35 of match to our federal funding.
There are 131 great blue heron colonies that were active at least one of the past five years (2018-2022). However, despite the commitment and effort of our volunteers and staff, we don't make it to all of them. Thus, to examine the trend over time I use the most recent observation to fill in any unknowns, as reflected in the chart below.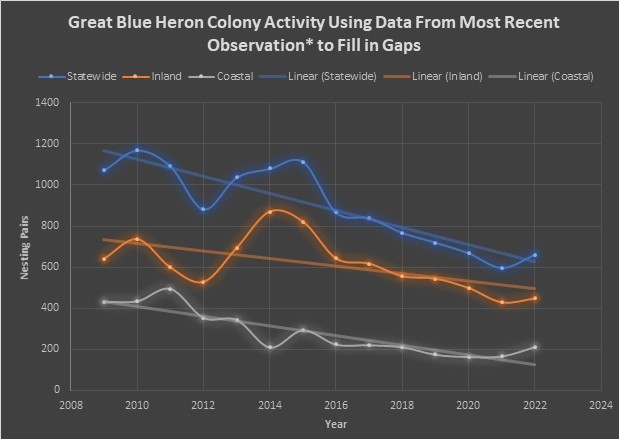 For the first time since 2015, we saw an increase in nesting pairs in 2022. The increase was seen both at inland and coastal colonies, boosting statewide numbers 7% to 660 nesting pairs. Even with this small uptick, there is still an overall declining trend since we began the Heron Observation Network in 2009:  a statewide decline of 38.4%; an inland decline of 30%; and a coastal decline of 50%. It does provide some hope that the decline may be leveling off and perhaps our nesting great blue herons will stabilize or even increase in the coming years.
This spring in addition to volunteers monitoring colonies from the ground for the 15th year, MDIFW staff will take to the skies to conduct a second dual-frame aerial survey. The combination of the aerial survey and our volunteers' ground surveys provides us a more reliable population estimate. We then plan to take a closer look at the data we've collected to determine the best monitoring strategy going forward.
There will be a few changes this year, including a new and easy way to enter heron colony data online, and a REWARD for those who do so! Have I piqued your interest?  Stay tuned for more details to come.  In the meantime, dust off your bug spray and mud boots because spring will be here soon.