Summerhaven Shooting Range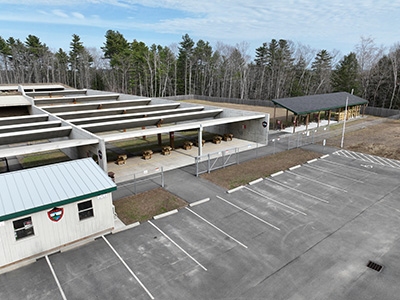 Augusta, Maine
Open to all experience levels, including first-time shooters
Submit a question or comment Procedures + Rules (PDF) Range Hygiene Advice (PDF)
On this Page:
Hours of Operation
The Summerhaven Range is typically open 4-6 days a week and depends on volunteer Range Safety Officer availability.

Hours are also variable depending on the season, but typically range from 10am-5pm.
The range will be closed during extreme weather conditions, including deep snow, high winds, cold temperatures, all day thunderstorms, icy conditions. If we are expecting any of this kind of weather, check the range schedule before you head to the range to be sure we are still open.
Please check the schedule the on the day you plan to visit the range, as the schedule is subject to change.
THE ARCHERY/CROSSBOW RANGE AT THE SUMMERHAVEN RANGE IS NOW CLOSED FOR THE SEASON.

Monday, November 27 - 1pm - 4pm
Tuesday, November 28 - 10am - 4pm
Thursday, November 30 - 10am - 4pm
Friday, December 1 - 10am - 1pm
Saturday, December 2 -10am - 4pm
Sunday, December 3 - 10am - 1pm
Monday, December 4 - 10am - 1pm
Tuesday, December 5 - 10am - 4pm
Thursday, December 7 - 10am - 4pm
Friday, December 8 - 10am - 1pm
Sunday, December 10 - 10am - 1pm
Monday, December 11 - 10am - 4pm
Friday, December 15 - 10am - 4pm
Saturday, December 16 - 10am - 4pm
Sunday, December 17 - 10am - 1pm
Monday, December 18 - 10am - 4pm
Tuesday, December 19 - 10am - 4pm
Thursday, December 21 - 10am - 4pm
Friday, December 22 - 10am - 1pm
Wednesday, December 27 - 10am - 1pm
Thursday, December 28 - 10am - 1pm
Friday, December 29 - 10am - 1pm
Sunday, December 31 - 10am - 1pm

About the Range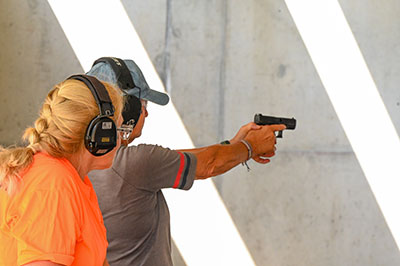 The Summerhaven Range serves the greater Augusta Area and is a modern concrete-baffled facility. This facility can accommodate a variety of implements, but receives most use from handgun and rifle shooters, and to a lesser degree archers.
MDIFW ranges are available for public use, free of charge, when an authorized Range Safety Officer is on duty. The range is open to everyone, including people who have never fired a gun before, seasoned hunters, and experienced target shooters. The range rules ensure the range is a safe and enjoyable place to shoot.
If you are a new shooter and are looking for additional guidance we can schedule some time for you to come and meet with one of our volunteer staff to help you gain that extra confidence you are looking for. Or if you want to learn basic firearm or archery safety but don't have access to your own equipment, check out one of our next steps programs at the range and we can help you begin your journey into shooting sports.
Directions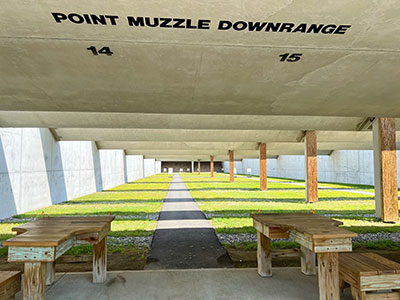 Summerhaven Shooting Range is located at 211 Sanford Road in Augusta, Maine.
From I-95 (exit 112 south bound, 112B northbound), head north on State Rte. 27/8/11 toward Belgrade for approximately 3 miles.

Turn left onto Summerhaven Road and continue about .4 of a mile.

Take the 1st left onto Sanford Road and continue on the Sanford Road for about a mile until you reach the end of the pavement at Pike Industries Aggregate Pit.

Continue on the dirt road for about 0.3 miles and the range is on your left.
Facility Amenities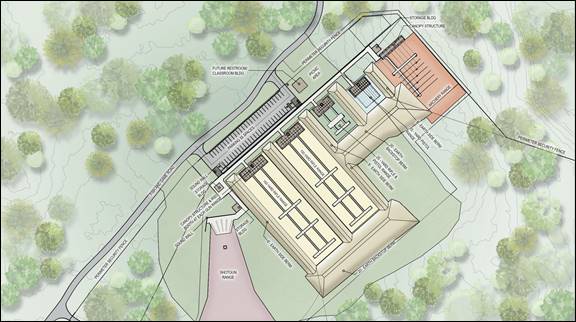 A 25-yard bay with target positions at 50 feet, 15-yards, and 25-yards.
A 100-yard bay with targets positioned at 50-yard, 75-yard, and 100-yard. Handguns and short-barreled rifles are not permitted on this bay.
An additional 25-yard bay that is typically used for training or provide assistance to new shooters, but can be opened up for additional shooting positions for handgun shooting when appropriate.
There is an open-air archery bay that is open seasonally – in most years that is mid-May through the end of November. The archery bay allows shooting distances from up to 30 yards. Users are welcome to bring their own portable bag or box targets and can be placed at any distance up to 30 yards. Currently, our targets can only handle Bows and Crossbows capable of shooting up to 400 feet per second (FPS).
Portable Toilet Facilities
There is a designated outdoor smoking is currently allowed outside of the main facility gate, near the rocks.
What to expect when you show up at the range
Our ranges may be different from other shooting facilities you have used in the past, please review our range rules prior to coming to the range. If you still have questions about what is allowed or how the range is operated, please ask one of our Range Safety Officers (RSOs) – they will be wearing a blaze orange vest and hat that has an MDIFW logo on it.
Sign In: When you arrive to the range, a volunteer Range Safety Officer will meet you at the gate and sign you in.

Please leave your equipment (firearms or archery) in the vehicle until you are completely signed in.
Please leave food and drinks in your vehicle. This is protection for the user from inadvertently ingesting lead dust or particles. You may use the picnic area to eat and drink.
Shooters and spectators are required to wear eye and ear protection once inside the gate at the firing bays, but we highly recommend you put them on in the parking lot prior to signing in.

Receive Lane Assignment: After you have signed in, the Range safety officer will assign you to a shooting lane for the equipment you are using.

Please Note: for most circumstances we will ask that you confirm that your rifle is sighted in appropriately at 25 yards (at least "on paper") before moving to the 100 yards range to be protective of the overhead concrete baffles.
Retrieve Unloaded Firearms from Vehicle: Once you have your assigned lane, you are welcome to retrieve your equipment, however, firearms must be unloaded with the magazine removed, and the user must stand behind the shooting benches until the range is HOT.


Begin Shooting when the Range is HOT:

HOT range means that users can be at the shooting bench and are able to handle, load, or shoot their firearm. A hot range will be called by the RSO, and the red light will be turned off.
COLD range means that firearms must be placed on the bench with the chamber open, magazine removed, and a safety flag placed in the chamber. A COLD Range will be called by the RSO and indicated by an overhead flashing red light. All users in that COLD bay must remain behind the yellow safety line, until the RSO advises that it is safe to go down range to inspect, retrieve, or replace targets. Upon returning, all users must remain behind the yellow safety line, until the RSO has once again indicated a HOT range.

For everyone's safety, only 2 shooters are allowed at a shooting bench at a time, all others in the party must remain behind the yellow safety line.

Clean Up: All visitors are responsible for picking up their own spent cases and either taking them home or putting them in the appropriate provided receptacles, marked for brass, or steel/aluminum. All litter (including paper targets, ammo boxes, etc..) must be disposed of prior to leaving.


Sign Out: When you are done shooting, you can pack up your equipment on a HOT range and we ask that you sign-out at the entry gate and return any borrowed equipment. Be sure to Thank your RSOs for donating their time and effort proving this range time free to you
What to Bring to the Range
Eye and Ear protection. -- Since this range is a concrete baffled range it can be very loud and we recommend that you put your hearing protection on when you exit your vehicle. Hearing and eye protection is required once you come inside the interior fence. If you don't have your own, please ask and RSO, we have some that we can loan you.
Any Firearm or archery equipment that is legally owned and possessed, that is in good working order and safely operated can be used at Summerhaven with the following exceptions:

No .50 BMG or larger calibers
Lawfully owned automatic firearms can be used in semi-automatic mode only.
Firearms fitted with devices that allow for rapid succession can only be used in slow or single fire modes.
Shotguns are restricted to slug or single sabot rounds only (except for special patterning events)
Incendiary, tracer, marker or penetrating ammunition is prohibited on the range to protect the concrete baffle systems. Penetrating ammunition includes any ammunition that has a steel core, steel jacket, steel tips, or is labeled armor piercing – anything that is attracted to a magnet (we will test ammunition at the range, if needed).

Handguns and short barreled rifles (under 16") are not allowed to be fired on the 100-yard bay.
Broadheads or hunting tips are not allowed on the archery range (except for special events prior to the hunting seasons).

Paper or carboard targets.
Shooting bags, gun rests, bipods or other shooting aids can be used. The Department has a few of these items to borrow upon request of the RSO. However, these must be used in either seated at the bench or in standing position, prone and kneeling shooting positions are not allowed under most circumstances.
Spotting scopes and binoculars.
Archery target bags or blocks.
History of the Summerhaven range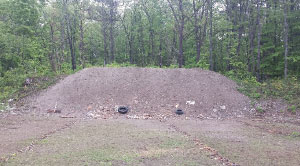 The Summerhaven Shooting Range is a State of Maine owned range, operated by MDIFW. The range is situated on a Department property along the Sanford Road in Augusta, Maine. This range has been operational for several decades, receiving both authorized and unauthorized activities. In 2013 the Department began, in earnest, to clean-up and regulate activities at this public facility, and until the reconstruction in 2018, the range had one undersized firing berm had limited opportunity for public shooting and access, was largely unsupervised and unsecure, seemed to be a dumping ground for trash and nefarious activities.
To increase safety and public enjoyment, the Department instituted a volunteer Range Safety Officer (RSO) program in 2016. The intent of this program was to control public use at state-owned ranges by allowing access only during hours where a Department certified RSO is present on-site.
In May 2018, the Summerhaven facility was closed for a total reconstruction, changing from an open-air earthen and undersized range to a state-of-the-art modern concrete baffled facility. This new facility boasts 20 shooting stations across 3 enclosed firearm bays, an open-air archery bay, ample parking and access to all. During the reconstruction, soils from the existing range were sifted to recover and recycle all lead and bullet fragments from the soil. The modernized facility has a stormwater collection system designed to capture and treat all runoff from the facility to prevent mobilization of lead particles into the surrounding environment.
Summerhaven Range sees over 200 users a month from all over Maine and beyond. Weekends are busier than weekdays, but this range caters to any user from the seasoned target shooter, to hunters looking to sight-in their deer rifle to brand new users who are picking up a firearm for the first time.