Fryeburg Shooting Range
Just out of town in Fryeburg, Maine
Open to all experience levels, including first-time shooters
Submit a comment or questions Procedures + Rules (PDF) Range Hygiene Advice (PDF)
On this Page:
Hours of Operation
The Fryeburg facility is variable and depends on the availability of volunteer Range safety officers, but is typically open 4-5 days per week.
Hours are also variable depending on the season, but typically range from 10am-5pm
The range will be closed during extreme weather conditions, including deep snow, high winds, cold temperatures, all day thunderstorms, icy conditions. If we are expecting any of this kind of weather, check the range schedule before you head to the range to be sure we are still open.
Please check the schedule the on the day you plan to visit the range, as the schedule is subject to change.
THE FYREBURG RANGE IS CLOSED FOR THE SEASON. STRICTLY, NO SHOOTING IS ALLOWED.

Saturday, November 25 - Closed for the season
Sunday, November 26 - Closed for the season.

About the Range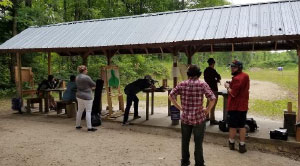 The Fryeburg Range is located just outside of Fryeburg on the Major Sanborn Wildlife Management Area and serves the surrounding communities. This facility can accommodate shooters wishing to use a variety of firearms, including aerial shotgunning. Currently, there is no dedicated space for the use of archery equipment.
MDIFW ranges are available for public use, free of charge, when an authorized Range Safety Officer is on duty. The range is open to everyone, including people who have never fired a gun before, seasoned hunters, and experienced target shooters. The range rules ensure the range is a safe and enjoyable place to shoot.
If you are a new shooter and are looking for additional guidance we can schedule some time for you to come and meet with one of our volunteer staff to help you gain that extra confidence you are looking for. Or if you want to learn basic firearm or archery safety but don't have access to your own equipment, check out one of our next steps programs at the range and we can help you begin your journey into shooting sports.
Directions
Fish & Game Rd (Fire Rd 16) in Fryeburg, Maine.
From Fryeburg Rte. 302 and Rte. 113 S/ME-5 S/Portland Road travel 3.5 miles, Fish & Game Road is on your left, turn Left on Fish & Game Road and travel .3 of a Mile on the right.
From Brownfield at Rte. 113 N and Denmark Road Travel North on Rte. 113 and ME-% N 9.2 Miles, Fish & Game Road on the right, turn right on Fish & Game Road, travel .3 of a mile on your right.
Facility Amenities
A 25-yard open-air bay with 4 firing stations including benches and seats. This bay is typically used for handguns and rimfires.
A 100-yard open-air bay with 5 firing stations including benches and seats. This bay can accept any allowed firearms.
A primitive trap field to allow for aerial shotgun use.
Portable toilet facilities
What to expect when you show up at the range
Our ranges may be different from other shooting facilities you have used in the past, please review our range rules prior to coming to the range. If you still have questions about what is allowed or how the range is operated, please ask one of our Range Safety Officers (RSOs) – they will be wearing a blaze orange vest and hat that has an MDIFW logo on it.
Sign In:When you arrive to the range, a volunteer Range Safety Officer will meet you at the covered shooting station to sign you in.

Please leave your equipment (firearms) in the vehicle until you are completely signed in.
Please leave food and drinks in your vehicle. This is protection for the user from inadvertently ingesting lead dust or particles. You may eat or drink in your vehicle or behind the logs at the parking area.
Shooters and spectators are required to wear eye and ear protection at the shooting stations, but we highly recommend you put them on in the parking lot prior to signing in.

Receive Lane Assignment: After you have signed in, the Range safety officer will assign you to a shooting lane for the equipment you are using.

Retrieve Unloaded Firearms from Vehicle: Once you have your assigned lane, you are welcome to retrieve your equipment, however, firearms must be unloaded with the magazine removed, and the user must stand behind the shooting benches until the range is HOT.


Begin Shooting when the Range is HOT:

HOT range means that users can be at the shooting bench and are able to handle, load, or shoot their firearm. A hot range will be called by the RSO.
COLD range means that firearms must be placed on the bench with the chamber open, magazine removed, and a safety flag placed in the chamber. A COLD Range will be called by the RSO. All users in that COLD bay must remain behind the benches, until the RSO advises that it is safe to go down range to inspect, retrieve, or replace targets. Upon returning, all users must remain behind the benches, until the RSO has once again indicated a HOT range.

For everyone's safety, only 2 shooters are allowed at a shooting bench at a time, all others in the party must remain behind the covered shooting station.

Clean Up: All visitors are responsible for picking up their own spent cases and either taking them home or putting them in the appropriate provided receptacles. All litter (including paper targets, ammo boxes, etc..) must be disposed of prior to leaving.


Sign Out: When you are done shooting, you can pack up your equipment on a HOT range and we ask that you sign-out with the RSO and return any borrowed equipment. Be sure to Thank your RSOs for donating their time and effort proving this range time free to you.
What to Bring to the Range
Eye and Ear protection. -- Hearing and eye protection is required once you approach the covered shooting platform, but we recommend that you put it on after exiting your vehicle. If you don't have your own, please ask and RSO, we have some that we can loan you.
Any Firearm or archery equipment that is legally owned and possessed, that is in good working order and safely operated can be used at Summerhaven with the following exceptions:

No .50 BMG or larger calibers
Lawfully owned automatic firearms can be used in semi-automatic mode only.
Firearms fitted with devices that allow for rapid succession can only be used in slow or single fire modes.
Incendiary, tracer, marker or penetrating ammunition is prohibited on the range.

Paper or carboard targets.
Shooting bags, gun rests, bipods or other shooting aids can be used.
Spotting scopes and binoculars.
History of Fryeburg Range
The Fryeburg Shooting facility is located on the Major Gregory Sanborn (Brownfield Bog) Wildlife Management Area, in Fryeburg.
This facility was established as a primitive shooting facility in 1976 in partnership with the Fryeburg Fish and Game Club and has been open for public use and enjoyment since that time.
Since 1976, several minor improvements have been made to ensure the safe-use of the range. Over the last several decades there has been an increase in ownership of firearms and participation in shooting sports activities, which has resulted in an increased demand for publicly available shooting facilities. Given this increase demand and use of State-Owned ranges, it is important that the Fryeburg Shooting Facility is modernized, and the current infrastructure is upgraded to ensure the continued safe-use, security, environmental stewardship and educational opportunities for Maine's citizens and visitors. A modernization project is planned for the Fryeburg Shooting facility and the Department is hopeful to be able to complete this project during 2023-2024