Educational Programs and Shooting Sports Opportunities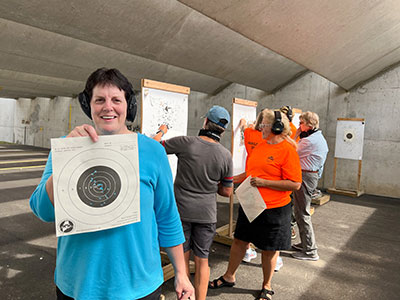 MDIFW's Shooting Range Program provides Maine's public with hands-on experiential educational and training programs to teach shooters of all experience levels safe and responsible use of firearms and archery equipment.
Similarly, when the resources are available at our range, we can provide a one-on-one experience to help alleviate any possible stress or discomfort handling firearms to provide safe handling and shooting skills, so a new user can walk away with a greater understanding, comfort, and confidence.
We also partner with other organizations to increase the public's access to training and resources in firearms and archery skills as well as competitive shooting sports events.
Check out what we have to offer!
On this Page:
New Firearm or Archery Users
If you are new to firearms or archery and are looking for support to become more comfortable, our staff or range safety officers may be able to give one-on-one assistance. We will help you develop safe handling skills, improve your accuracy, and help you gain the confidence you need to be comfortable with your equipment and abilities.
You are welcome to request this to a range safety officer while at the range and depending on the amount of use and resources available that day, they may be able to provide assistance.
A better option is to schedule an appointment ahead of time and we can work with you directly!
For more information, please contact the Department's Shooting Range Coordinator: Craig.I.Gerry@maine.gov or call 207-287-5212 or 207-446-4249.
Department Educational Programs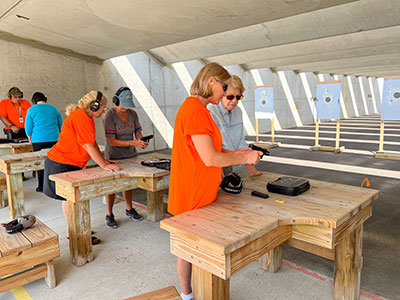 Firearms education is an important component of responsible gun ownership. The Department offers more formal programs for basic safe handling and use of firearms and archery equipment.
Under the supervision of range safety officers and trained staff, learn to safely use and care for a variety of firearms and hunting implements. These next-step programs provide a hands-on experiential training opportunity, lasting about 4 hours. They involve some classroom type activities and end with handling and using equipment. We use a crawl-walk-run philosophy to allow users of all experience levels to be comfortable during the program. Participants will be introduced to parts and functions of firearms, same firearms handling rules and skills, and be able to use MDIFW equipment to gain confidence and proficiency.
Here are just some of the options:
Introduction to basic pistol shooting
Introduction to basic shotgun shooting
Introduction to basic rifle shooting
Firearm care and cleaning
Introduction to crossbows and archery
Preparing your equipment for upcoming hunting seasons
Scope mounting and sighting systems
Sight-in days
Find an Upcoming Class or Workshop