Find a Shooting Range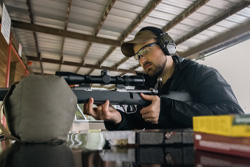 Whether you are looking to sight in your firearm for an upcoming hunting season, target practice, or shoot a firearm for the very first time, you are encouraged and welcome to go to one of the many shooting ranges across the state.
MDIFW operates two state-owned ranges, the Summerhaven Range in Augusta and the Fryeburg Range, and there are about 75 other private shooting facilities throughout Maine.
Private ranges are operated by sportsman's organizations, rod and gun clubs, or commercially owned. Each Shooting Facility has its own unique features and we are confident you can find one that fits your needs.
Click here to find a range near you, including contact information.
Summerhaven Range Fryeburg Range Range Locator Map
About State-Owned Shooting Ranges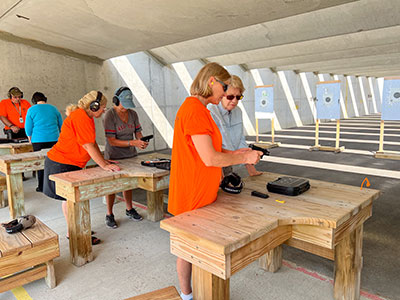 Maine Department of Inland Fisheries and Wildlife operates two state-owned shooting facilities staffed with fully trained and certified range safety officers for the purpose of providing a place, free for the public to use and enjoy firearms and archery equipment. Whether you are looking to sight in your firearm for an upcoming hunting season, target practice, or shoot a firearm for the very first time, Maine's state-owned shooting ranges are modern shooting facilities designed to provide the public with a safe, family friendly, and environment responsible location to gain proficiency with their equipment and develop safe and responsible firearms and archery handling practices.
If the state-owned ranges located in Fryeburg and Augusta aren't what you are looking for or conveniently located for you, check out club and private ranges located throughout the state.
Sportsman's Clubs and Private Ranges
There are a few options for someone to find an organized place to shoot across Maine.
Sportsman's Organizations and Rod and Gun Clubs
Most shooting facilities are associated with private non-profit sportsman's organizations or local rod and gun clubs. Most clubs offer a membership and have regular meetings and other activities not necessarily related to shooting and are a good option for someone who is looking for a community atmosphere or group to be involved with. Often, clubs will offer free (or low cost) events or days that are open to the public for shooting. Many clubs also offer educational or instructional firearms and hunting/fishing related programs, and often volunteer to deliver our safety courses such as hunter education, trapper education, or recreational vehicle safety.
Private Ranges
Another great option is commercial shooting ranges. Many times, commercial ranges are associated with a business that also sells firearms, and some even offer the ability to rent firearms to "try them before you buy them." Commercial facilities are going to charge, and prices will vary. Most of these facilities offer educational and instructional training as well.
Whichever option you choose, it's important to contact them or check out their website prior to showing up.
No facility is the same, they all have different range types, different range rules, and different restrictions or options for firearms, calibers, or ammunition -- some ranges only have trap and skeet, some are indoor and only allow certain handgun calibers, and others require specific ammunition.
Check out the Shooting Range Locator to find a range of your liking, this locator will have contact information and website (if available) and what general facilities they have.
If you are a range operator and would like to be added to our locator map, please contact the Department's Shooting Range Coordinator: Craig.I.Gerry@maine.gov or call 207-287-5212 or 207-446-4249.