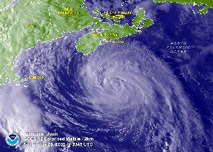 If forecasters are beginning to talk about a hurricane or tropical storm possibly affecting Maine, get prepared now. Even though we've given you some approximate times to do things, remember that when hurricanes approach New England, they often speed up rapidly. You don't have as much time as you think!
Three days before
Check your disaster supply kit. If you remain in your home, do you have everything you need for at least three days, with no power? Go to the store now, and pick up the things you don't have. Beat the rush.
Do you have everything you need if you have to evacuate? Begin putting together a "go kit" now. Get your important family papers together. Consider where you would go. If you might have to go to a shelter, make sure you have the basic needs for your family in your Grab & Go Bag.
Two days before
Fill up your car with gasoline.
Visit your bank or the ATM and take out some extra cash. The amount can depend on your family size and needs. An extended power outage might make it hard to obtain cash, or for merchants to process credit cards.
One day before
Evacuate if advised to do so. Don't wait. If you wait too long, and then need help, you will be putting responders at risk. Or they simply will not be able to reach you.
Secure all outside furniture or other objects that could be caught by the wind.
Board up exposed windows, or at tape them up to reduce the potential for shattering glass.
Surf will be high as the storm approaches. Stay away from the water. It is dangerous to go to the beach to see the waves! Rocks and shells carried by the wind can cause serious injury or death. You can lose your balance in the winds. The strong surf can sweep you, your child or your dog away in seconds.
If you have livestock, make sure they have a secure shelter. Move them into shelter before the storm becomes too strong.
If you are staying in your home, begin closely monitoring weather broadcasts. Get your portable radio tuned to a station that is carrying emergency information. Make sure your NOAA Weather Radio is operating properly.
During the Storm
Bring all your pets inside, and stay in your home as the storm approaches. Stay away from large windows; go to the basement or an inside room if it appears your home is being damaged by the high wind.
Don't be fooled by a sudden calm. It may be the eye of the storm and last only 15 to 30 minutes. The storm then will resume with greater intensity and the wind will be from the opposite direction.
Do not go out until assured by official weather reports that the storm has passed.
Immediately after the storm
Begin to assess the damage to your home.
If you can get out, stay away from flooded areas and downed power lines.
Check on your neighbors, especially those who might need extra help.
If the Power Goes Out