Hallowell Water Street Reconstruction Project
Hallowell Work Resumes April 8!
The following activities are planned:
April 8 to April 12: The prime contractor plans to mobilize.
April 9 to April 12: Installation of temporary water service on Chestnut Street and Middle Street.
April 11 to April 12: Removal of the railroad tracks on Chestnut Street.
April 11 to April 12: Begin drainage work on Chestnut Street.
This work will be performed with work zones and with flaggers controlling the local traffic.
About the Project
The reconstruction of Water Street in Hallowell begins Monday, April 8nd. The current traffic flow will not be impacted. Additional parking has been created on the railroad tracks between Winthrop and Central Streets.
All businesses will be open and accessible throughout the project.
Work will take place from sunrise to sunset, Monday - Thursday, and from sunrise until 3 pm on Fridays. Full road reconstruction means that Water Street will be excavated so that aging underground utilities, as well as the prominent hump down the center line, will be addressed. This $5.89 million project continued through November with breaks for holidays, including Old Hallowell Day in July. This aggressive schedule ensured that the majority of the work was be done in 2018, with the contractor returning in the spring of 2019 to do final paving and other finish work. Sargent Corporation is the contractor for the project.
Latest News
May 28 to May 31: Work will continue on all the side streets: Second, Chestnut and Middle.
May 20: A crew will be working on the sidewalk extension by Lucky Garden.
May 13: Workers will finish the second half of the granite crosswalk on Winthrop Street.
Detour Map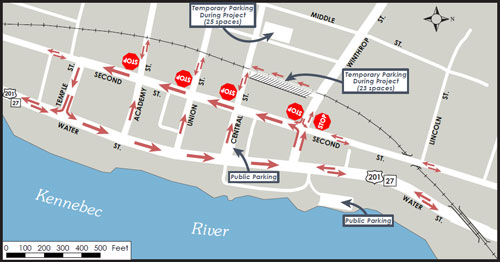 Click on the image above to view the full size or view the PDF version