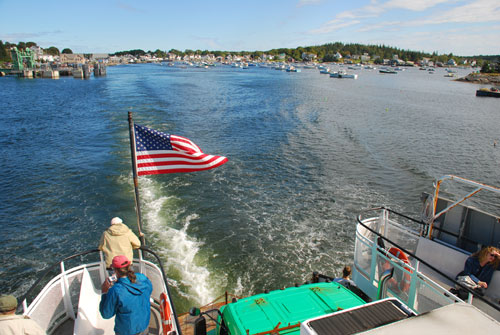 Ferry Excursions
Hop on a ferry and explore magnificent Penobscot Bay!
Buy a Maine State Ferry Excursion ticket and enjoy a round trip sightseeing voyage to any one of the five islands in the beautiful Penobscot Bay region. Foot passengers can enjoy the spectacular views, a brief stop on the island and then the return voyage to the mainland on the next scheduled trip.
If you prefer to remain on the island for a longer period of time, our standard ferry fares apply.
Choose spring, summer, or fall. Ferry Excursion tickets are valid for travel seven days a week from May 25th to October 15th. Excursion tickets are not sold for the very last trip of the day to the island.
Download the Excursion Brochure.
Fares
Swan's Island, Frenchboro, Vinalhaven, North Haven
Free tickets for children under 5
Children 5-11: $5.00
Adults: $10.00
Excursions to Swan's Island or Frenchboro depart from the Bass Harbor Ferry Terminal.
Excursions to Vinalhaven, North Haven depart from the Rockland Ferry Terminal.
Islesboro
Children under 5 are free
Children 5-11: $3.00
Adults: $6.00
Excursions to Islesboro depart from the Lincolnville Ferry Terminal.