Reducing emissions through renewables
MaineDOT has identified and pursued a few ways to decrease emissions through the use of alternative fuels and through the generation of renewable energy. Electrification is not a one-size-fits-all solution and MaineDOT has recognized this and continues to evaluate other techniques for reducing the agency's building, on-road, and fleet emissions.
Solar Pilot Projects
MaineDOT is in the process of installing solar arrays on I-95 Exits 109 and 112 in Augusta, utilizing degraded land that could serve few other purposes. These renewable roadsides have been explored by many state transportation agencies to reduce electricity costs, among other benefits. The cost to the state of Maine is nominal. MaineDOT's developer is covering the cost of development, construction, operation, maintenance, and the 20-year land lease. Additionally, MaineDOT will be planting pollinator-friendly plant species around the panels; many of these plant species are native to Maine.
Once completed, and in operation (July 2023), MaineDOT's panels will: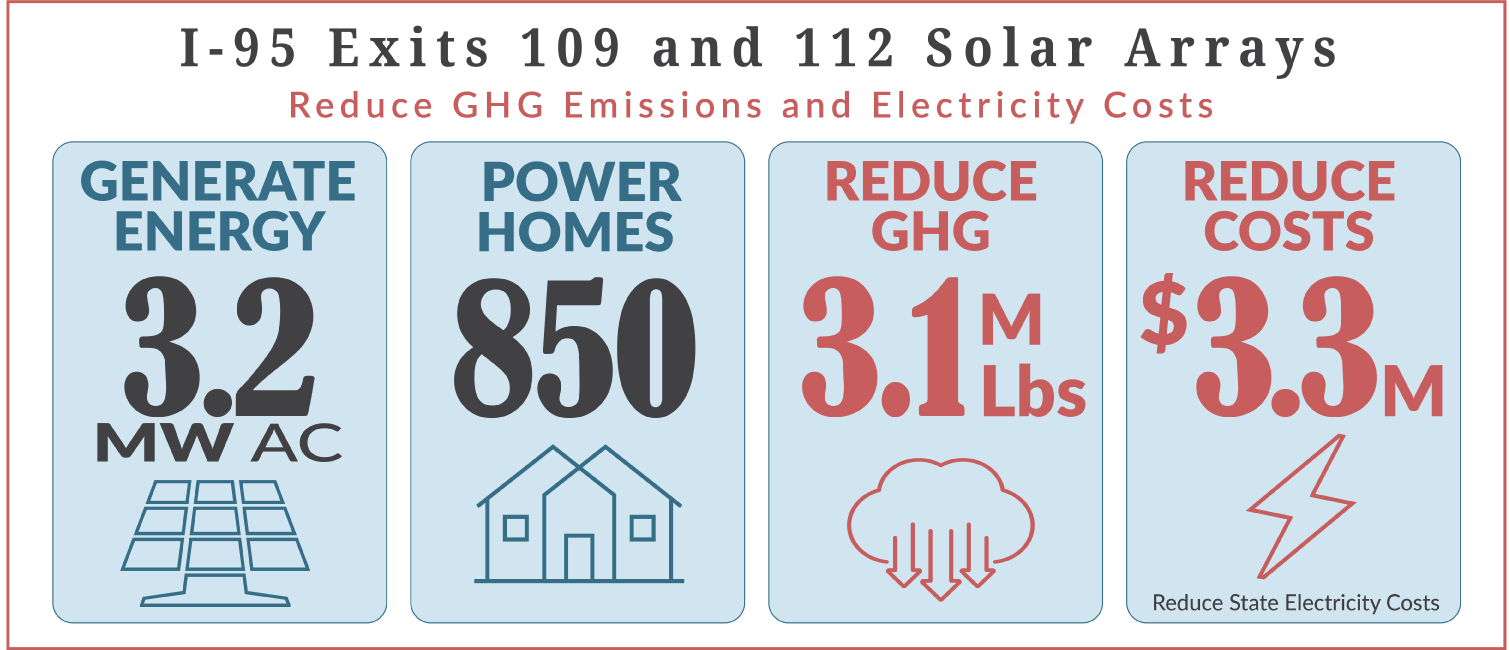 These local renewable energy sources on I-95 will reduce greenhouse gas emissions and reduce state electricity costs by about $3.3 million over the next 20 years.
MaineDOT's pilot solar project also includes a system located on state-owned property at the Augusta State Airport. The Augusta State Airport solar will: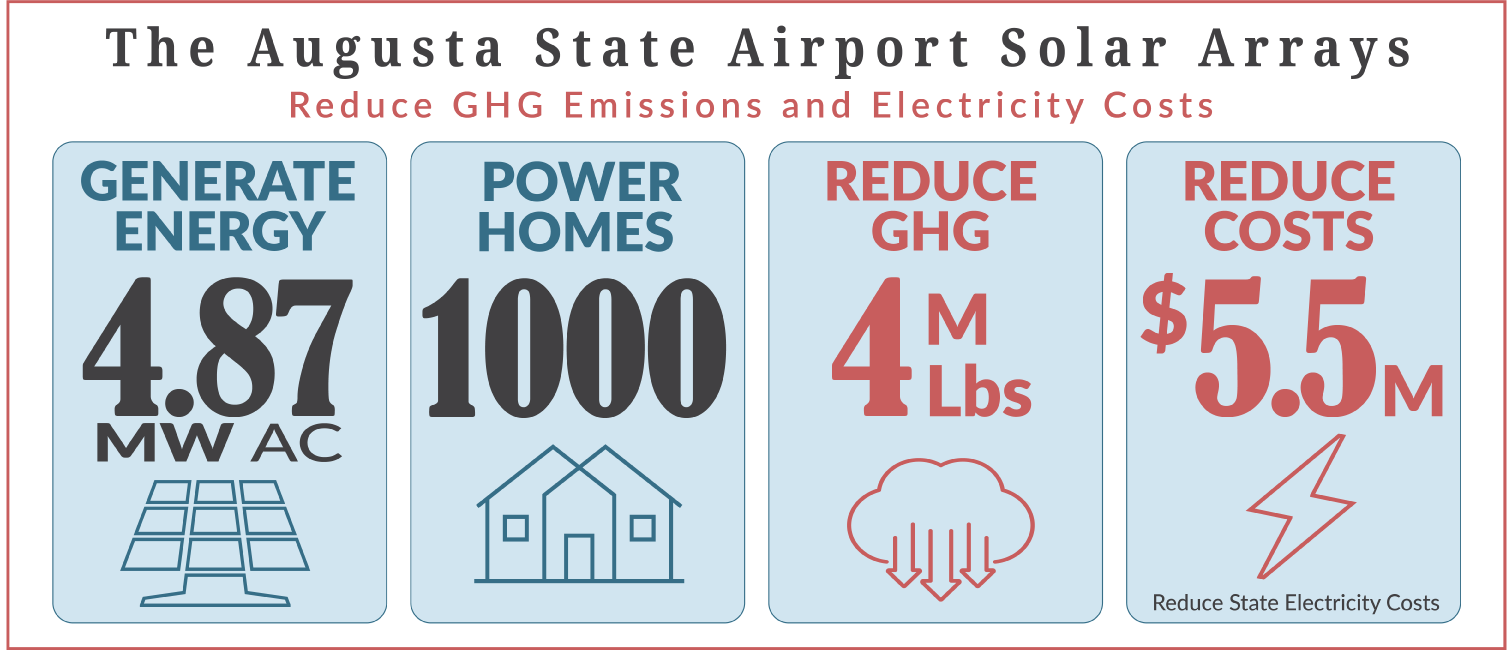 The airport solar will reduce state electricity costs by an additional $5.5 million over the next 20 years.
Maine is proud to lead by example: harnessing otherwise unusable land to generate clean energy, supporting farmers by planting pollinator-friendly plant species, and saving taxpayers money without depleting more precious natural resources. Refer to the MaineDOT Solar Video for more information.
Biodiesel/biofuel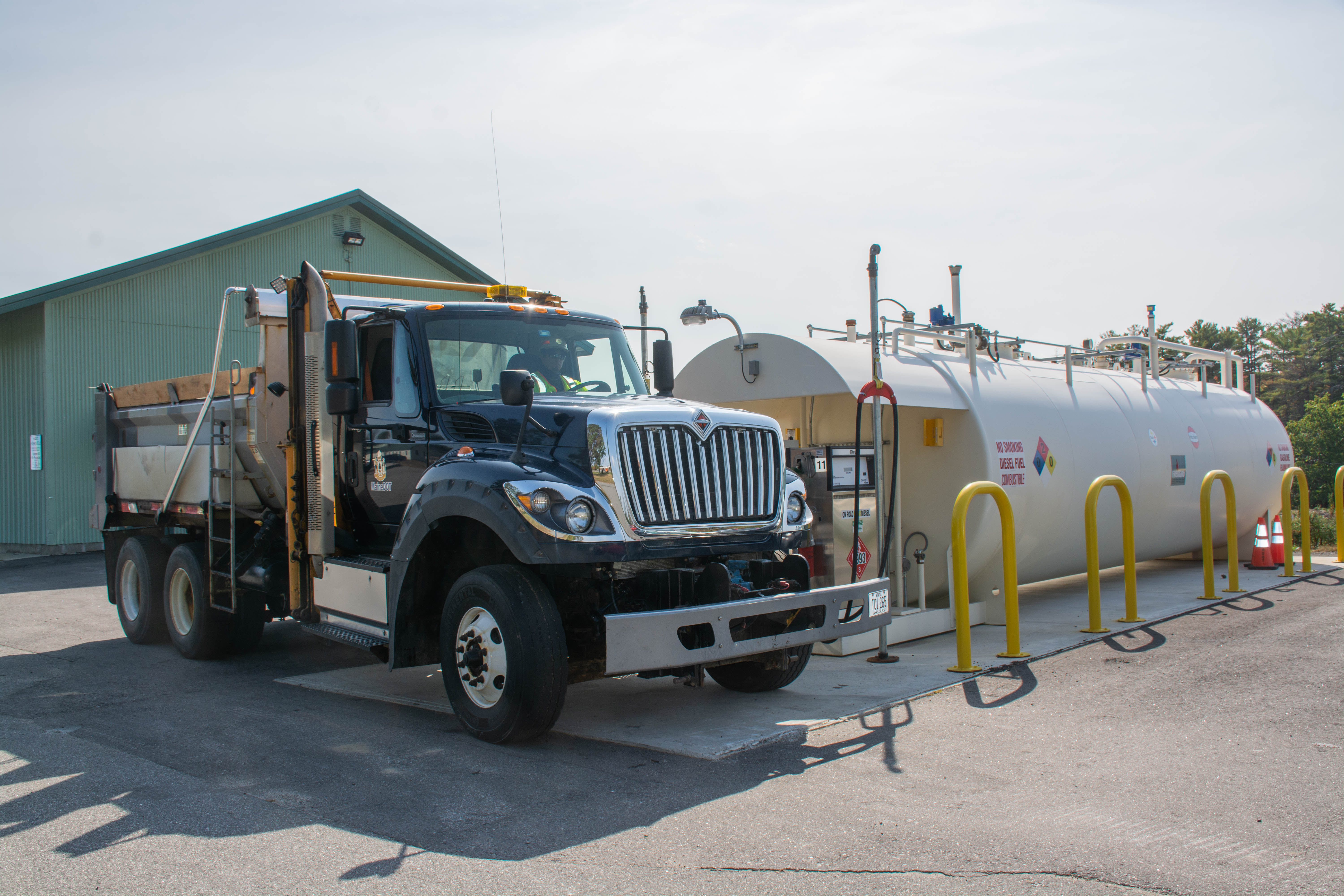 MaineDOT continues to use locally produced biofuel to heat 11 facilities, and biodiesel in vehicles, which reduces carbon emissions compared to petroleum-based alternatives. In Q4 2022, MaineDOT reduced CO2 emissions by 43,662 lb and 142,906 lb through the use of biofuel and biodiesel, respectively. The current pilot program master agreement with Maine Standard biofuels is active through 5/31/23. This year, MaineDOT is using bioheat at 11 facilities and using 5 to 20% biodiesel depending on outside temperature at 15 locations. This pilot program supports the State's lead by example efforts and has given other municipalities and agencies to experiment with the biodiesel and biofuels.
Hybrid Ferries
Electric ferry technology is improving but, like transit technology, the available models only fit certain trip types and routes. Hybrid ferries are a strong emission reduction alternative. MaineDOT is committed to considering hybrid ferry options for all future ferry replacements. The following Maine State Ferry Service (MSRF) ferries have planned hybrid diesel-electric replacements scheduled:
The M/V Almer Dinsmore is currently under construction at Senesco Marine and is scheduled for completion in late 2023. It will be the first ocean going hybrid-electric RoPax ferry in service in the United States and will serve Vinalhaven. The ferry will based out of Rockland.
The replacement for Margaret Chase Smith (Lincolnville and Islesboro) is currently in design. MaineDOT recently received a $28M grant for low emissions ferries. This ferry will be a double ended electric ferry powered by 2MW of onboard stored power and can operate in all-electric mode.