July 28, 2015 at 1:38 pm
Don't wait until hunting or trapping season to take your safety course, it will be too late!
Most courses are offered in the late summer and early fall prior to the start of hunting seasons.
Completing your course before hunting season allows you the time to become familiar with equipment, terrain, and hunting techniques. There are no costs for materials or instruction, although some courses may charge a nominal fee to cover the use of facilities and minor instructional expenses.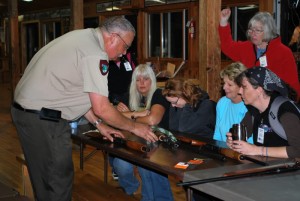 Safety courses include 6 to 12 hours of instruction depending on the subject. Sponsors include school districts, sports clubs, civic groups and others. Courses listed as 'Home Study', require attendance at scheduled sessions as well as study at home. Volunteer instructors schedule each course. Some are completed in a weekend, while others may run multiple evenings, plus a Saturday or Sunday. Students must be at least 10 years of age to attend a class for firearms, archery, or trapping.  Students who are ages 10-12 must be accompanied by an adult. For a full list of courses please visit
www.mefishwildlife.com
Pre-registration is required.  If you need additional information or are looking for a course in your area, please contact your local 
Regional Safety Coordinator
.