The Maine Department of Education (DOE) is charged with adopting education rules to implement laws passed by the Maine Legislature. There are two types of rules – routine technical and major substantive. The Maine DOE sends all provisionally adopted rules to the Legislature for final adoption.
The Maine DOE adopts all rules in accordance with the Maine Administrative Procedure Act (APA), 5 MRSA chapter 375, subchapters 2 and 2-A.  APA requires public and legislative notice of rulemaking and the submission of all major substantive rules to the Legislature for review and approval. All proposed Maine DOE and State Board of Education rule chapters are included below and have been filed with the Secretary of State's Office.
Proposed Rules and Rule Changes
Chapter 61

Chapter 41

Chapter 64

Chapter 101

Chapter 132

Chapter 33

Chapter 101 - Emergency

Chapter 117
For general questions, please email Maine DOE's rulemaking liaison, Laura Cyr at laura.cyr@maine.gov. Specific Maine DOE staff members will be noted below for each proposed rule. Comments may be emailed with an electronic Word document attached.
How to Get Involved:
As the Maine Department of Education weighs proposed rule changes, there are numerous points in the process where stakeholder and public comment are solicited. This graphic provides an overview of the Rulemaking Process and highlights points for public input.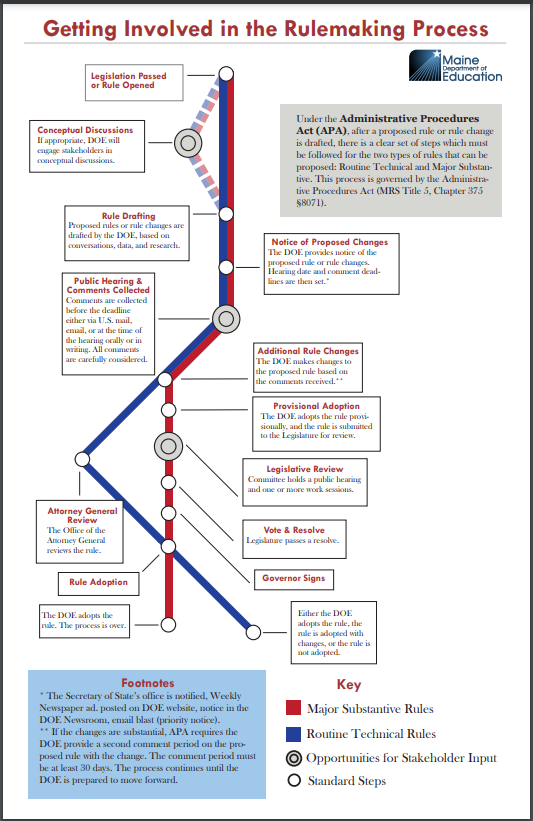 A PDF of Maine DOE's rulemaking process infographic is available here.
Related Links