The 1947 Fires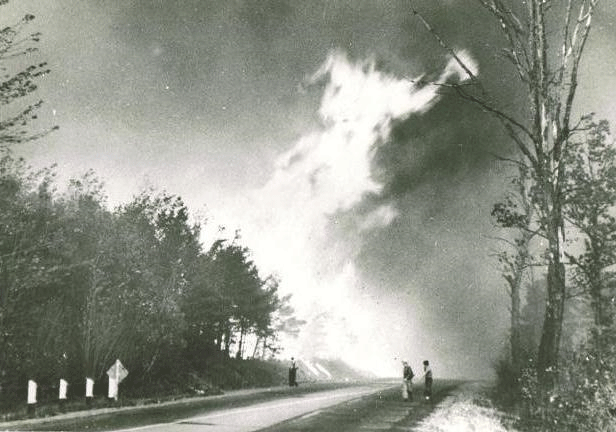 In 1947, the State of Maine suffered its largest forest fire disaster in modern history. The state experienced over 90 consecutive days of record breaking high temperatures and drought. By mid-October, many small wildfires started and spread out of control. Statewide, these fires burned over 220,000 acres, burned 1000 homes, left 2,500 people homeless and 16 people dead. The damages totaled over 11 million dollars at that time. The map below indicates the major fires of October 1947.
In the last 75 years, firefighting equipment, communication, training and fire prevention efforts have improved considerably, yet humans still cause over 90% of wildfires in Maine. Maine's Forest Rangers encourage you to remember the hard lessons of the past and be careful with all outdoor fires. For more information on how you can help prevent wildfires, please visit the "Firewise" section of this website or click on the link below to view our award winning video called "Defensible Space, it could save your home from a wildfire."
---
October Fury video:
---
Moulton letter - 1947 fire in Newfield
During the summer of 2022, this letter (written by Dr. Marion Moulton on Oct. 26, 1947) was found hidden away in the Moulton family's basement. It describes in great detail where the 1947 fire occurred in Newfield and in the villages of West Newfield and Maplewood. The Maine Forest Service thanks the Moulton Family for sharing this historic document. It was posted on Oct. 18, 2022 as part of the 75th anniversary of the 1947 fires.
Moulton Family Letter (PDF) | Map of 1947 Fire in Newfield (PDF | 11.3 MB)
---
Kennebec Journal Newpaper on 1947 fires
Shortly after the fire, the Kennebec Journal printed a special newspaper about the 1947 fires, including several of the fires in the Newfield area.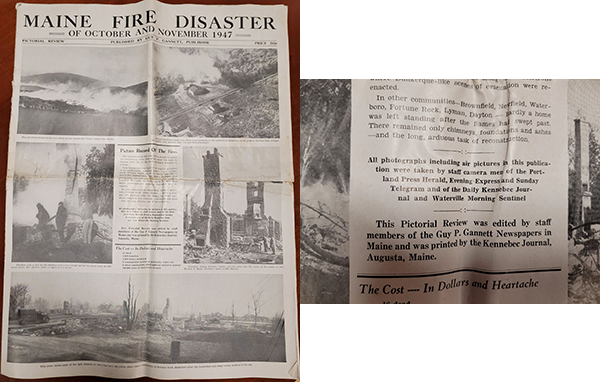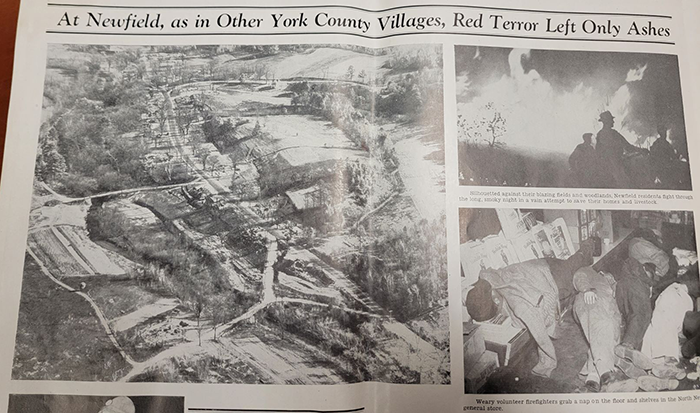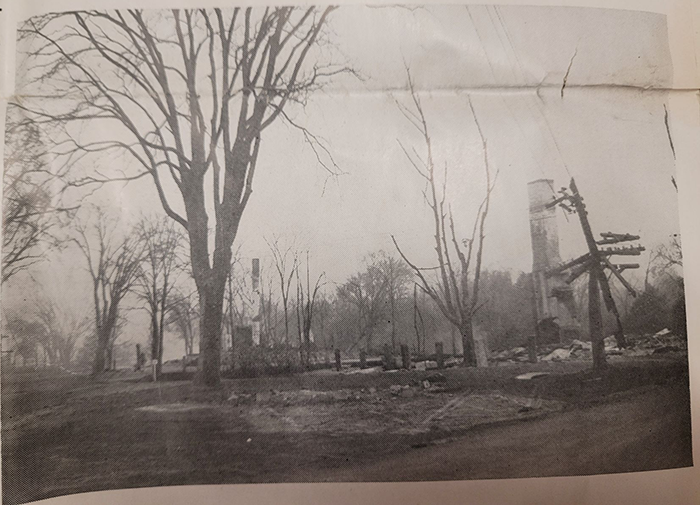 Photos: courtesy of Guy P. Gannett Newspapers in Maine.
---
Maine Remembers the "Big One"
For those interested in a nostalgic overview of the 1947 fires from a 1998 perspective, check out the article below, which was provided courtesy of Wildfire Magazine called "Maine Remembers the Big One."
Maine Remembers the "Big One" (PDF |15.6 MB)
---