Snowmobiling in Maine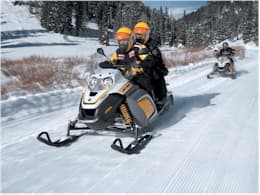 Thanks to the generosity of private landowners and the efforts of snowmobile clubs across the state, Maine proudly offers over 14,000 miles of groomed snowmobile trails to explore.
As you enjoy your time on the trails, we ask that you always ride safely and within your abilities. Never ride under the influence! Be courteous to others and respect Maine's private landowners by staying on marked trails. Before you go, check out our snowmobiling quick reference guide (PDF).
We hope you enjoy the ride!
Registration Information
Registration fees provide the funding to build and maintain the trail system and help support the clubs and volunteers who provide the critical work to maintain trail systems and supports private landowners who allow trail access.
Maine residents may renew a snowmobile registration online. New registrations must be done through a registration agent such a town office or the MDIFW main office in Augusta.
Nonresidents may register or renew a snowmobile registration online.
This online service allows you to register your snowmobile with the State of Maine. Following your transaction, you will receive a confirmation page to print for immediate use. Your official registration and stickers will arrive at the shipping address specified within thirty days.
Registrations may also be obtained from licensing agents or by mail.
Snowmobile Registration Fees
Residents
Nonresidents
Antique Snowmobile
$56*
Prior to registration, sales or use taxes are due.
Season: $120*
$33*
Antique snowmobiles must be registered through the MDIFW Augusta office in-person or via mail.
10-Day : $100*
3-Day: $75*
The season registration for a snowmobile is valid for one year, commencing on July 1st of each year.
*Plus Agent Fee
Age Requirements
A person may not permit a child under 10 years of age to operate a snowmobile unless the child is accompanied by an adult. This does not apply on land that is owned by the parent or guardian or on land where permission for use has been granted to the parent or guardian.
A person under 14 years of age may not operate a snowmobile across any public way
maintained for travel.
Nonresident Snowmobile Registration Agents
Below you will find a list of registration agents in Maine who register nonresident snowmobiles. There are also a few agents listed at the end of the list from New Hampshire and Vermont.
Town
Registration Agent
Telephone
ABBOT
ABBOT TOWN CLERK
(207) 876-3340
ACTON
ACTON TOWN CLERK
(207) 636-3131
ADDISON
ADDISON TOWN CLERK
(207) 483-4678
ALBION
ALBION TOWN CLERK
(207) 437-2900
ALEXANDER
ALEXANDER TOWN CLERK
(207) 454-3011
AMITY
AMITY TAX COLLECTOR
(207) 532-6862
ASHLAND
GATEWAY VARIETY STORE
(207) 435-6890
ATKINSON
ATKINSON TOWN CLERK
(207) 564-7273
AUGUSTA
INLAND FISHERIES & WILDLIFE
(207) 287-8000
AURORA
AURORA TOWN CLERK
(207) 584-2431
BEDDINGTON
BEDDINGTON TAX COLLECTOR
(207) 638-2961
BELGRADE
BELGRADE TOWN CLERK
(207) 495-2258
BELGRADE LAKES
DAYS STORE, INC.
(207) 495-2205
BIDDEFORD
BIDDEFORD TAX COLLECTOR
(207) 284-9326
BINGHAM
BINGHAM TAX COLLECTOR
(207) 672-5519
BINGHAM
BINGHAM GENERAL STORE
(207) 672-5547
BLUE HILL
BLUE HILL TAX COLLECTOR
(207) 374-2281
BOWDOIN
BOWDOIN TOWN CLERK
(207) 353-6949
BREWER
BREWER TAX COLLECTOR
(207) 989-7060
BRIDGEWATER
BRIDGEWATER TOWN CLERK
(207) 429-9856
BRIDGTON
BRIDGTON TOWN CLERK
(207) 647-8786
BROOKS
BROOKS TOWN CLERK
(207) 722-3254
BROWNFIELD
BROWNFIELD TAX COLLECTOR
(207) 935-2007
BROWNVILLE
BROWNVILLE TOWN CLERK
(207) 965-2561
BROWNVILLE
ROBINSON'S FUEL MART
(207) 965-3401
BROWNVILLE
THE GENERAL STORE AND MORE
(207) 965-8100
BRYANT POND
WOODSTOCK TOWN CLERK
(207) 665-2668
BUCKSPORT
BUCKSPORT TAX COLLECTOR
(207) 469-7368
BURLINGTON
BURLINGTON TAX COLLECTOR
(207) 732-3768
BURNHAM
BURNHAM TAX COLLECTOR
(207) 948-2369
BYRON
BYRON TAX COLLECTOR
(207) 364-7938
CALAIS
CALAIS TAX COLLECTOR
(207) 454-2521
CANAAN
CANAAN TOWN CLERK
(207) 474-8976
CARIBOU
CARIBOU TAX COLLECTOR
(207) 493-3324
CARIBOU
PLOURDE & PLOURDE INC.
(207) 496-3211
CARTHAGE
CARTHAGE TOWN CLERK
(207) 562-4630
CENTER LOVELL
LOVELL TOWN CLERK
(207) 925-6272
CHINA
TOWN OF CHINA
(207) 445-2014
COOPER
COOPER TOWN CLERK
(207) 454-0227
COPLIN PLT
COPLIN PLT TOWN CLERK
(207) 246-5141
CORINNA
CORINNA TOWN CLERK
(207) 278-4183
CORINTH
CORINTH TOWN CLERK
(207) 285-3271
CORNISH
TOWN OF CORNISH
(207) 625-4324
DENMARK
DENMARK TOWN CLERK
(207) 452-2163
DETROIT
DETROIT TOWN CLERK/TAX COLLECTOR
(207) 257-4488
DEXTER
DEXTER DEPUTY TOWN CLERK
(207) 924-7351
DOVER-FOXCROFT
BOWERBANK TOWN CLERK/RV AGENT
(207) 564-2071 EXT. 3303
DURHAM
DURHAM TOWN CLERK
(207) 353-3561
DYER BROOK
DYER BROOK TOWN CLERK
(207) 757-8550
EAST WATERBORO
WATERBORO TOWN CLERK
(207) 247-3166
EAGLE LAKE
EAGLE LAKE TOWN CLERK
(207) 444-5125
EAGLE LAKE
BALD EAGLE, INC.
(207) 444-5115
EAST MACHIAS
EAST MACHIAS TOWN CLERK
(207) 255-8598
EAST MILLINOCKET
EAST MILLINOCKET TOWN CLERK
(207) 746-3551
EDMUNDS TWP
EDMUNDS TOWN CLERK
(207) 726-4674
ELLSWORTH
ELLSWORTH TOWN CLERK
(207) 667-2563
EUSTIS
PINES MARKET
(207) 246-4221
EDDINGTON
EDDINGTON TOWN CLERK/TAX COLLECTOR
(207) 843-5233
FAYETTE
FAYETTE TAX COLLECTOR
(207) 685-4373
FORT FAIRFIELD
FORT FAIRFIELD TOWN CLERK
(207) 472-3800
FORT KENT
FORT KENT TOWN CLERK
(207) 834-3090
FRENCHVILLE
FRENCHVILLE TOWN CLERK
(207) 543-7301
FRYE ISLAND
FRYE ISLAND TOWN CLERK
(207) 655-4551
FRYEBURG
FRYEBURG TOWN CLERK
(207) 935-2875
GARLAND
GARLAND TAX COLLECTOR
(207) 924-6615
GILEAD
GILEAD TAX COLLECTOR
(207) 836-2032
GORHAM
GORHAM TOWN CLERK
(207) 839-5037
GRAND LAKE STREAM
GRAND LAKE STREAM TAX CLERK
(207) 796-2001
GREENVILLE
GREENVILLE TAX COLLECTOR
(207) 695-2421
GREENVILLE
INDIAN HILL TRADING POST
(207) 695-2104
GREENVILLE
KOKADJO CAMPS
(207) 695-3993
GREENVILLE
BEAVER COVE CAMPS
(207) 695-3717
GREENWOOD
TOWN OF GREENWOOD
(207) 875-2773
GUILFORD
GUILFORD TOWN CLERK
(207) 876-2202
HALLOWELL
MAINE TOURISM HAMPDEN NORTH
(207) 862-6628
HARMONY
HARMONY TOWN CLERK
(207) 683-5681
HARMONY
WELLINGTON TOWN CLERK
(207) 683-2030
HARRINGTON
HARRINGTON TOWN CLERK
(207) 483-2061
HARRISON
HARRISON TOWN CLERK
(207) 583-2241
HARTFORD
HARTFORD TOWN CLERK
(207) 388-2674
HARTLAND
HARTLAND TAX COLLECTOR
(207) 938-4401
HAYNESVILLE
HAYNESVILLE TAX COLLECTOR
(207) 448-2239
HIGHLAND PLT
HIGHLAND PLT TAX COLLECTOR
(207) 628-3081
HIRAM
HIRAM TOWN CLERK
(207) 625-4663
HOULTON
HOULTON TOWN CLERK
(207) 532-7111
HOULTON
LINNEUS TAX COLLECTOR
(207) 532-6182
HOWLAND
HOWLAND TOWN CLERK
(207) 732-4896
INDUSTRY
INDUSTRY TAX COLLECTOR
(207) 778-5050
ISLAND FALLS
G R PORTER & SONS, INC.
(207) 463-2255
JACKMAN
BISHOPS STORE, INC
(207) 668-3411
KENDUSKEAG
KENDUSKEAG TOWN CLERK
(207) 884-7947
KINGFIELD
AYOTTES COUNTRY STORE
(207) 235-2443
KINGMAN
KINGMAN TOWN CLERK
(207) 765-3343
KITTERY
KITTERY TRADING POST
(207) 439-2700
LAKEVILLE
LAKEVILLE TAX COLLECTOR
(207) 738-4761
LEE
LEE TOWN CLERK
(207) 738-2134
LIBERTY
LIBERTY TOWN CLERK
(207) 589-4318
LIMERICK
LIMERICK TOWN CLERK
(207) 793-2166 ext. 1
LIMESTONE
LIMESTONE TOWN CLERK
(207) 325-4704
LIMINGTON
LIMINGTON TOWN CLERK
(207) 637-2171
LINCOLN
LINCOLN TAX COLLECTOR
(207) 794-3372
LITCHFIELD
LITCHFIELD DEPUTY CLERK
(207) 268-4721
LIVERMORE
LIVERMORE TOWN CLERK
(207) 897-3207
MACWAHOC PLT
MACWAHOC PLT. TOWN CLERK
(207) 765-3752
MADAWASKA
MADAWASKA TOWN CLERK
(207) 728-6351
MADAWASKA
MORINS VARIETY
(207) 728-4658
MADISON
MADISON TOWN CLERK
(207) 696-3971
MARIAVILLE
MARIAVILLE TAX COLLECTOR
(207) 537-2107
MARS HILL
MARS HILL TOWN CLERK
(207) 425-3731
MASARDIS
MASARDIS TOWN CLERK
(207) 435-2841
MATTAWAMKEAG
MATTAWAMKEAG TOWN CLERK
(207) 736-2464
MAXFIELD
MAXFIELD TOWN CLERK
(207) 732-5639
MEDWAY
LENNIES SUPERETTE
(207) 746-5100
MILBRIDGE
MILBRIDGE TOWN CLERK
(207) 546-2422
MILLINOCKET
MILLINOCKET TAX COLLECTOR
(207) 723-7006
MILLINOCKET
KATAHDIN GENERAL
(207) 723-4123
MILO
MILO TOWN CLERK
(207) 943-2202
MILO
C&J VARIETY
(207) 943-2121
MONMOUTH
MONMOUTH TOWN CLERK
(207) 933-2206
MONSON
ROBINSONS MOBILE MART #2
(207) 997-3700
MONTVILLE
MONTVILLE TOWN CLERK
(207) 589-4302
MORO PLT.
KATAHDIN LODGE
(207) 528-7731
MOSCOW
MOSCOW TAX COLLECTOR
(207) 672-3295
MOUNT CHASE
SCOTTY'S FLYING SERVICE
(207) 528-2626
NAPLES
NAPLES TOWN CLERK
(207) 693-6364
NAPLES
NAPLES BAIT & TACKLE SHOP
(207) 693-3638
NEW CANADA
NEW CANADA PLT. TOWN CLERK
(207) 834-4004
NEW LIMIERICK
LUDLOW TOWN CLERK
(207) 532-7743
NEW LIMERICK
NEW LIMERICK TOWN CLERK
(207) 532-3303
NEW PORTLAND
NEW PORTLAND TAX COLLECTOR
(207) 628-4441
NEWPORT
NEWPORT TOWN CLERK
(207) 386-4410
NEWRY
NEWRY TOWN CLERK
(207) 824-3123
NORRIDGEWOCK
MERCER TOWN CLERK
(207) 587-2911
NORRIDGEWOCK
NORRIDGEWOCK LICENSE CLERK
(207) 634-2252
NORTH ANSON
PINKHAM'S ELM STREET MARKET
(207) 635-2503
NORTH ANSON
EMBDEN TAX COLLECTOR
(207) 635-2714
NORTH WATERFORD
MELBYS MARKET & EATERY, INC
(207) 583-4447
ORWAY
NORWAY DEPUTY TAX COLLECTOR
(207) 743-6651
OAKFIELD
OAKFIELD TAX COLLECTOR
(207) 757-8479
OAKLAND
OAKLAND TOWN CLERK
(207) 465-7357
ORIENT
ORIENT TAX COLLECTOR
(207) 448-7729
OSBORN
OSBORN PLT. TOWN CLERK
(207) 584-5642
OTIS
OTIS TOWN CLERK
(207) 537-2211
OTISFIELD
OTISFIELD TOWN CLERK
(207) 539-2246
OXFORD
OXFORD TOWN CLERK
(207) 539-4431
PALERMO
PALERMO TAX COLLECTOR
(207) 993-2502
PARSONSFIELD
PARSONSFIELD TAX COLLECTOR
(207) 625-4558
PATTEN
MOUNT CHASE PLT. TOWN CLERK
(207) 528-2225
PATTEN
SHIN POND VILLAGE CAMPGROUND
(207) 528-2900
PATTEN
PATTEN TOWN CLERK
(207) 528-2215
PEMBROKE
PEMBROKE TAX COLLECTOR
(207) 726-4490
PHILLIPS
PHILLIPS TAX COLLECTOR
(207) 639-3561
PITTSFIELD
PITTSFIELD DEPUTY CLERK
(207) 487-3136
PORTAGE LAKE
PORTAGE TOWN CLERK
(207) 435-4361
PRESQUE ISLE
HARRYS MOTOR SPORTS
(207) 764-7180
PRESQUE ISLE
BEN'S TRADING POST
(207) 768-3181
PRINCETON
PRINCETON VARIETY
(207) 796-5128
PRINCETON INDIAN TWP
TRIBAL GOV
(207) 796-2301
RANGELEY
RANGELEY LAKES CHAMBER OF COMMERCE
(207) 864-5571
RAYMOND
RAYMOND TOWN CLERK
(207) 655-4742
READFIELD
READFIELD TOWN CLERK
(207) 685-4939
ROCKWOOD
MOOSEHEAD BAIT & TACKLE
(207) 534-2261
ROME
ROME TOWN CLERK
(207) 397-4011
SANGERVILLE
ROBINSONS MOBIL MART
(207) 876-3920
SANGERVILLE
SANGERVILLE TOWN CLERK
(207) 876-2814
SEBAGO
JORDAN'S STORE, INC.
(207) 787-3865
SEBEC
SEBEC TAX COLLECTOR
(207) 564-8161
SEBOEIS PLT
SEBOEIS PLANTATION TOWN CLERK
(207) 732-3447
SHAPLEIGH
SHAPLEIGH TOWN CLERK
(207) 636-2839
SHERMAN MILLS
SHERMAN THRIFTWAY
(207) 365-4538
SHERMAN MILLS
SHERMAN TOWN CLERK
(207) 365-4200
SHIRLEY
SHIRLEY TAX COLLECTOR
(207) 695-3587
SKOWHEGAN
SKOWHEGAN TOWN CLERK
(207) 474-6902
SMYRNA
SMYRNA & MERRILL TOWN CLERK
(207) 757-8286
SOLON
BAIT, BOLTS AND BULLETS
(207) 643-2766
SOLON
SOLON TAX COLLECTOR
(207) 643-2576
SOUTHWEST HARBOR
SOUTHWEST HARBOR TOWN CLERK
(207) 244-5404
SPRINGFIELD
SPRINGFIELD TOWN CLERK
(207) 738-5017
ST AGATHA
ST. AGATHA TOWN CLERK
(207) 543-7305
ST ALBANS
ST. ALBANS TAX COLLECTOR
(207) 938-4568
STANDISH
STANDISH TOWN CLERK
(207) 642-3466
STETSON
STETSON ADMINISTRATIVE ASSISTANT
(207) 296-3232
STRATTON
EUSTIS TOWN CLERK
(207) 246-4401
SUMNER
SUMNER TOWN CLERK
(207) 388-2866
SWANVILLE
SWANVILLE TAX COLLECTOR
(207) 338-4489
THE FORKS (WEST)
THE FORKS PLT. TAX COLLECTOR
(207) 663-4452
THORNDIKE
THORNDIKE TOWN CLERK
(207) 568-3653
TOPSHAM
TOPSHAM TOWN CLERK
(207) 725-1719
TROY
TROY TOWN CLERK
(207) 948-2283
TURNER
TURNER TOWN CLERK
(207) 225-3414
UPTON
UPTON TOWN CLERK
(207) 533-2131
VAN BUREN
VAN BUREN TOWN CLERK
(207) 868-2886
VAN BUREN
OUELLETTES TRADING POST
(207) 868-2727
VANCEBORO
VANCEBORO TAX COLLECTOR
(207) 788-3885
VIENNA
VIENNA TOWN CLERK
(207) 293-3383
WALLAGRASS
TOWN OF WALLAGRASS
(207) 834-2263
WATERFORD
WATERFORD TOWN CLERK
(207) 583-4403
WELD
WELD TOWN CLERK
(207) 585-2306
WELLS
WELLS TOWN CLERK
(207) 646-2882
WEST ENFIELD
ENFIELD TOWN CLERK
(207) 732-4270
WEST NEWFIELD
NEWFIELD TOWN CLERK
(207) 793-4348
WESTON
WESTON TOWN CLERK
(207) 488-2316
WILTON
WILTON TOWN CLERK
(207) 645-4961
WINDHAM
WINDHAM TAX COLLECTOR
(207) 892-2511
WINSLOW
WINSLOW TOWN CLERK
(207) 872-2776 ext. 200
WISCASSET
WISCASSET TAX COLLECTOR
(207) 882-8205
WOODLAND
WOODLAND TREASURER/DEP CLERK
(207) 498-6133
WYTOPITLOCK
GLENWOOD PLT. TOWN CLERK/TAX COLLECTOR
(207) 456-7510
NEW HAMPSHIRE
(ERROL)
LINCOLN PLT. TOWN CLERK
(207) 486-3415
NEW HAMPSHIRE
(ERROL)
BOSEBUCK MOUNTAIN CLUB, INC.
(207) 670-0013
NEW HAMPSHIRE
(ERROL)
L.L. COTE
(603) 482-7777
NEW HAMPSHIRE
(NASHUA)
RPM MOTOR CYCLE
(603) 595-8534
NEW HAMPSHIRE
(PITTSBURG)

GRANITE STATE POWER EQUIPMENT
(603) 538-6349
NEW HAMPSHIRE
(PITTSBURG)
TREATS AND TREASURES
(603) 538-7472
VERMONT
(BARRE)
R & L ARCHERY, INC.
(802) 479-9151