Bangor Diverging Diamond Interchange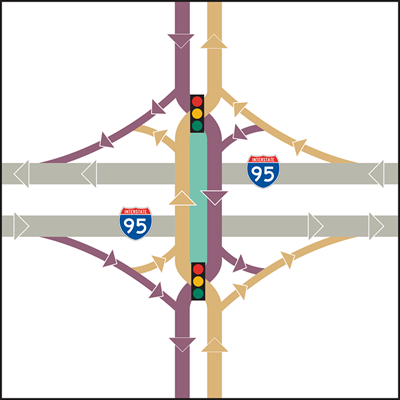 This page has information about the proposed Diverging Diamond Interchange at Exit 187 of Interstate 95 and Hogan Road in Bangor. Currently the Exit 187/Hogan Road interchange has safety concerns, congestion and no adequate bicycle and pedestrian access. There are three main issues with the existing interchange design:
Safety - there are three high crash locations, with 94 crashes in the latest three year period, 36% of which invovled injuries.
Congestion - The Exit 187 interchange is Maine's busiest diamond interchange with an average of about 35,000 vehicles per day.
Access - There are no sidewalks or adequate shoulders on the bridge.
A Diverging Diamond Interchange addresses these issues by:
Increasing safety by reducing crashes by approximately 50%.
Increasing mobility and reducing congestion.
Providing for a dedicated bicycle/pedestrian protected path within the width of the existing bridge.