Traffic Issues
All traffic-related controls on all Maine roads open to the public must follow the national "Manual on Uniform Traffic Control Devices" (MUTCD). This manual provides guidance for traffic signs, pavement markings, work zones, school areas, and much more.
MaineDOT also has extensive traffic information and data in its Traffic Engineering Division relative to traffic counts, crash records, permits, and official business signs. Another excellent resource is the National Center for Rural Road Safety.
Speed Limits
Traffic Ordinances
Signs
Striping
Heavy Loads
Traffic Counting
Speed Limit
Traffic Ordinances (Municipal)
Question: 30-A MRSA 3009 grants the municipal officers the exclusive authority to adopt ordinances regulating the operation of vehicles in the public ways and on publicly owned property. What procedures should be followed to adopt such ordinances?
Answer: Assuming your municipality does not have any local charter provision providing a different process, the procedures which must be followed for the municipal officers to adopt traffic ordinances are set forth in 30-A MRSA 3009. The following is a suggested format for complying with those requirements:
The municipal officers must cause a public notice to be posted at least seven days prior to the time of the meeting at which the traffic ordinance is to be considered for adoption and that notice must be posted in the same place as the town meeting warrant. If your town customarily posts in two or more places, the same number of postings would apply to these notices.
The notice must give the date, the time, and the place of the municipal officers' meeting.
The notice should be directed to the voters of the municipality.
The notice must contain in full the text of the proposed ordinance.
The notice must be signed by at least a majority of the municipal officers, attested in the manner provided for town meeting warrants, and contain a return executed by the person who posted the notice.
Example Ordinance Form ( PDF)
At the time of the meeting, the municipal officers should place the ordinance before the meeting for general discussion and by way of a statement explain the need for the ordinance. After that, the public should have the right to ask questions and engage in general discussion concerning the ordinance itself. After a satisfactory discussion period has been completed, the municipal officers should proceed with the consideration of the ordinance.
The enactment is not difficult. It may be accomplished by a motion made by one of the municipal officers, seconded by another, and voted upon by majority vote. Because there must be a record of the action, it is suggested that the town clerk be present, record the motion, record the second, and poll and record the individual votes of the municipal officers. The minutes of the town clerk plus a certified copy of the ordinance enacted should be record in the town's records in the same manner as an action by a town meeting (By W.W.L.)
Once the ordinance is passed, the municipality must purchase the hardware and erect the signs following the standards established in the Manual of Uniform Traffic Control Devices (MUTCD).
Adapted from "Maine Townsman", November, 1983
Traffic Signs
Road Striping
Pavement markings are painted centerlines, edge lines, crosswalks and special messages. Markings have definite and important functions in traffic control. Sometimes they supplement the regulations or warnings of other traffic control devices. Used alone they can produce results that other devices can't, effectively designating a lane, locating the road center, and locating a stopping point, information that could not otherwise be made understandable. Pavement markings have limitations. They are obliterated by snow, may not be clearly visible when wet, and may not be very durable under heavy traffic. It may be necessary to repaint them every year, or more often. Despite these limitations, pavement markings are still used because of their unique advantage: they convey information to drivers without diverting their attention from the road.
General Principles
All pavement markings should conform to several general principles:
Yellow lines separate traffic flowing in opposite directions or mark the left edge of the pavement on one-way roadways.
White lines separate traffic flowing in the same direction or mark the right edge of the pavement.
Line width indicates the degree of emphasis. Normal center lines and edge lines are four inches wide. A wide line is at least twice the width of a normal line.
Double lines, two normal width lines separated by a discernible space, indicate maximum restrictions.
A broken line is formed by segments and gaps, usually in the ratio of one to three. A recommended standard on rural roads is ten foot segments followed by 30 foot gaps.
Centerline
The MUTCD does NOT allow the use of a single yellow or white centerline on a two-lane two-way roadway. It does, however, have minimum thresholds under which a centerline may not be needed.
When resurfacing a road which has an existing centerline, a centerline should be provided on the new surface to reduce possible liability, since people have become accustomed to and expect a centerline.
When a centerline is used, all no passing zones must be marked with a double line of two normal solid yellow lines.
The MUTCD and/or traffic engineering personnel should be consulted regarding the markings of passing and no-passing zones.
Pavement Edge Lines
Particularly useful during bad weather and poor visibility conditions.
Break edge lines for intersections, but do not break them for driveways.
Solid white line for right hand edge. Solid yellow line for left edge of a one-way roadway, divided street or highway.
Stop Lines
Solid white lines normally 12 to 24 inches wide.
Stop lines emphasize the stop condition and indicate where to stop.
Should ordinarily be placed 4 feet in advance of and parallel to the nearest crosswalk line. In the absence of a marked crosswalk, the stop line should be placed at the desired stopping point, in no case more than 30 feet or less than 4 feet from the nearest edge of the intersecting roadway.
Should be placed in line with the STOP sign. However, if the sign can not be placed exactly where vehicles are expected to stop, the stop line should be placed at the stopping point.
Crosswalks
On roads where traffic is not controlled by signals or stop signs, crosswalk markings warn the motorist of a pedestrian crossing point.
On controlled intersections, crosswalk markings primarily guide pedestrians in the proper paths.
Do NOT use crosswalk markings indiscriminately. Only an engineering study should recommend installing crosswalks where there are no traffic signals or stop signs.
Crosswalk lines shall be:

Two parallel solid white lines spaced not less than six feet apart.
Solid white lines shall be a minimum of 6 inches wide and may be up to 24 inches wide in certain circumstances.
Crosswalk lines on both sides should be extended the entire width of the pavement.

For added visibility, the area inside the crosswalk may be marked with white diagonal lines at a 45 degree angle or with white longitudinal lines at a 90 degree angle to the edge lines of the crosswalk. These lines should be about 12 to 24 inches wide and spaced 12 to 24 inches apart.
When diagonal lines are used to mark a crosswalk, the transverse lines may be omitted. This type of "piano key" design is intended for use where many pedestrians cross without any other type of traffic control device.
Non-conforming designs and colors should be avoided.
Advance crossing signs should be used when the crosswalk is not obvious or in high traffic volume situations, to alert drivers of unexpected pedestrian entries into the crosswalk.
Heavy Loads
Heavy loads can cause significant damage to our state's highway and bridge infrastructure. A 16 minute video was produced recently for municipal officials that explains the importance of posting and the correct steps and practical aspects of restricting vehicles. It has been endorsed by MMA and the State Police. In addition, here is a link to two streaming videos that illustrate the impact of loads on roads. Although they were produced in Minnesota and South Dakota, they pertain to Maine as well.
Under authority of Maine law Title 29-A § 2395, all public roads may be temporarily posted to prevent abuse by heavy vehicles. The statute states that all municipal officers (not officials), the MaineDOT, and county commissioners "may restrict the weight or passage of any vehicle over any way when, in its judgment, such passage would be unsafe or likely to cause excessive damage to the way or bridge." The MaineDOT"may adopt rules to ensure proper use and prevent abuse of the public ways under the department's jurisdiction whenever those ways require special protection...". County commissioners and municipal officers may impose restrictions within their respective jurisdictions similar to those made by the DOT. Many of Maine's local roads are not capable of handling today's heavier vehicle loads even during the summer and fall, so it may be advisable to post roads during these "other" seasons, if necessary. MaineDOT Rules allow posted rules on state roads during any time between November 15 and June 1. The MaineDOT Posted Road page has an interactive map of state-posted roads, and a list of local roads posted by towns/cities/counties.
State Rule 308 SEASONAL LOAD RESTRICTIONS ON STATE ROADS (Word)
Maine law was changed in the Fall of 2000 and Spring of 2017 respectively for the benefit of home heating fuel delivery trucks and carriers of organic animal bedding. The law now reads that "any vehicle delivering home heating fuel or organic animal bedding and operating in accordance with a permit issued by the Department of Transportation... may travel over any county or townway without a specific municipal or county permit." In other words, if one of these fuel trucks has a DOT permit, then it is good for travel on State roads and townways. This allows fuel truck drivers to get only one DOT permit and not one from every town which it may be traveling in. These revisions also state that a municipality may continue to "impose additional restrictions for a vehicle delivering home heating fuel or organic animal bedding to operate on public ways within that municipality but may not require a permit to operate according to those restrictions." In other words, 1) these trucks carrying these two specific products must obey local regs which may be stricter, and, 2) restrictions and/or permits can still apply to trucks carrying other commodities on local roads.
How does a Town "impose restrictions"?
Per 29-A M.R.S.A. § 2395, the municipal officers (Board of Selectmen or Town/City Council) may "impose restrictions" similar to rules developed by MaineDOT. It is best to develop a set of local rules and regulations in the form of a "traffic ordinance", per 30-A § 3009, because the term "ordinance" is more familiar to courts and to law enforcement officers. If your municipality wishes to adopt the sample ordinance from the Maine Municipal Association, as of 2017, it no longer directly refers to MaineDOT rules and regulations in that ordinance. No matter what they are called, these regulations should be adopted only at a public meeting of the Board; public notice of the meeting, given at least 7 days in advance, and a copy of the proposed regulations should be posted in all the places where town meeting warrants are usually posted. Once adopted by the Board/Council, the ordinance must be kept on file and should be posted in the Town Office/City Hall or on the website. Please note that voter approval is not necessary.
Once the restrictions are established, it is good business to inform local residents, contractors, suppliers, etc. before you actually post your roads. The best procedure is to put a notice in the local newspaper(s) several days in advance stating which roads will be closed and during which time period. The main idea is to enact rules which are related to the registered gross vehicle weight. This eliminates the need to actually weigh vehicles --- simply check the registrations. If you do not specify registered weight in your rules, then actually weighing vehicles is a requirement if you want to prosecute violators.
Heavy Loads and Local Roads in Maine: Seasonal Signing Information
It is probably easiest to develop local rules which follow the format of the Maine Municipal Association which has a "model ordinance" available. This "model" could be very helpful in developing your local regulations.

MMA Model ordinance (Word) (PDF) Updated February 2018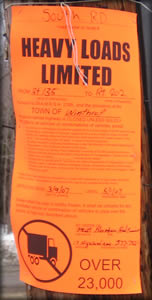 The main idea is to enact rules which are related to the registered gross vehicle weight. This eliminates the need to actually weigh vehicles-simply check the registrations. If you do not specify registered weight in your rules, then actually weighing vehicles is a requirement if you want to prosecute violators.
WHEN TO POST
In Maine, there is a large variation in weather from south to north and road conditions can vary dramatically. Whether it's in the "January thaw" or later in the winter and early spring, the top road layers begin thawing and can't drain excess water which makes the road highly susceptible to damage. To reduce roadway damage, the MaineDOT and many towns apply spring load restrictions ( or "post" the roads) during the critical time interval when the pavement is most vulnerable to damage. That is usually when temps starting getting above 32 F. However, there is now a very handy technical tool to help make that takes the guesswork out of when to post a road.
A statewide freezing/thawing map is available at: http://nrcc.cornell.edu/industry/roads/ In the top right, be sure to switch the map to the "Cumulative Thawing Index" (CTI) and look for the areas that exceed 25 (brown and yellow). These are the areas where postings should exist where applicable. Click on the "Forecast Days" to see how thawing or freezing is projected to change based on the current weather forecasts. This is a final product resulting from a research project that took place over the past couple years. Being a tool, one needs to combine this with local knowledge and local soil and road base conditions to help fine tune your decision to post a road.
SIGN PLACEMENT
Signs "must be conspicuously posted" at each end of each section of road which the Town wants to temporarily restrict heavy vehicles. The actual signs should be highly visible in color and size. You may want to place the signs high enough to be out of easy reach of vandals, but not so high as to be missed by drivers. The law does not specify any particular height.
The signs must specify the "designated sections of a public way, the periods of closing and prescribed restrictions or exclusions."
Also, if a vehicle must travel over an adjacent town's unposted road first before it gets to your town's posted road, what do you expect them to do? It's best to work with the adjacent town before you create this difficult situation.
TYPE OF SIGNS
Where to buy the orange "Heavy Load" signs (PDF)
Typically, fluorescent orange signs measuring 11" x 22" are available at many local printshops around the State. The color does not have to be fluorescent orange - it may be white, yellow, or any other visible color. The thickness of the signs is also important because a thin sign will not stand up to snow, rain, or slush.
The "Heavy Loads Limited" signs, which are the most commonly used signs in Maine are OK, but how does a truck driver know the weight limit, vehicle types, and posting dates when driving by them? Drivers are not known to stop and go over and read the signs!
In early 2017, the MaineDOT redesigned its signs to graphically highlight the 23,000 pound limit at the top. It also changed some of the exemptions (the "fine print") to comply with some recent Rule changes. Those signs are available at local print shops too. It's important to realize that these new signs DO NOT have to be used immediately. If your town has some of the "old" style, use them up first before you purchase the new ones.
Or you may want to design your own and put your weight limits in BOLD PRINT. This format will get your message across more clearly.
FILLING IN THE BLANKS
Each sign shall state:
The name of the road and if all or parts of the road are being posted.
The "prescribed restrictions" (i.e. weight limits)
The periods of closing.
Any "exclusions", such as exempt vehicles.
It would also be helpful to have the signature of at least one of the Selectmen or other municipal officers on the bottom with a telephone number. A Road Commissioner could also sign it, under the authority of the Board or Council, even though he is a municipal official and not an officer.
POSTING DATES
The effective date of posting should precede any significant thawing period. Temperatures vary greatly around the State, but generally the MaineDOT has found that posting roads in early March is relatively typical. Use this statewide freezing/thawing map to help you determine when to post your roads. This prohibits heavy vehicles during those warmer days when the road surface softens, and then refreezes at night. Vehicles should not be allowed on any road which is anything less than solidly frozen.
Per MaineDOT Rule, updated in June 2019, a road is considered "solidly frozen" only when the air temperature is 32 F. or below and no water is showing in the cracks of the road (if paved). Alternatively, if the air temperature is 32 degrees F. or below and there is water showing in the cracks of the highway, the highway will be considered "frozen" if the adjacent gravel driveways, shoulders, or lawns remain frozen. On a gravel road, "solidly frozen" may mean if there is less than 1/4" of "thaw" on the gravel surface.
WHEN TO REMOVE YOUR POSTING
The last day of posting can be variable across the State. There is nothing "magical" about the commonly used date of May 15. The posting should remain in effect until after the frost has come out AND all of the excess water has drained off. Generally, it is best to "build-in" a couple of weeks beyond which conditions are back to "normal". Typically, State roads are posted until mid-April in southern Maine and late April/early May in northern Maine. Therefore, a posted ending date of early May is suggested. Use this statewide freezing/thawing map to help you determine when to post your roads.
ENFORCING THE LAW
By law, "the municipal officers within their respective municipality have the same power as the State Police in the enforcement of all rules of the DOT, the County Commissioners, and the municipal officers that pertain...". In other words, a Selectman or Councilor could stop vehicles, but it is probably best to leave these enforcement activities to law officers who are familiar with such duties. The State or County Police do not have to be called in to nab violators. If delegated, your local constable or police officer has the same power. Violations are considered Class E crimes and a "traffic infraction punishable by a fine of not less than $250". Simply issue a traffic citation.
EXEMPTION DETAILS
EXEMPTIONS
In the spirit of aligning the exemptions allowed on both state and local roads, the MMA model ordinance lists the same exemptions as MaineDOT. That is fine but a municipality has a choice of how to permit various types of vehicles on posted roads. The main question is do you want to be very restrictive and only allow certain exempt vehicles, if any, or do you want to be less restrictive and deal with situations as they occur every day?
The main difference between this sample ordinance and the MaineDOT process is that DOT rules only exempt certain vehicles such as highway maintenance vehicles, utility vehicles, school buses, emergency vehicles, etc. PLUS any vehicle with a "limited load permit" (formerly called an exemption certificate) transporting commodities such as bulk milk, feed, home heating fuel, groceries, trash, etc. at a reduced load. This MMA sample references the same exemptions BUT it also allows the municipal officers some discretion in allowing ANY OTHER VEHICLE, such as pulp trucks, cement trucks, heavy vehicles, etc. if certain conditions are met in Section 5.
EXPLAINING THE EXEMPTIONS
The following paragraphs explain the various exempted vehicles in Section 4.
Exemption 1. It is probably best to be consistent with the State on the actual registered gross weight, BUT a Town may want to set weights less than the 23,000 pounds (11.5 tons). Many local roads (and State roads, too!) cannot take that weight, simply because they were never built to carry today's vehicle loads. You may want to have an engineer provide you with some guidance on your actual limits. (your "orange signs" must reflect the actual limit)
Exemption 2. First sentence means that any vehicle registered for more than 23,000 pounds travelling without a load (empty pulp truck, empty concrete truck, empty dump truck, etc.) is legally allowed across the road. This means that those trucks which typically weigh significantly more than 23,000 pounds are allowed only if they have no load. As soon as any amount of load is put in or on that vehicle, it is in violation. "Special mobile equipment" is defined in MaineDOT Rules Section 1(5). These types of vehicles (graders, excavators, well drillers, etc.) are not allowed over posted roads. The third sentence states that any vehicle registered in excess of 23,000 pounds with a load is exempt if its actual gross weight is less than 23,000 pounds. Vehicles would have to be actually weighed, though, to prove this.
Exemption 3. This Section exempts MaineDOT vehicles or other vehicles authorized by MaineDOT or a municipality or County to maintain roads under their authority. In practice, it is best to operate as little as possible on posted roads. If it can't be avoided, vehicle loads should be reduced to minimize road damage.
Exemption 4. This Section specifically exempts:
authorized emergency vehicles as defined in state law 29-A MRSA 2054
school buses
a wrecker towing a disabled vehicle of legal weight from a posted road
vehicles with 3 axles or less under the direction of a public utility and engaged in utility maintenance or repair
The last exemption (utility vehicles) is intended to apply to emergency situations. Travel on posted roads by utility vehicles engaged in "routine" construction or maintenance is generally discouraged.
Exemption 5. As of 2017 after a change in MaineDOT Rules, any 2 axle vehicles registered for gross weight between 23K and 34K pounds that are carrying any Special Commodity, as defined, are exempt and do not require a permit. A municipality has the option to retain or modify that exemption.
Section 5. all vehicles operating with a special permit to travel over posted roads, as issued by the governing agency. Permits can be issued upon certain findings. There may also be other situations which present unusual conditions. Usually, a phone call to the municipality is advised so that both parties can mutually agree on a solution
Commercial Vehicles
The State police web site on Commercial Vehicles Enforcement can be found here.
Heavy Loads and Local Roads in Maine: Permanent Signing Information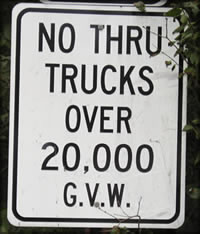 For permanent posting, better known as "No Thru Trucks", it is necessary to develop local rules which define the meaning and purpose of this sign. Usually, the purpose of these signs is to stop trucks from using this road as a shortcut or an alternate to avoiding traffic lights or built-up areas. It may be worth considering the creation of a "truck route" which is a positive step in providing clear direction to larger vehicles rather than a prohibitive motion that relies on enforcement which may or may not be readily available in a given municipality.
SIGN PLACEMENT TYPES
Regulatory signs should be posted at each end of each road which the Town wants to restrict heavy vehicles. Where one road passes between two towns, it is highly recommended to work with the adjacent town to either jointly post the entire road or not at all. This eliminates the possibility of a driver suddenly seeing posting signs at the town line and wondering if he should turn around or continue on while in possible violation of a local ordinance. The actual signs must be rectangular black lettering-on-white and be at least 24 by 30 inches.
Depending on the local ordinance wording, the sign could refer to "trucks" or "axles" or a designated weight. If the sign refers to "Trucks", then your ordinance needs to define a "truck". does it mean only tractor trailers, or commercial vehicles over 26,000 lbs, or 2 or 3 axle delivery trucks, or simply a Ford F-150 ? If the sign refers to "axles", that's rather definitive and can be counted easily on any truck. If the sign refers to "GVW" or a specific weight like "7 tons", then it should be referring to the registered gross vehicle weight.
As a comment about using the word "Thru" on a sign, it should be clear that the intent is to regulate heavy trucks that are using this road more as a shortcut from one end to the other rather than using it to access homes or a delivery or pickup point along the road.
Truck Restriction Policy on State roads (MaineDOT Rule #17-229-104)
MaineDOT Policy on Truck Restrictions on State and State Aid Highways
Acting on the recommendation of Carl A. Croce, Director, Bureau of Planning, and Bruce Ibarguen, Engineer of Traffic, the Commissioner approved the creation of a Department policy on July 13, 2005 that reaffirms State Rule 17-229, Chapter 104, entitled: Travel on State and State Aid Highways. This policy retains the concept that the MaineDOT has sole jurisdiction over restriction of commercial vehicles on state roads, and that municipalities may not prohibit commercial vehicles on state roads whether they are inside "urban compact" areas or not. However, this policy allows time-of-day restrictions of commercial vehicles, in very narrow circumstances, as long as there is substantial agreement between all affected parties, including neighborhoods, trucking firms, municipalities and other stakeholders.
Department Policy
Simply stated, no restrictions can be put on State or State Aid Highways whether these roads are in rural areas or "urban compact" areas, unless specifically restricted by the MaineDOT Commissioner.
This is affirmed in State Rule 17-229- 104:
"It is the goal of the State of Maine, Department of Transportation that Maine's public highways be safe and efficient and contribute to the economic growth of the State and the well-being of its people. MaineDOT will make good faith efforts to have Maine's public highway network meet the social, economic, and environmental needs of the public. In addition, public highways are intended for the overall general use of the traveling public and for business, recreation, and overall access to areas across the State. Therefore, MaineDOT recognizes that there is an affirmative right for all individuals and entities, public and private, domestic or commercial, to travel on all State or State Aid highways in Maine. This right shall exist until the Commissioner of MDOT suspends or otherwise restricts any such traffic on any highway under MaineDOT jurisdiction."
However, there are growing issues relative to through commercial truck traffic on State and State Aid highways passing through residential areas. In certain cases, municipal officials are requesting some type of relief for homeowners who have chosen to live along these busy corridors. Because the requests usually respond to neither a severe safety issue nor the structural condition of a road or bridge, there is an option for municipalities to request time-of-day through truck restrictions on certain State roads from the MaineDOT. The following steps must be taken:
The municipality must make a written request to the Department. Requests from an individual or groups of individuals will be referred back to the municipality.
The request must be made following substantial public process and buy-in by all affected parties. Municipalities shall be encouraged to conduct neighborhood/stakeholder meetings before submitting a request.
The request must not significantly affect traffic in municipalities other than the municipality which made the request.
There is a reasonable alternate route for all traffic affected by the posting, as documented in part by the buy-in of affected commercial interests.
The alternate routes do not create severe safety or congestion concerns.
The municipality has passed a municipal traffic ordinance as described in Title 30A § 3009.
These restrictions may apply to all through commercial traffic over 26,001 pounds. It is understood that heavier local traffic (as opposed to through traffic), such as moving vans or fuel delivery trucks, should be allowed. However, because enforcement issues are largely local, and because the affected homeowners are entirely local, there is no statewide interest arising from this local choice of 26,001 pounds so a municipality may increase it if desired.
Basis for Authority
23 § 1 -- State Highway Law -- General Provisions
23 § 52 -- State Highway Law -- DOT -- General Powers and Duties
23 § 53 -- State Highway Law -- DOT -- Classification of Highways
23 § 1351 -- State Highway Law--Protection of Highways --Installation of signals, devices & signs
29A § 2395 -- Motor Vehicles -- Ways requiring special protection
30A § 3009 -- Municipalities & Counties -- Authority of municipal officers to enact ordinances
30A § 3001 -- Municipalities & Counties -- Ordinances -- Ordinance Power
State of Maine Rule 17-229-104 -- Travel on State and State Aid Highways

This Rule is a brief statement affirming the basic right of all highway users to travel on all State and State Aid highways in Maine.
Traffic Counts: Equipment Loan Program for Towns
The MaineDOT Traffic Engineering Division has a limited number of traffic counters available for free loan to Maine towns and cities. If your town wants to borrow a set, you can have it for up to 2 weeks and count traffic on as many roads as you want to within that 2 week period. All counts have to be done on weekdays for a minimum of 24 consecutive hours.

If you're interested, contact Debbie Morgan at 624-3606 or by e-mail at deborah.morgan@maine.gov . You'll have to come to Augusta to get it and Debbie will explain how/where/when the equipment is to be installed on your local roads. After the data is collected, her office will process the data and send you the finished "annual average daily traffic" counts (AADT's) in an Excel spreadsheet.