K9 Team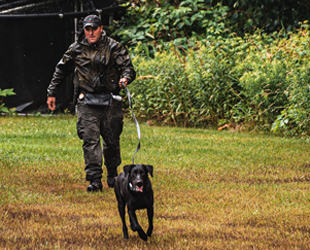 The Maine Warden Service K9 team travels throughout Maine and across the state's borders to bring missing persons to safety and to protect our natural resources through evidence collection. The specialized team is made up of six dedicated game wardens and their K9s which are trained in the following areas:
Tracking — Following the trail of a person by using that person's individual scent
Evidence — Location of items containing human scent, gun powder residue, or any other trained scent that may be used to solve a fish and game case
Hasty air scent search — Using the air/wind to follow human scent and locate injured and lost people along natural barriers such as trails, wood lines, ditches, streams, and roads
Human Remains — Detecting human remains when a search has been ongoing for a period of time at which the person is probably deceased
Meet the Team
Handlers work side by side with their trusted K9s. When the K9s are not working, you can find them doing normal dog things, like chasing balls, swimming, or looking for treats. K9s live in their handler's homes and are part of their family, even after they retire.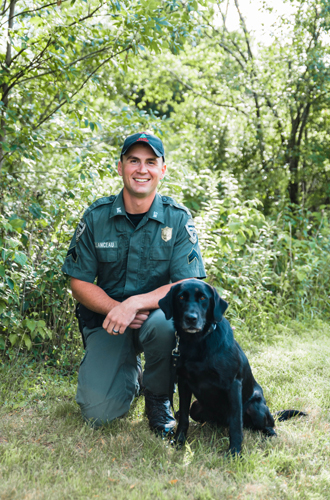 Fryeburg district
Warden since 2012, K9 Handler since 2016
Breezy will do anything for a ball (or anything she can retrieve) and would run all day long if Lucas let her. Read more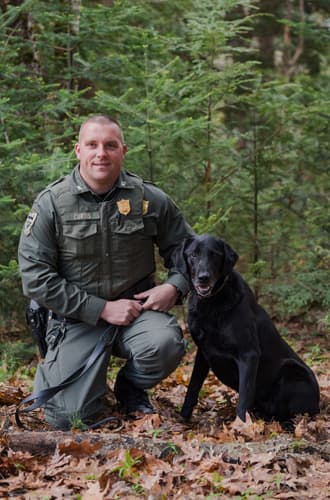 Aurora district
Warden since 2006, K9 Handler since 2009
K9 Sig, a black Labrador retriever, will do anything for a ball and he loves to swim. Read more
Training
To get their initial certification with the Maine Criminal Justice Academy, Maine Warden Service K9s complete a 14-week intensive training program and pass initial certification tests. To maintain their certification, they are required to train for a minimum of 24 hours every quarter under the direct supervision of a certified trainer and pass an annual re-certification field test.
Handlers often work on training daily on their own to balance and strengthen the multiple disciplines their K9s are trained in. The Maine Warden Service K9 unit typically trains as a group at least two to three times a month. The unit also trains in conjunction with the Maine State Police to work specifically on Human Remains detection at a minimum of once a month.
Once initial training and certification have taken place much of the ongoing training focuses on maintaining proficiency and building skill sets. Scenario-based trainings are used to replicate new challenges that may have occurred on an actual search.
On the Blog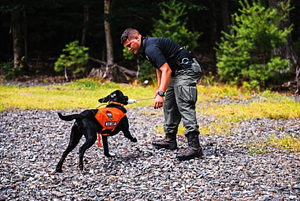 Air scent searches are used to search large areas or if the last known point of the missing person isn't exact.