The Maine Department of Education (DOE) requires approved private schools to be approved annually per 20-A M.R.S. Chapter 117
Directories of Maine schools can be found here.
For a list of private schools approved for public funds (tuition purposes), click here.
NEO Maine Schools Update and School Approval for Private Schools 
Detailed data entry instructions for the NEO Maine Schools and School Approval submission process may be found here. Schools may reach out to our Help Desk (MEDMS.Helpdesk@maine.gov or 207-624-6896) to resolve any technical questions or issues with the submission process. Schools should review the directions carefully, as missed deadlines will impact private school approval and any associated tuition payments. 
Schools new to private school approval (and refresher for continuing schools)
For those new to private school approval, private school approval requirements are determined for each specific school according to:
Type of private school: Private school; Special purpose private school; nontraditional limited purpose private school

Enrollment of publicly funded students (percentage of students tuitioned from a school administrative unit): No publicly funded students; <60% publicly funded students; 60-<85% publicly funded students; 85%+ publicly funded students.

Accreditation: NEASC-accredited; not NEASC accredited
As prospective approved schools complete the NEO Maine Schools and School Approval form with the above information, applicable approval requirement checkboxes are presented for affirmation. You may preview the complete affirmation checklist here. Please bear in mind that only the affirmations that are applicable to the school type and enrollment choice will be presented for affirmation on the form for each individual applicant school.
Schools considered "new" are those that were not approved private schools on June 30th of the year of application. The first step for new schools considering application for approval for the upcoming school year is to become familiar with the deadlines and to schedule a conversation with DOE's school approval consultant, Pamela Ford-Taylor (Pamela.Ford-Taylor@maine.gov or 207-624-6617). Once the school has met with the DOE and details are clear about the type, enrollment population, and accreditation status of the school, the following steps will occur:
As early as May/June, the applicant will email the DOE school approval consultant to formally indicate their intent to apply and request access to the State's information system, NEO.

DOE Helpdesk, data personnel, and the consultant will work together with the school to establish an organization record and access to the NEO Maine Schools and School Approval module, the NEO Staff module, and the Maine Educator Information System (MEIS). Access to NEO staff can be obtained by submitting a 

NEO access request form

. Ongoing training for NEO and MEIS is available by the Helpdesk. A new school may be set up and have access as early as July 1.

On or after July 1, but no later than the September 1 deadline, the private school will access their new record in NEO Maine Schools and School Approval, and after verification/correction of the organization section, will complete the school approval annual report affirmation checkboxes and submit.

DOE will review the submission and respond with any corrections needed. Once the record is complete and correct, DOE will send an acceptance email to confirm next steps (please see summary chart below). At that point the school may enroll students and begin operation on its normal schedule while completing the next steps.

Once the school's initial NEO submission is accepted, the private school has access to new functionality on the same form: the staff affirmation checkbox and the tuition-receiving form (EF-M-240) required for all schools with an enrollment status other than "No publicly funded students." At this point, schools that are public tuition receivers should complete the EF-M-240 section, and all schools should review staff certifications in MEIS to ensure there are no violations, and then check the staff affirmation check box to indicate that they have completed the violations check (even if they are still addressing violations).
DOE will continue to communicate and assist with any issues related to school approval, and conduct a final staff check by September 15. A certificate of approval will be issued upon completion of any outstanding items, including but not limited to resolving staff certification violations and the tuition-receiving form (EF-M-240) due by September 1. Full approval means that schools approved for tuition purposes are then placed on the list of tuition receiving private schools which school administrative units use to authorize tuition payments.
Continuing approved private schools
Continuing approved private schools are schools that were approved for attendance or tuition purposes on June 30 of the year of application. NEO Maine Schools Update and School Approval for private schools will launch in May for continuing schools. Private schools seeking approval that are currently approved must access and submit the Maine Schools Update and School Approval form by July 15.
Reminder: The NEO School Approval for private schools was combined in 2022-2023 with NEO Maine Schools Update. Likewise, the EF-M-240 form (available and required for those indicating the receipt of publicly-funded students) is now included as part of the same online NEO form. The NEO Staff module, a separate NEO module where schools report all staff and which the DOE uses to check staff credentialing, remains unchanged.
Summary chart of private school approval steps and due dates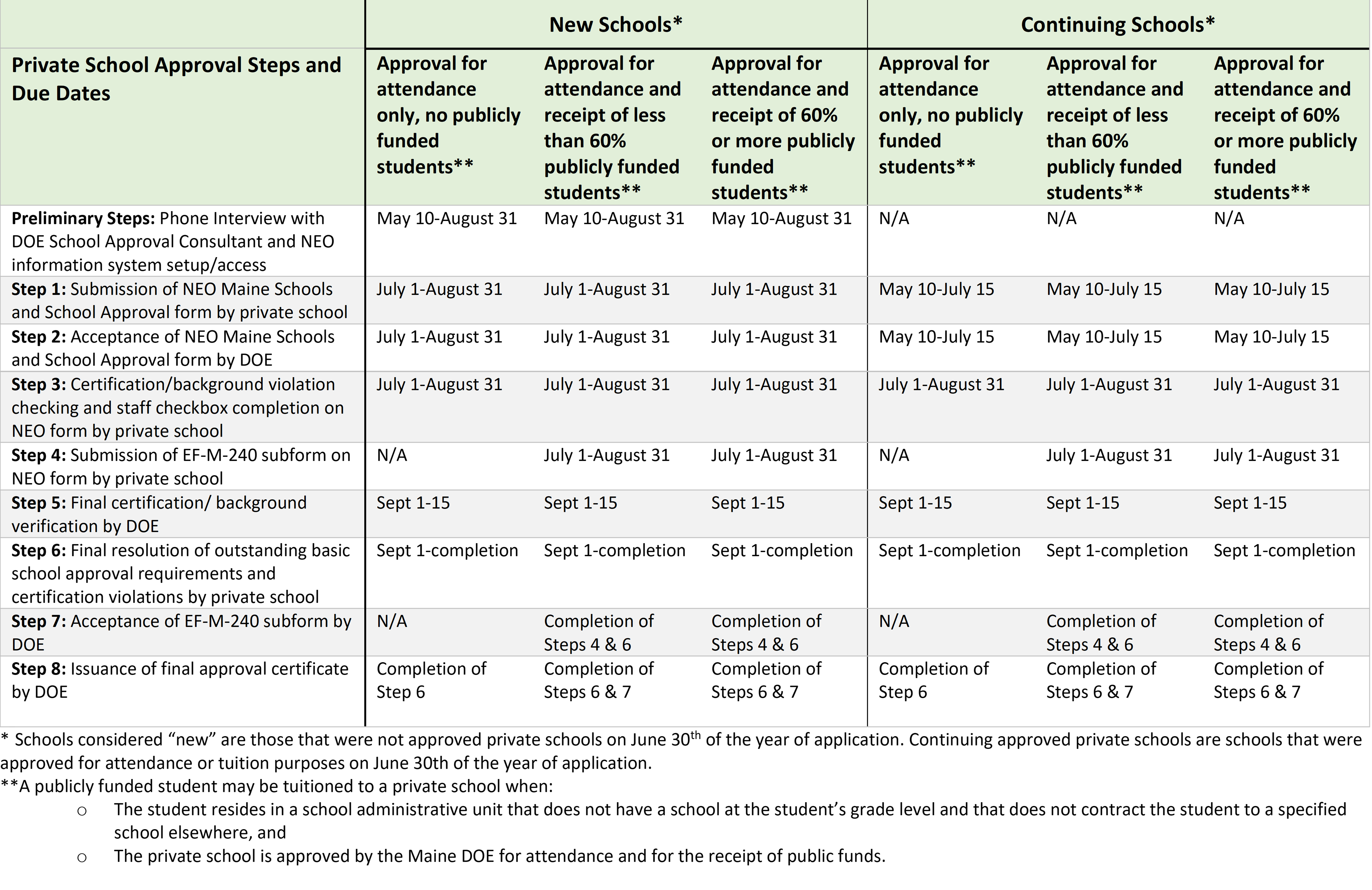 The DOE does not require upload of supplemental documentation during the approval process. Supplemental documentation will be requested if needed. 

Any request for approval for the receipt of public funds for tuition purposes will be contingent upon the receipt and acceptance of basic school approval reporting by July 15 (or September 1 for new schools), and the Private School Approval to Receive Public Tuition Funds (also called Form EF-M 240) by September 1. This financial report is available via embedded functionality within the NEO Maine Updates and School Approval form. Access to the EF-M-240 form will be provided after DOE initial review and acceptance of the basic school approval submission, for applicable schools. Following submission of the EF-M-240 and validation of the staff check, and upon full approval, schools approved for tuition purposes will appear on the Approved List and Tuition Rates website. However, because of the annual budget process, tuition rates for the school year will not be calculated until December. Until that time, estimated tuition will be used. Please contact  Pamela.Partridge@maine.gov with additional questions regarding tuition calculations.
Private schools receiving public tuition funds are required to complete a variety of annual student and staff reports.  These reports include semi-annual enrollment, quarterly daily attendance/behavior/truancy, graduation, and other. Schools can find the Maine DOE reporting calendar and all pertinent reporting instructions at Yearly ongoing reporting requirements. Please reach out to the MEDMS Helpdesk for more information or additional assistance.
NEO Staff
All private schools, new or continuing, seeking approval status must provide updated staff information in the NEO staff module by September 1. Required certification and criminal history record checks must be current for all staff, teachers, and administrators by this date. The Department will commence the final step of certification checking at this time, and will not approve schools with personnel whose NEO public portal record reflects current non-compliance. The Department urges private schools to review instructions well in advance, at https://www.maine.gov/doe/data-reporting/collection/helpdesk/resources/staff-dataentry-guides, and contact the Help Desk with questions regarding the proper way to enter staff information in the NEO information system. The private school certification violations list (https://www.mymainecertification.com/SSO_PROD/Default.aspx) should be reviewed by authorized school administrators early in the summer to resolve violations and prepare for the September staff certification check.
*For security and privacy purposes, staff information may not be relayed via email and must be entered in the NEO Staff module in order for approval to be completed.
Summary of private school approval deadlines
May 10 - July 15: NEO Maine Schools and annual report submission for continuing schools
July 1 – Sept 1: NEO Maine Schools and annual report submission for new schools
September 1: NEO Staff update and certification/background updates deadline for all schools
September 1: EF-M-240

due for schools requesting to be approved to receive publicly funded tuition
Related resources