Forest Online Resource Tool (FOResT)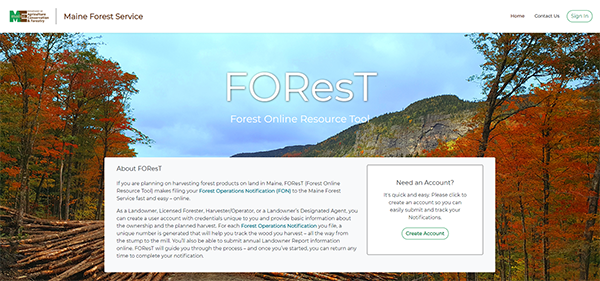 For over 30 years, the Forest Operations Notification (FONS) system has been paper-based. Landowners and managers submit paper copies to the Maine Forest Service (MFS); data is entered by hand; acknowledgment letters printed and mailed; FONS filed, etc. Repeat the process with amendments. Then paper copies of landowner harvest reports are sent out at the end of the year. More paper, more data entry, more filing. That has changed.
FONS can now be filed online using the Forest Online Resource Tool (FOResT). Landowners, Designated Agents, Foresters, and Loggers will need to create individual accounts in FOResT to participate in harvest notifications.
---
Background
Forest Online Resource Tool (FOResT) is an online tool for landowners and designated agent to submit Forest Operations Notifications (FON) and associated annual Landowner Reports.
---
Timeline
Beginning January 1, 2021, FONS can be submitted online through FOResT.
Until March 31, 2021, the plan is to continue accepting paper FON forms.
Beginning April 1, 2021 - all FON submissions must be done online through FOResT.
Note: All landowner reports associated with paper FONS will continue to be submitted on paper forms provided by MFS.
---
Things You Need to Have Before You Use FOResT
An email account

The FOResT account you will be setting up and using will be based upon your email address.

If you do not have one, there are free email services available online. Such as:

---

All parties on a Forest Operations Notification (FON) need to have an account in FOResT

During the process of creating a FON, all parties (landowner, harvester/operator, designated agent - if listed, and licensed forester - if listed) on a FON will be added to that FON by entering their last name and their FOResT ID.

To get a FOResT ID, an account must be created in FOResT by all parties BEFORE creating a FON.
---
Frequently Asked Questions
---
Video Resources
Filing a Forest Operations Notification (FON)
---
Public Overview and Demonstration Sessions
December 2, 2020
December 16, 2020
January 6, 2021
January 20, 2021
---
Frustrated or Still have questions?
You can always contact the Maine Forest Service by: