Digital Archive and Historical Documents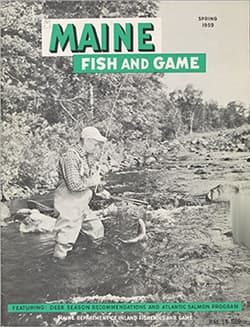 In 2015, MDIFW partnered with the Maine State Library to digitize the Department's historically rich archive. This is still a work in progress, but members of the public can now easily explore thousands of law books, documents, informational publications, photos, and (coming soon!) videos online at http://digitalmaine.com/ifw/.
What You'll Find:
Fish and game law books dating back to 1893
Hundreds of photos and slides dating back to the 1940s
All issues of Fish & Wildlife Magazine dating back to 1959
3 Ways to Help us Complete the Project:
Contribute a Document – If you have an historically significant MDIFW-related item that you'd like to contribute, contact the Maine State Library at statedocs@maine.gov and they will assess its usability.
Solve a Photo Mystery – Many of the historical photographs and slides in the archive are unlabeled or untitled. If you know who or what a photo is depicting, simply use the comment feature to let us know.
Fill in a Gap – Among all the sets of historical documents, there are a few gaps. If you see one, and happen to have the missing piece, the library would love to borrow it, scan/digitize it, and return it to you fully intact.
Check it out: http://digitalmaine.com/ifw/.
A Salute To Service

Learn more about the past operations of MDIFW. Since 1880 our department has protected, preserved and enhanced the fish and wildlife resources of the State of Maine. This tribute honors our past employees who have served the Department of Inland Fisheries and Wildlife. Watch Now