The Maine outdoors is a place for everyone!
Maine is known for its abundant wildlife and fisheries, extraordinary views, and countless recreation opportunities. No matter your age or experience level, the Maine outdoors is a place for everyone.
Whether you are a parent or guardian looking for ways to introduce a child to the outdoors, an adult aspiring to try a new hobby or spend more time outside, or a teacher looking for a fun field trip idea or way to incorporate nature and wild lessons into your already existing curriculum, we have something for you!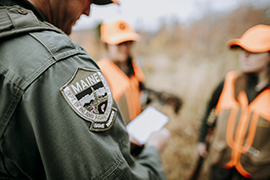 Do you need to take an outdoor ethics course?
Maine Department of Inland Fisheries and Wildlife offers a remedial outdoor ethics course for those who receive a mandatory revocation of a hunting, fishing, trapping, or guide license. This also applies to the revocation of privileges of registering an ATV or snowmobile.
You can now take a hunter safety course online!
Taking a hunter safety course is the first step to joining a wonderful community of conservationists and starting a lifelong journey of learning to hunt. Courses are now available in two different formats: online and traditional in-person classes. An in-person skills and exam session is required for students ages 10-15 who take firearms and bowhunter safety courses online. Learn more:
Firearms Hunter Safety   Crossbow Hunter Safety   Bowhunter Safety