Environmental Review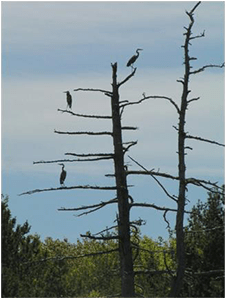 MDIFW's statutory mandate (12 MRSA, § 10051) is "…to preserve, protect, and enhance the inland fisheries and wildlife resources of the State; to encourage the wise use of these resources; to ensure coordinated planning for the future use and preservation of these resources; and to provide for effective management of these resources." With this in mind, MDIFW staff undertake another of our responsibilities, providing recommendations to the environmental permitting programs of the Maine Department of Environmental Protection (MDEP) and the Maine Land Use Planning Commission (LUPC). Our primary concerns involve Rare, Threatened, and Endangered species and habitats; Significant Wildlife Habitats; and Protected Natural Resources. MDIFW's responsibility is of an advisory capacity based on our expertise within the topic areas noted above. The final permitting decisions rest with the regulatory agencies.
MDIFW staff review each proposed project independently and evaluate any site-specific concerns that may be presented. We work with applicants, consultants, and regulators to identify ways to avoid or minimize significant adverse impacts to wildlife, fisheries, and critical habitats to the extent practicable. And, when possible, we look for opportunities to mitigate or offset such impacts. We, the residents of the State of Maine, are uniquely blessed with fisheries and wildlife resources that we believe to be unparalleled elsewhere. It is the responsible stewardship of these resources that ensures this into the future. With many proposed projects, there are competing opinions and positions. As with all proposed development projects that we review, MDIFW provides agency comments and recommendations to State regulatory agencies, within the legal and regulatory frameworks provided.
Environmental Review Resource Map Tool
The link below leads to MDIFW's Environmental Review Resource Map Tool. This tool provides access to preliminary screening-level information on known habitats and species occurrences relevant to environmental consultations by MDIFW, including Endangered, Threatened, and Special Concern (Rare) (ETSC) species occurrences and habitats, Essential Habitats, Significant Wildlife Habitats, and other important resources. It should be noted that ETSC and Significant Vernal Pool data are based on limited surveys and are not a comprehensive inventory of all such resources. MDIFW continually updates these databases as new survey data become available. Thus, the information provided in this application is considered preliminary until otherwise noted by MDIFW as part of a formal agency project review. Resource surveys, project siting, facility design/layout, and operational practices are all important aspects in identifying important resources and avoiding or minimizing adverse impacts. MDIFW provides recommendations based on known, reported, and potential resource information but, it is the applicant's ultimate responsibility to ensure that its activities do not result in detrimental impacts to resources.
Open the Environmental Review Map Tool
Request for MDIFW Environmental Review and Resource Maps
MDIFW reviews proposed development projects and provides formal agency recommendations and resource maps that include information on important fisheries, wildlife, and critical habitat resources for use by landowners, for preliminary reviews of potential environmental project sites, and for formal agency regulatory reviews. To request these services, please complete and submit this Environmental Review Request Form (PDF).