Baxter, The Library Cat: Mascot Information
NOTICE: Baxter has sustained some considerable damage and has been retired. The Maine State Library is working to contract for a new Baxter costume.We will let you know the timeline as soon as we get details. Thanks for your patience!
Reserving the Mascot, Maine's Coon Cat Named Baxter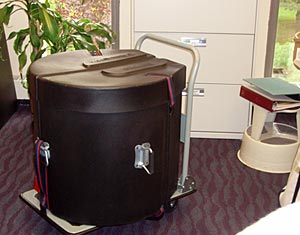 Baxter's container is like a very large hatbox and will be rolled to the front of the Library on a dolly.
Publicity for the Mascot
The above file requires either Microsoft Word or the Word Viewer.
Using the Mascot
Imagine the Power of Modern Marketing working for You and Your library!
Reserve our own Maine Coon Cat Library Mascot for your library event!
Library Mascot Programs have been wildly successful in communities nationwide by establishing an appealing and fun visual identification of libraries!
Visualize a Library Mascot in your community! Imagine the possibilities! For example...
Enliven community parades and festivals and increase your library's visibility with the appearance of the Maine Library Mascot!
Emphasize outreach by bringing the Maine Library Mascot to Senior Centers, assisted living facilities, child care centers, preschools, and schools!
Make new friends for your library by having the Library Mascot accompany you on visits to hospitals, business community events, Homecomings, and more!
Celebrate special library events like Centennials, Grand Openings, and Summer Reading Kick-offs with visits from the Maine Library Mascot!
Create a visual, exciting and modern presence for your library in your community with help from a Maine Library Mascot.
What is the story behind our Maine Coon Cat?
During a Maine blizzard, a tiny kitten turned up at the Maine State Library and was taken in by one of the consultants who travel the state assisting all types of libraries. Because the kitten was so young when he was found, the consultant was advised to keep the kitten close by. So, the kitten, named Baxter, visited libraries with the consultant.?
Soon the kitten was too big to fit in the pocket of a coat. In fact, the kitten had become a REALLY big cat! The consultant was happy to drive with the cat and visit libraries along the way. The cat was happy, too. Someday, Baxter, the library cat, might visit your library!
Read the complete story of Baxter [PDF, 20 KB] This file requires the free Adobe Reader.