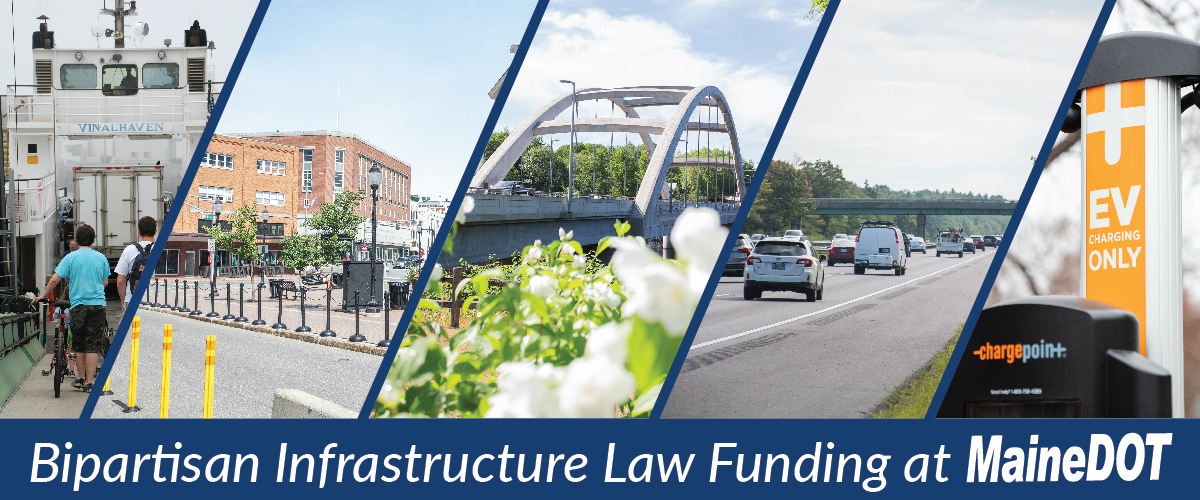 Bipartisan Infrastructure Law Funding
In November 2021, the federal Bipartisan Infrastructure Law (BIL) became law. This bill includes increased funding levels for transportation, new formula programs, and many discretionary grant opportunities. For MaineDOT to lend its support while seeking funding for your community, early coordination is essential.
To take full advantage of these opportunities, MaineDOT aims to coordinate and possibly partner with other eligible applicants on applications. We offer planning partnership programs like the Village Partnership Initiative to scope projects for future discretionary grant opportunities. Please contact the planner in your region to discuss applicable programs and funding opportunities.
To facilitate coordination on discretionary grant applications and Congressionally Directed Spending (CDS) requests, MaineDOT has developed a Special Federal Funding Support Request Checklist (PDF) and requests that all Maine local cities and towns complete and submit this form for the following circumstances:
You are submitting a discretionary grant application or CDS request for a transportation improvement project on the MaineDOT state highway system.
You are requesting that MaineDOT sign a Letter of Support for a discretionary grant application or CDS request.
You are requesting that MaineDOT become a funding partner for a discretionary grant application or a CDS request.
You are requesting that MaineDOT be listed as the lead delivery or submitting agency for a discretionary grant program or CDS request.
This website provides more information on BIL programs, formula funding for Maine, and funding opportunities through discretionary grant programs and partnerships with MaineDOT discussed at length below. For more information about the law, see the U.S. Department of Transportation's BIL page.