Dealing with Orphaned or Injured Wildlife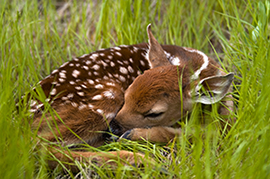 Wildlife is very active during the late spring and summer, and it's common to come across baby fawns, moose calves, fox, raccoons and other young wildlife in fields, woodland areas, and even backyards.
If you care, leave them there.
If you encounter wildlife anywhere in the Maine outdoors, remember this motto: If you care, leave them there. Wild animals and birds do not make good pets, and it's against the law to possess them without the proper state and federal permits.
Picking up young wildlife might seem like the right thing to do; but in most cases, wildlife has a much better chance at survival when not disrupted by humans. Direct contact with wildlife can also expose you to a variety of diseases, and it can lead to an animal being euthanized in order to test for rabies.
Is it an orphan?
It is common to see a young animal alone in the outdoors, and when you do, you may worry that it has been abandoned by its mother. It probably hasn't. The mother-young bond in mammals and birds is very strong; and most likely, mom is just searching for food to sustain her young. The best thing you can do if you come across a healthy young animal or bird is leave it alone; and if you have pets, put them inside or on a leash so they don't disturb the young wildlings.
When you encounter specific species, here are some additional tips to keep in mind:
Fawns: It is always best to leave fawns alone, and you should never attempt to feed them under any circumstances. The nutrient profile of a mother's milk enables a doe to leave her fawn for many hours while she feeds on her own to sustain the demands of nursing. Until the fawn is strong enough to keep up and come along, an adult doe may hide her fawn in the forest floor leaves, returning two or three times a day to nurse. During this time, the fawn is protected from predators by its camouflaged coat and its lack of scent. Repeated visits to a fawn can draw the attention of predators, and could discourage the mother from returning.
Moose calves: Treat moose calves as you would fawns, but also be aware that approaching or handling a moose calf is likely to elicit a defensive response from a mother moose if it is nearby.
Squirrels or Raccoons: If a nest of squirrels or raccoons must be disturbed (for example, if a tree has been cut down or fallen), leave the young in the den part of the tree and move them nearby to a protected place. The mother will most likely come back and transport them to a new location.
Birds: I Found a Baby Bird – Now What? (PDF) is a flow chart that can help you decide whether a baby bird needs rescue. If the youngster seems healthy and is in no immediate danger, a family reunion should be attempted, for example, by placing the bird in a substitute nest, as suggested in the flow chart. Unfortunately, there is no all-purpose strategy for substitute nesting, as different kinds of birds prefer different types and locations of nests. For example, parent birds from a cavity-nesting or ground-nesting species are unlikely to tend offspring placed in a substitute nest hanging from a tree branch. For further consultation, Avian Haven may be contacted directly at 207-382-6761.
If you have observed a young wild animal alone for more than 48 hours and believe it truly may be orphaned, please contact a MDIFW regional biologist or game warden to alert them.  
What if the animal appears injured?
If you encounter an injured deer, bear, moose, or turkey, please contact a MDIFW biologist or game warden. For all other species, please contact local licensed wildlife rehabilitator.
Find a local licensed wildlife rehabilitator:
| County | Name | Address | Phone | Facility | Other Info |
| --- | --- | --- | --- | --- | --- |
| Androscoggin | Jennifer Hale | 377 Bishop Hill Road, Leeds ME 04263 | 207-524-2071 | 377 Bishops Hill Road, Leeds | No birds, but will transport them. Small and medium mammals |
| Cumberland | Kristine (Kris) Beaudoin | 320 Longhill Road, Sebago, ME 04029 | 207-807-1986 | 320 Longhill Road, Sebago | No Birds. Small mammals |
| Cumberland | Wendy Clark | 31 Woods Mills Road, East Baldwin, ME 04024 | 207-595-2140 | 31 Woods Mills Road, East Baldwin | No Birds. Small mammals |
| Cumberland | Pamela Richardson | 6 Worcester Drive, Raymond, ME 04071 | 207-838-8967 | 66 Worcester Drive, Raymond | No birds. Aquatic mammals, small mammals and reptiles. |
| Cumberland | David and Joshua Sparks | 108 Range Road, New Gloucester, ME 04260 | 207-232-2353 or 207-926-3077 | 108 Range Road, New Gloucester | All birds, small and medium mammals. |
| Cumberland | Martha (Kappy) Sprenger | 253 Highland Road, Fire Lane 137, Bridgton ME | 207-647-5593 | 253 Highland Road, Fire Lane 137; 1.2 miles from Rte. 302 | All birds and mammals. Specializes in fish eating birds and chicks. 1.2 miles from Rte. 302 |
| Hancock | Heather Grierson | P.O. Box 84, Mt Desert, ME 04660 | 207-667-3244 | 446 Bar Harbor Road, Trenton | Birds. Small and medium mammals. NO raccoons. |
| Hancock | Stanley Richmond | P.O. Box 485, Ellsworth, ME | 207-667-1845 or 207-667-8460 | Stanwood Wildlife Sanctuary - Bar Harbor Rd past Maine Coast Mall | Migratory Birds. No mammals |
| Hancock | Ann Rivers | P.O. Box 207, Mount Desert, ME | 207-288-4960 | 49 Black Dog Road, Bar Harbor | All Birds including turkeys, turtles and all small mammals EXCEPT Raccoons. Specializes in bats and has facilities for species requiring water |
| Kennebec | Don Cote | 1747 North Belfast Avenue, Vasssalboro ME | 207-445-4326 | 1787 North Belfast Avenue, Vassalboro | Birds, mammals, turtles and raccoons. |
| Kennebec | Peter Davis D.V.M. | 220 Western Avenue, Augusta, ME | 207-622-6181 | 220 Western Avenue, Augusta | Pine Tree Veterinary - Full service veterinary hospital available for initial care and subsequent transfer |
| Knox | Margo B. Maloney D.V.M. | 22 Atlantic Highway, Thomaston, ME 04861 | 207-557-5669 | 22 Atlantic Highway, Thomaston | Horse and Hound Veterinary Services - Full service veterinary hospital available for initial care and has mobile triage unit |
| Lincoln | Bridget Green | 605 Bath Road, Wiscasset, ME 04578 | 207-631-0814 | Fire Road 608 Approx 2 miles from downtown. Follow Rte. 1 South behind Green's gas station. Gray home back in the woods. | No birds. Small mammals, raccoons. |
| Lincoln | Colleen Moureaux | 485 Chewonki Neck Road, Wiscasset, ME 04578 | 207-882-7323 | 485 Chewonki Neck Road, Wiscasset | Chewonki Foundation - Amphibians, bats, large raptors, medium mammals, passerines and other small birds, reptiles, small mammals and small raptors |
| Lincoln | Mary (Betsy) Pratt | 434 Pension Ridge Road, Boothbay, ME 04537 | 207-380-3617 | 434 Pension Ridge Road - Rte. 27 Boothbay to Hardwick Road; right onto Pension Ridge. | No birds. Small mammals. |
| Other | Cathie Gregg | P.O. Box 97, Madison, NH 03849 | 603-367-9453 | Route 41 on Silver Lake - Southwest of Fryeburg ME | Elaine Connors Center for Wildlife - Birds, small and medium mammals |
| Oxford | Katrina Carstensen | 47 Mountain View Drive, Otisfield, ME 04270 | 207-583-2105 | 47 Mountain View Drive in Otisfield | Birds, small mammals, medium mammals and deer. |
| Oxford | Jacqueline Fanning | 11 Baldpate Mountain Drive, Waterford, ME 04088 | 207-582-6266 | 11 Baldpate Mountain Drive in Waterford | No birds. Small Mammals |
| Oxford | Jody Giddings | P.O. Box 1924, Bethel, ME 04217 | 207-466-4700 | 146 Glades View Avenue in Newry | Amphibians, bats, medium mammals, passerines and other small birds, reptiles, small mammals and small raptors. |
| Oxford | Matthew E. Holden D.V.M. | 136 Western Avenue, South Paris, ME 04281 | 207-743-9271 | 136 Western Avenue in South Paris | Oxford Hills Veterinary Hospital - Full service veterinary hospital. |
| Penobscot | William Arthurs Jr. | 2762 Lee Road, Lee, ME 04455 | 207-403-0921 | 2762 Lee Road in Lee | No birds. Small mammals. |
| Penobscot | Evelyn Jordan | 149 Pea Ridge Road, Chester, ME 04457 | 2207-794-6178 | 149 Pea Ridge Road in Chester | Maine Birds and reptiles. |
| Penobscot | Rachel Parsons | 623 Meadow Road, Hampden, ME 04444 | 207-838-0268 | 623 Meadow Road in Hampden | No birds. Small and medium mammals. |
| Penobscot | Wendy Stevens | P.O. Box 42, Springfield, ME 04487 | 207-290-4712 or 207-731-1192 | 15 Bunny Lane in Springfield | No birds. Small to medium mammals. |
| Sagadahoc | Deborah L Bryan | 49 Deer Run Road, Bowdoin, ME 04287 | 207-607-0110 | 49 Deer Run Road in Bowdoin | No birds. Small to medium mammals. |
| Waldo | Mark Payne, Dianne Winn, Kimberly A. Chavez, Laura Graham | 418 North Palermo Road, Freedom, ME 04941 | 207-382-6761 | 418 North Palermo Road in Freedom | Avian Haven - Birds, including turkeys, and reptiles |
| Waldo | Sandra Stone | 240 Swanville Road, Frankfort, ME 04438 | 207-223-4213 or 207-592-9000 | 240 Swanville Road in Frankfort | No birds. Small and medium mammals. |
| York | Elizabeth (Libby) Peck | 4 Wilderness Way, York, ME 03909 | 207-351-6752 | 4 Wilderness Way in York | No birds. Small and medium mammals. |
| York | Shantelle Spanswick | 385 Mountain Road, Cape Neddick, ME 03902 | 207-361-1400 | 385 Mountain Road in Cape Neddick | The Center for Wildlife - Birds, turtles, small and medium mammals. |