April 14, 2021 at 1:47 pm
by R3 Coordinator Katie Yates
As part of a panel discussion series concluding April 7, 2021, the Department hosted a live panel discussion on March 31 with three MDIFW staff members and avid turkey hunters: Fisheries Resource Supervisor Liz Thorndike, retired Rec Safety Coordinator Reggie Read, and Wildlife Special Projects Coordinator Bob Cordes. This conversation focused on turkey hunting gear and calls.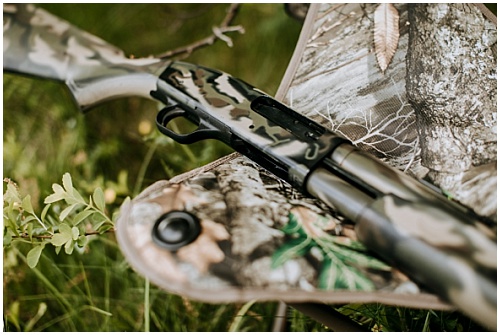 There's lots of gear out there, and people can become very gear-focused, but let's start with the most basic and most important: proper clothing, what are your thoughts?
Clothing: Dress in layers, don't forget tick safety, and wear dark colors (or camo)
When considering the right gear for your hunt, nothing (other than a method of harvest) is more important than the right clothing. According to Bob, being warm and dressing in layers is critical. In the morning while you're waiting for the sun to rise, you'll definitely experience frigid temperatures likely exacerbated by being still. As the sun rises or you start to see some activity, you'll start to warm up.
Additionally, Bob reiterated the importance of tick safety—treat your clothes with permethrin according to the instructions on the container, tuck the loose ends of your clothing in, and check yourself routinely.
While camo is not necessary—wearing dark colored clothing and remaining still are extremely important. As discussed in the first episode of this series, turkeys have impeccable eyesight and will spot movement or the glint of your eyewear from a great distance.
---
Women are the fastest growing demographic in hunting, but a common complaint is there isn't proper gear for women. What do you recommend?
Liz points out that while historically hunting gear for women was hard to come by, it has certainly improved in recent years. Many big box chains and local stores carry a variety of hunting gear designed for women; it just may take a bit of effort to locate. As stated before, more important than anything: stay warm and hidden.
---
What about a face covering, is that essential?
Reggie says "Yes!" As stated many times, turkeys have impeccable eyesight (they can even see you blink,) so wearing a face covering to hide your eyes, face structure, or skin will keep wary turkeys at ease.
---
Is using a ground blind essential for turkey hunting success?
According to Bob, everyone has their own take on the use of ground blinds. They are not necessary, but they are inexpensive, and can enhance a hunting experience—in particular for a novice or a young person. The blind will hide your movements as you figure out the position of your firearm, call, or even check your phone.
You can DIY a ground blind with a blanket or by cutting and moving brush, explains Liz. If you plan to cut or move brush, be sure you have landowner or land manager permission. We talked extensively in our first panel regarding land owner permission, you can learn more about that by clicking here. With ground blinds, it's required that you label the blind, even if you have landowner permission.  
---
Are decoys an essential part of a successful hunt?
Reggie and Bob agree: decoys are not necessary. Decoys can help bring in a turkey, but more important are the other factors of the hunt. Being still, being covered or hidden, putting the time into scouting, and practicing your calls.
Putting out decoys is tricky. If you run out to place your decoy, you might tip off a roosting bird. Additionally, if you're new to hunting or you're bringing someone new to hunting, there is a risk your expensive decoys may get shot.
In short, decoys can be a fun way to enhance your hunt, but they are not required.
---
What are some varieties of calls and how are they used?
There are many resources available for learning about calls and practicing calls. Bob points out that a quick Google search, YouTube search, or perusing National Wild Turkey Federation's website will give you a long list of call types, when to use them, and how.
Bob enjoys using electronic calls for the volume, cadence, and encourages new hunters to try them as they're learning to call. There are many types of calls, some easier to use, some may give away your location. A mouth call is harder to master but requires no movement to use. An easy call to use is a push button or push pin call. If you don't want to buy a call, Reggie offers an alternative. He makes calls using an old medicine bottle covered with a latex glove. You can see instructions for this, here.
Reggie encourages folks at home to practice, but you don't have to sound like a professional. Many hunters have been fooled by funky-sounding turkeys. More important than accurate sounding calls is the cadence of the calls. Don't overcall—you'll sound too eager and the tom will be suspicious.  
Liz reminds mentors taking out young folks or newbies to let them call. Even if it doesn't sound perfect, they need the opportunity to practice, learn, and try it. Practice is essential, all the panelists agree. Practice often and make it a family affair.
---
What are some considerations when it comes to method of harvest?
For harvesting a spring turkey with a shotgun, a person can use shotgun gauges 10 through 20, using shot sizes 4 through 6 or mixed loads that include shot sizes 4 through 7. In addition, shotgun gauges 10 through 28, including .410, may be used with shot sizes 7 through 9 in Tungsten Super Shot (TSS).
Bob reminds hunters to be well-practiced with their method of harvest. Practice often, not just right before your hunt. If you're uncomfortable with the caliber of the shotgun, you'll be hesitant to shoot and less likely to hit your mark.
Safety is always a consideration! Always remember to point your firearm in a safe direction, have the safety on until right before firing, and always keep your finger off the trigger. When aiming, know your target, what's beyond it, and be aware of your surroundings.
Reggie reminds mentors: if you're taking someone knew, do not pressure them to shoot! They must fire only when they're ready and comfortable to take a safe, ethical shot.
---
What are some extra items you don't necessarily need but may improve the hunting experience?
Bob, a self-proclaimed gear enthusiast, has a long list of hunting "extras," that are not essential but may make the hunt, comfortable, or contribute to success.
One tool he highlights is a rangefinder. Although you may be comfortable at judging distances at a shooting range, distances feel different out in the field when a turkey is approaching. Having a rangefinder will help you accurately judge distances so you can be certain of your shot.
Bob also suggests hunters bring a GPS and a compass. Maine offers a variety of opportunities to go hunting close to home, but sometimes your scouting or hunting adventures may take hunters into the woods. During twilit hours of morning or evening, it's easy to get turned around. Having a compass and a GPS may not be essential to the hunt itself, but may mean the difference between safely returning home at the end of the day or getting lost and spending a potentially life-threatening evening in the woods.
During our discussion, our panelists often pointed out the importance of making yourself known in the area. Using orange flagging, orange fabric, or an orange triangle that says, "Caution! Hunter in the area," will alert other hunters or land users to your presence.
Reggie, a longtime hunter, has lost many items in the field and had to return to look for them (sometimes unsuccessfully). He has even heard of hunters leaving behind their method of harvest (yikes!). An easy solution he recommends: a checklist. Have a checklist handy and go through it before leaving your hunting location.
The most important piece of gear Liz believes hunters should bring: (besides a method of harvest, of course) patience! Turkey hunting requires lots of time sitting quietly and listening to the landscape. It may not happen right away, it may not happen this season, but if you practice good hunting techniques, you will harvest a bird eventually. Hunting is a lifelong journey that is more about the memories and moments in Maine's beautiful natural places and less about bagging a bird.
Read the rest of this three-part turkey hunting blog series:
Understanding Spring Turkey Behavior + Scouting Tips
Normal 0 false false false EN-US X-NONE X-NONE
Watch the panel discussion video series:
Spring Turkey Hunting Panel: Turkey
Behavior + Scouting
Spring Turkey Hunting Panel: During
the Hunt + After the Shot