March 16, 2022 at 4:33 pm
by Education & Outreach Coordinator Chelsea Lathrop
Whether you're new to winter angling or a seasoned pro, we have some tips for you! With more than 32,000 miles of rivers and streams, and an additional 6,000 lakes and ponds, there is no shortage of angling opportunity in Maine. Many wintertime anglers prefer fishing with live baitfish, in fact 90% of baitfish sales occurring during winter. You might be wondering why some waters in Maine allow you to fish with live fish as bait, some require that baitfish to be dead, and some waters are artificial lures only (ALO). Is there a difference between the three regulations and is there an importance to these restrictions?
The answer is YES!
In 2020, the General Fishing Law in the North Zone was changed to prohibit the use or possession of live fish as bait. This conservation approach reinforces the importance of the northern region's native and wild salmonid populations and stresses the potential damage to those fisheries if baitfish are introduced where they don't belong. This General Law applies protection to the majority of the waters in the North Zone, and where the use of live baitfish/live smelts has been deemed acceptable, individual waters allow that use through the "S-11" special law code. Reminder to always check the laws for each individual body of water because the South Zone General Law allows the use of baitfish and any water bodies that prohibit the use of live fish as bait will be listed with special restrictions. 
When you are using the law book there are specific ways that indicate what terminal gear is prohibited, Fly Fishing Only, Artificial Lures Only, or No Live Fish as Bait.
Fly Fishing or Artificial Lures Only: These "terminal tackle" regulations are applied to reduce mortalities in released fish and are often an effective and necessary companion to restrictive bag and length limits.
No Live Fish as Bait: This regulation is typically applied to prevent establishment of unwanted bait populations in waters where they currently do not exist, while still allowing the use of worms, dead baitfish, or artificial lures.
We've gathered some tips from the experts on how to ice fish with dead baitfish. If you ask Deputy Commissioner Tim Peabody, he believes fishing with dead baitfish can be just as effective as fishing with live baitfish. Here are some tips on how to use dead baitfish the next time you're out fishing:
Don't deep freeze your baitfish. When you deep freeze your baitfish or even let it freeze on the ice, as it thaws out either on the way to your destination or in the water, the bait becomes mushy and sometimes can start to disintegrate. Instead try keeping your baitfish dead in a plastic bag in your pocket or inside the ice shack until you're ready to use it.
When purchasing baitfish, ask the bait shop to give you your baitfish in a plastic bag with no water. This avoids the chance of arriving at your destination with live baitfish, which is illegal if the water does not permit live fish as bait. If a water does not permit live fish as bait you are not allowed to have live baitfish on the shoreline or on the ice.
When using dead baitfish, follow the same depth you would with live baitfish. You can set your dead baitfish at any depth as you would using live baitfish. Users of this method say they've caught various species in different depths.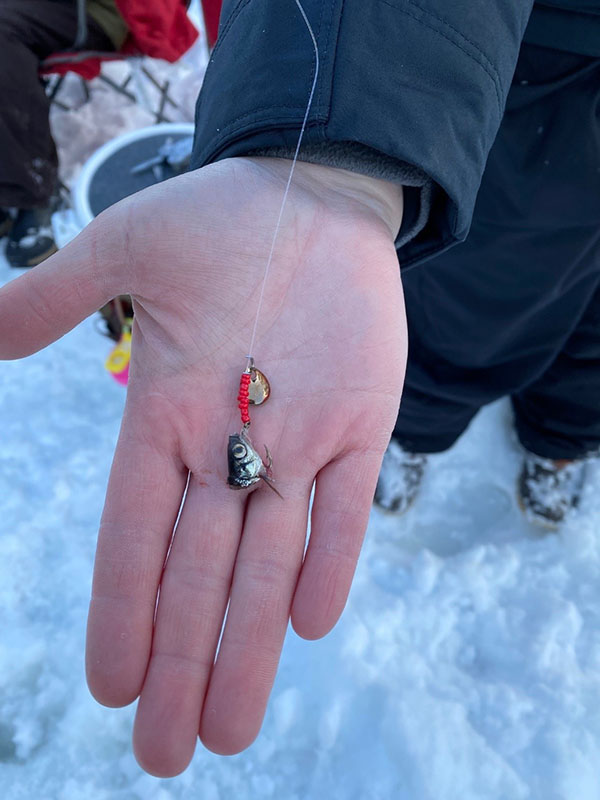 There is a "best" method to using dead baitfish. Deputy Commissioner Peabody says that the best way he has ever caught fish with dead baitfish is to just use the head! Using a knife or cutting instrument, cut off the head behind the gill plate and before the dorsal fin, then put your hook through the mouth and rest the curve of the hook under the jaw of the fish head. There is just something about the shiny eyes and small head on the hook that is guaranteed to catch you a fish! This method is often referred to as using "cut bait".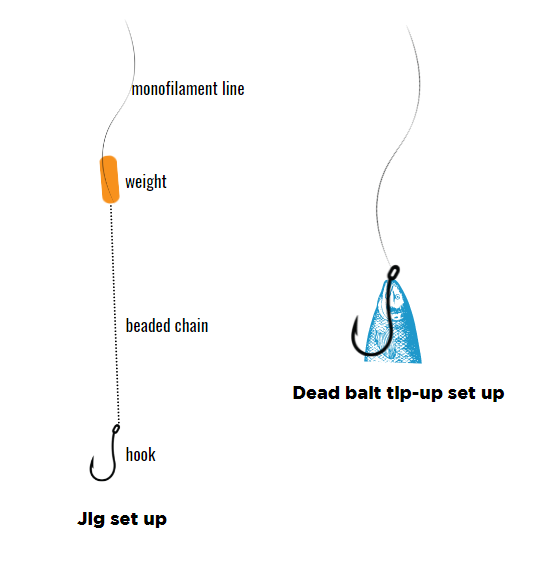 Dead bait can be used both on an ice fishing trap or while jigging. Jigging or using an ice fishing trap are both effective methods with dead bait. Though the Deputy Commissioner recommends when jigging with dead bait you use a weight with a beaded chain attached between your monofilament line and hook. Then on the hook you can either hook the dead bait through the mouth and out the belly or cut off the head and hook the fish through the middle and out the belly so that either way the tail is running parallel with your line. Then rest that bait on the bottom of the water body and as you jig slightly the weight will "roll" your bait along bottom enticing any waiting species nearby (You can use this same method on your set traps).
Consider using trout worms or artificial lures.
If a water does not permit live fish as bait, you can use dead baitfish, worms, nightcrawlers, or artificial lures. The Deputy Commissioner notes that when using night crawlers or worms don't be shy about loading them on the hook. If a water is ALO (Artificial Lures Only), worms and baitfish (dead or alive), are not permitted, but you can use artificial lures such as a Swedish pimple, a jig, or shiny spoon.
We hope you found these tips informative and enlightening, remember to be safe on the ice and happy angling!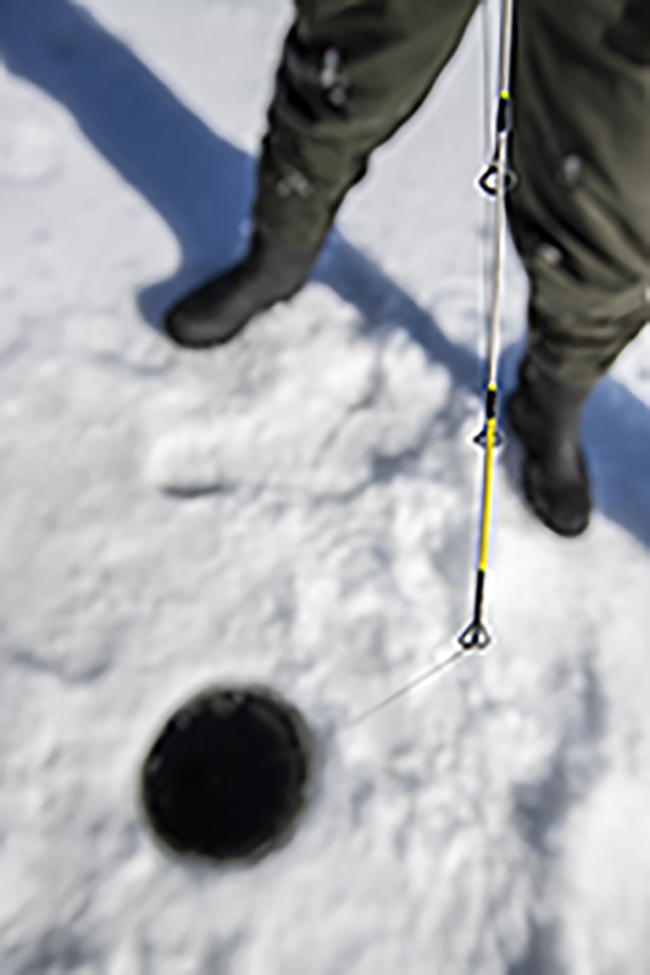 Find additional fishing tips and resources at mefishwildlife.com/fish