November 14, 2016 at 1:38 pm
[caption id="attachment_2042" align="alignleft" width="300"]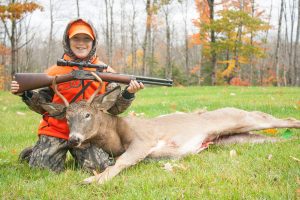 Addison Turner, age 9 with her first Maine deer[/caption] Deer hunting in Maine is growing in popularity, and one of the reasons is due to the health benefits and fine taste of venison. Free-range and chemical-free, venison offers more protein per serving than beef or pork, is also lower in fat, and has fewer calories. Vitamin and mineral packed, venison is also very rich in iron, is chock full of vitamins B6 and B12 and contains more omega 3 fatty acids than domestic meat. And of course, with farm-raised venison costing anywhere from $10 to $25 a pound and beef averaging $8 a pound, harvesting a deer yourself will not only provide you with some fine table fare, it can also lower your grocery bills. A 150 field-dressed deer will provide about 60-75 pounds of meat. According to the Wall Street Journal and based upon statistics from the US Department of Agriculture, the average American eats approximately 75 pounds of red meat a year, so that 150 pound deer would provide a family of four with enough meat for three months, or two adults for half a year. Wondering what's the best way to cook venison? The Department of Inland Fisheries and Wildlife recently republished "The Maine Way" a cookbook featuring a collection of Maine fish and game recipes. It's available for purchase on our
website
, or you can sample a few of the recipes below! The Department has also partnered with several of Maine's Community Colleges to hold game cooking workshops over the next several months. Click
here
to view the schedule!
---
Venison Stroganoff
Shared by Judy Marsh of West Gardiner
1 to 2 lbs. deer meat cut into thin strips 1 medium onion 1 clove garlic 1 tbsp. Worcestershire Sauce 1 can cream of mushroom soup soured cream salt & pepper Saute the onions, mushrooms, garlic and floured strips of meat. Add Worcestershire Sauce and salt and pepper to taste. Slowly add the cream of mushroom soup, and when well heated add the soured cream 1 spoonful at a time to taste. Heat very slowly. Serve with egg noodles.
---
Swiss Moose or Venison
Steak
Shared by Carole Dyer of Bowdoinham
2 tbsp. flour 1/4 tsp. salt 1/8 tsp. pepper 1 lb. steak, 1/2" thick 1 tbsp. shortening or lard 1 8 oz. can whole tomatoes, or fresh tomatoes 1 medium onion, chopped 1/2 small green pepper, chopped 1/2 tsp. salt 1/8 tsp. pepper Mix flour, salt and pepper. Sprinkle one side of meat with flour, pound in. Repeat for other side. Cut into 4-5 serving pieces. Heat shortening or other cooking fat in 10" skillet. Cook meat until brown. Mix together tomatoes, with liquid, and remaining ingredients and pour over meat. Simmer until tender, 45 minutes or so.
---
Marinade Sauce for Deer Steak
Shared by Joan Caron of Old Town
3/4 cup salad oil 4 tbsp. vinegar 3 tbsp. brown sugar 3 tbsp. Worcesthire Sauce 2 tbsp. Soy Sauce 1 bottle chili sauce Mix all ingredients together and place steak in the sauce to marinate overnight. This is especially good for the tougher pieces of deer steak. Boil or barbecue the steaks.