June 3, 2015 at 11:48 am
While their jobs may be very different, many times IFW biologists and game wardens work together to help Maine's wildlife. Quite often, they work with Maine citizens who also share an equal passion for wildlife as well.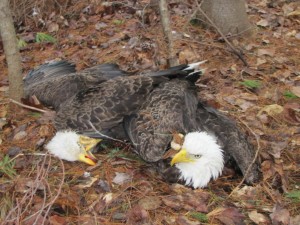 Recently, a homeowner on the outskirts of Millinocket received a big surprise when two eagles crash landed in his front yard. It seemed that this town wasn't big enough for the two male eagles, and they were engaged in a territorial battle in both the air and the sky. They came crashing down on Mark Kowalski's front lawn, and not content to end it there, continued their fight and brawled into the woods, locked talon to talon. Mark called his local Warden, Andy Glidden. Andy and his daughter Mikayla, who is a wildlife student at the University of Maine, went to the home and found the tangle that was the eagles.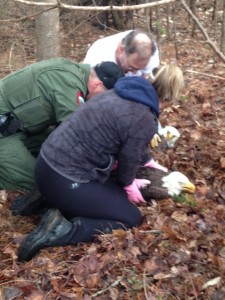 It took Andy, Mikayla and Mark over a half hour to untangle and unlock these two eagles. They were locked talon to talon, andas you can see from the phots, one had a talon in the other's mouth and he wasn't about to let go. Andy, seeing the nature of the injuries, called IFW wildlife biologist Brad Allen, who oversees the bird group in our Bangor research office. Hearing the story and the description of the injuries, Brad made a call to Avian Haven in Freedom (
www.avianhaven.org
), where Marc, Diane and Terry have established a fantastic track record of rehabbing eagles, to see if they would check the birds out.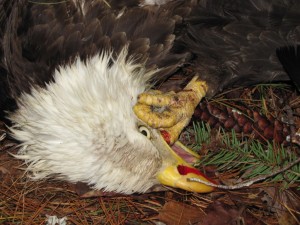 That morning, Brad met Andy, Mikayla and the two eagles and transported them down to Avian Haven, where they were given a check-up, their wounds were cleaned, got x-rays and a blood test. With no broken bones and only superficial flesh wounds, the birds were in better shape than expected. The battling eagles quickly recovered, and later that day, they both passed a flight test (separately, of course) in two of Avian Havens flight cages. Happy to hear the news that they were in good shape, Brad picked them up that next morning and drove to meet Andy and his daughter Mikayla for their release back to the wild. They released the first eagle near where they were rescued, but since they didn't want the eagles to become locked in a sequel, they drove the other eagle quite a bit further down the Golden Road in order to ensure a little peace and harmony between the two. As you can tell from the short video, this eagle was anxious to get back out into the wild.   https://youtu.be/bx8M6L7Vsxw