Overboard Discharge Elimination Program (Grants)
On November 6th, 2018, voters approved Referendum Question No. 2, An Act to Authorize a General Fund Bond Issue to Fund Wastewater Infrastructure Projects. Passage of this Act provides funding for the Overboard Discharge Removal Program totaling $350,000.
The program provides grants for the removal of individual overboard discharges of wastewater. Overboard discharges must be legally licensed by the Department of Environmental Protection. Projects which remove discharges from shellfishing areas or cause nuisance conditions will be given priority. Grants may also be available to fund other removal projects as required by law.
Grants for removal of overboard discharges may be awarded to municipalities, quasi-municipalities (such as sanitary districts), county commissioners on behalf of unorganized territory, or directly to the owner of an overboard discharge. Administration guidance of the projects is in the OBD Grant Program manual found below.
Applications must be received and approved for eligibility by the DEP before any of the actual construction takes place, and the owner must pay for and complete the work, before reimbursement will be received. Grants for projects are assessed on a priority basis and are dependent on the availability of funds.
The OBD Grant Program Manual contains all the information needed to remove the OBD with a complete step by step process. If you cannot print the any of the forms from the website, please contact the OBD Coordinator to have a hard copy sent to you.
How to Apply?
A complete OBD Grant Application contains the following:
How to proceed with the OBD Removal after DEP approval is given?
The construction documents needed:
How do I get reimbursed for the work completed by the approved contractor?
The following information must be included with your payment reimbursement request:
A completed OBD Owner's Payment Request Form (xlsx). For each category in the Payment Request Form (design, construction, inspection, etc) fill in the actual costs backed by the invoices. Total all eligible costs and multiply by the approved grant percentage which was previously determined.
A copy of the paid invoices for all costs claimed
A completed copy of the Septic System Inspection Checklist
A completed copy of the Vendor Form (pdf) if not already forwarded to the DEP.
A completed copy of OBD system Abandonment Certification Form (pdf)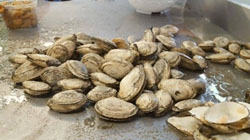 Contact
Brandy Piers, P.E., (207) 287-6093
OBD Coordinator
Division of Water Quality Management
17 State House Station
Augusta, ME 04333-0017
Rules
Chapter 594, State Contribution to Overboard Discharge Replacement Projects
Related topics