Stream Crossing Resources

Stream crossings are a long-term fixture in our environment and crossings that are too small, don't allow fish or wildlife passage, and flood or wash out roads pose great risks if not addressed. Upgrading these crossings to last longer, increase safety, reconnect stream habitats, decrease maintenance costs, and reduce flooding benefit municipalities and the local environment alike.
Maine DEP's Stream Crossing Grant Program helps to not only fund resilient and effective stream crossings, but also helps provide resources and other technical assistance to municipalities, road owners, and contractors in order to promote improved stream crossing design and installation. The goal of this webpage is to provide those resources in a single space to help restore fish and wildlife habitat while minimizing flooding and maintenance costs over time.
Visit the Grant Website for current grant opportunities and announcements, and contact John Maclaine, 207-615-3279 for more information.
Regulations & Permits
Maine DEP
Army Corps of Engineers
Technical Assistance & Design Resources
Guides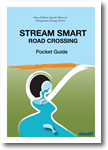 Tools
Maine DOT
Data Sheets for Field Assessment, Design & Monitoring (Stream Smart)

Construction Resources