Maine Forestry Direct Link Loan Program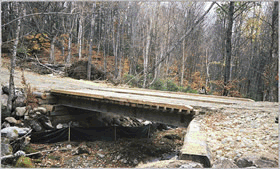 The Maine Forest Service's Forest Policy and Management Division (MFS), Department of Environmental Protection (DEP), and Maine Municipal Bond Bank (MMBB) have teamed up to offer incentive financing to loggers to reduce non-point source pollution risk on timber harvests in Maine.
Background
The Maine Forestry Direct Link Loan Program utilizes Clean Water State Revolving Loan Funds to provide reduced-interest rate financing for Forestry Best Management Practices (BMPs). The purpose of this financial incentive is to increase the use of BMPs and environmentally friendly logging equipment in the logging industry. This, in turn, will help to protect and improve water quality in and around logging operations.
Program Description
Current Master Loggers (ML), Certified Logging Professionals (CLP), and Qualified Logging Professionals (QLP)are eligible to obtain reduced-interest financing from participating banks through the Maine Forestry Direct Link Loan Program.
MFS will:
determine items eligible for financing;
ensure that the participating logger is ML, CLP, or QLP;
ensure that the participating logger retains on file a Harvest Operations Plan (HOP) including HOP standards specified for the DLL program for each harvest; and,
monitor the logger's practices.
The DEP and MMBB will:
enter into a memorandum of understanding with MFS to implement the program;
work with local banks to participate in the program; and,
provide oversight of program implementation.