Maine Fishing Guide
To view fishing opportunities, select a region from the map or links below.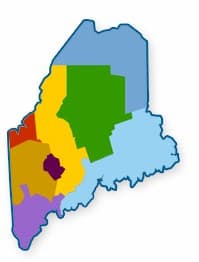 Private Lands
Many of Maine's fisheries can only be accessed by using private lands. Please treat all lands you use with respect. Please, try to leave the woods and waters better than you found them to help ensure future access. Thank You.
Illegal introductions
Illegal introductions can destroy native fish populations and alter the ecology of Maine's waters, FOREVER! Introducing any fish species or possessing or transporting any live fish (except baitfish) is illegal. These are Class E Crimes punishable by a fine of $10,000 and may result in the suspension of all Department-issued licenses and permits.